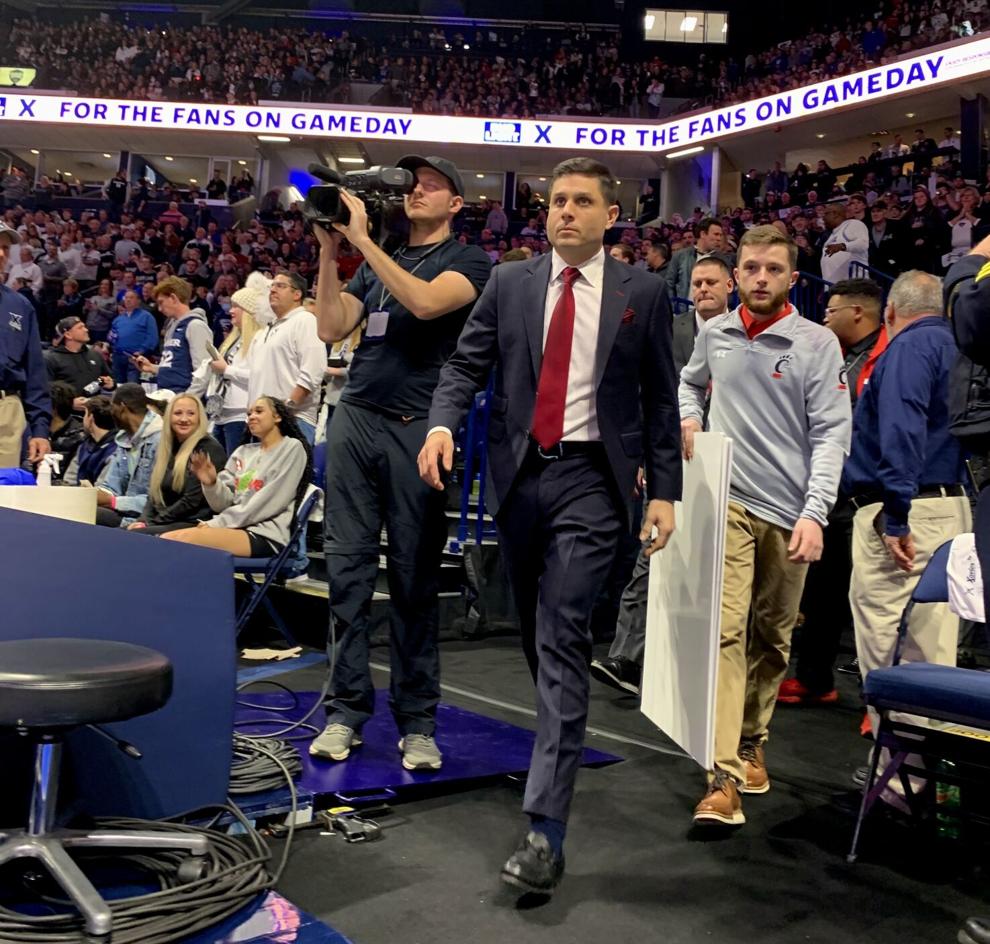 Facing his first Crosstown Shootout as the head coach of the University Cincinnati Bearcat's, Wes Miller nearly checked all the boxes of the infamous rivalry game of Cincinnati, except the victory. Xavier advanced to 9-2 on the season in an 83-63 emotional victory over Cincinnati who is now 7-3. 
"We got our tail kicked in every way you can get your tail kicked," Miller said following the loss. 
From aggressive foot-stomping and court-invading clapping, Miller's passion for the rivalry game was prominently noticeable despite his Bearcat's near inability to stop the blue from scoring. 
Cincinnati certainly didn't lack energy through 40 minutes of play, Xavier just seemingly played with more desire to win, complimenting, and matching the energy of Cintas Center all game long. 
"We looked like a poorly coached team tonight," Miller said as he credited Xavier for exploiting what he considered an inadequately prepared Bearcat team. 
Cincinnati's big men were continuously beat at the rim by Xavier's Jack Nunge, the seven-foot junior who had a game-high 31 points and game-high 15 rebounds. Despite the final 20-point score gap, emotions were not left in the dust, with three total players fouling out by the game's end and three total technical fouls being called. 
"Coach Miller has them playing really hard," Xavier head coach Travis Steele said on Cincinnati's defense. 
While the rivalry is typically felt throughout Cincinnati year-round, it didn't take long for this year's meeting to reach a level beyond basketball. Earlier in the week leading up to Cincinnati's Crosstown Shootout, Wes Miller delivered Skyline to students who were guarding the Bearcat's precious statue of alumni Oscar Robinson late into the night. 
With Xavier's D'Artagnan statue receiving markings of eggs and cheese just days prior to tip-off, Miller and the Bearcat's seemingly took the right approach in the lead-up. Inside Cintas Center, it didn't take long for Musketeer fans to make the rivalry meeting more than basketball, chanting "We want Bama" moments prior to tip-off, referencing the Bearcat's upcoming College Football Playoff game against the No. 1 University of Alabama. 
Earning each bench a warning within 12 minutes of play was the tension of the deep rivalry that each squad made evident from the jump, although Xavier's efficiently dominated the first half. 
Xavier, who was No. 25 in the country according to the Associated Press's Week 4 rankings, couldn't make it to the half without picking up a technical foul, despite leading for nearly 18 minutes of the first half. 
Cincinnati junior, Jeremiah Davenport, was often the calming factor for Cincinnati, time and time again seen reeling in energy straying moments for his teammates. Davenport, the only local native of either Cincinnati team, went on to score 11 points.    
Xavier's Paul Scruggs became the only player in Musketeer history to defeat the Bearcats four times in their career. Prior to his standing ovation, Scruggs acquired 14 points with five assists.
With the loss, Cincinnati topped another year onto their drought of winning inside the Cintas Center that dates back to the 2001-02 season. 
"I came back for my teammates and the fans," Scruggs said on deciding to come back for one more year as a Musketeer. 
Both teams remain in Cincinnati for their next outings, with the Musketeers set to host Morehead State Wednesday at 8:30 p.m. and Cincinnati to welcome Florida A&M Tuesday at 7 p.m.  
"You got to tip your cap to Xavier," Miller said as he took a significant portion of the blame for Cincinnati's loss.