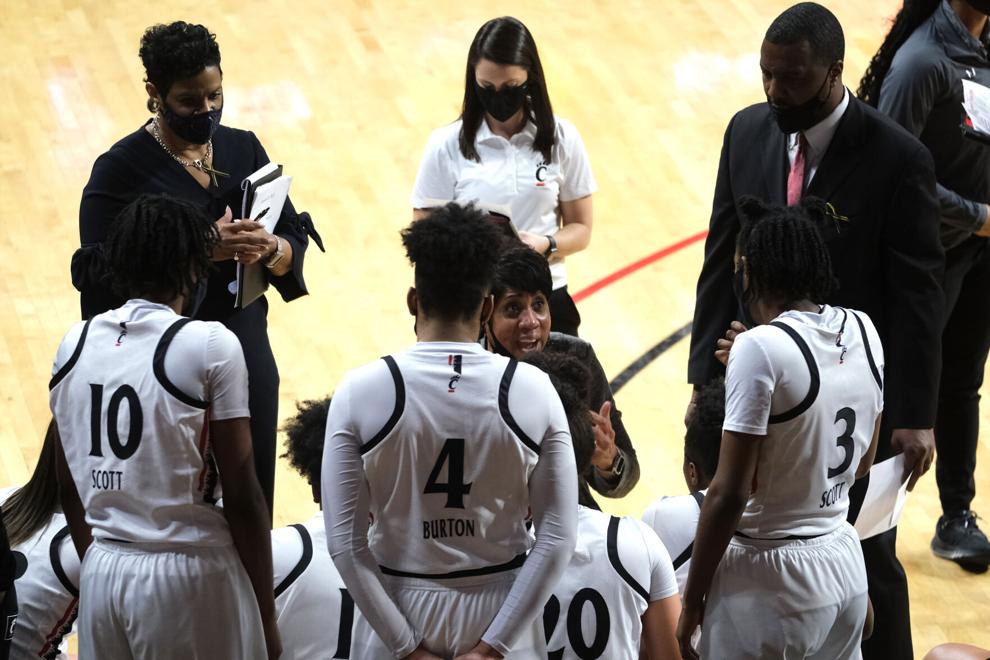 "Last year was last year, this year is this year," said University of Cincinnati women's basketball head coach, Michelle Clark-Heard. 
Heard's voice was reflected in her team's first outing of the season, an exhibition match against the University of Findlay. Before the match, Heard said she had noticed in practice that her returners went home after last season and went to work. 
In their first display since the pandemic and injury-induced 2020 season, the Bearcat's women's basketball team took their exhibition match the distance against Findlay in a 77-60 victory. Caitlyn Wilson led the way, who recorded a team-high of 27 points, all of which were three-pointers. 
Last year, Heard's Bearcats went 8-16 and lost their star player IImar'I Thomas to UCLA after a record-breaking career at UC. Filling the leadership void of Thomas's departure is sophomore Jillian Hayes, a registered guard who Heard says can play any position. 
Hayes, a Cincinnati native, led the Bearcats with 10 rebounds and five steals in their exhibition match, as expected by Heard. Heard says that Hayes embraces the leadership role she has taken on as one of the team's most talented returners.
"This is kind of my first time going at it too," Hayes joked before the match on giving teammates advice after last year's challenging season. 
Hayes said that despite all of the challenges endured in the 2020 season, she learned a lot from Thomas, who was able to mentor while being the dominant threat on the court. 
After focusing most of her offseason on her openness to the basket and her shot, Hayes said she was most excited to see how her team all worked together for the exhibition match. 
"Now I feel like I can face anything," said Hayes on emerging from last year's season on top. 
In their opening exhibition match, the Bearcats saw all 12 bench players register minutes in the match. Heard said that her players understand the tough challenge of depth this team has and they all are buying in for one another despite the number of minutes they play. 
"We all know I can't play 14 players," said Heard on the depth of her team prior to the match. 
When it comes to this team's depth, Heard emphasized that the chemistry off the court carries over to what her ladies can bring on the court.
Cincinnati started a freshman, sophomore, a graduate student and two juniors against Findlay, proving their diversity and depth. 
"I'm just really excited to like watch this team grow and be in a situation where every single day I never forget what last year, and how it looked and how it felt," said Heard. 
A self-referred feel-good coach, Heard said she relies most importantly on faith to keep her in the right coaching mindset. 
The Bearcats official season tips off in Fifth Third Arena on Nov. 10 at 7 p.m. against Alabama A&M. The Bearcat's first three games of the season are all in Fifth Third Arena and able to be streamed on ESPN+.