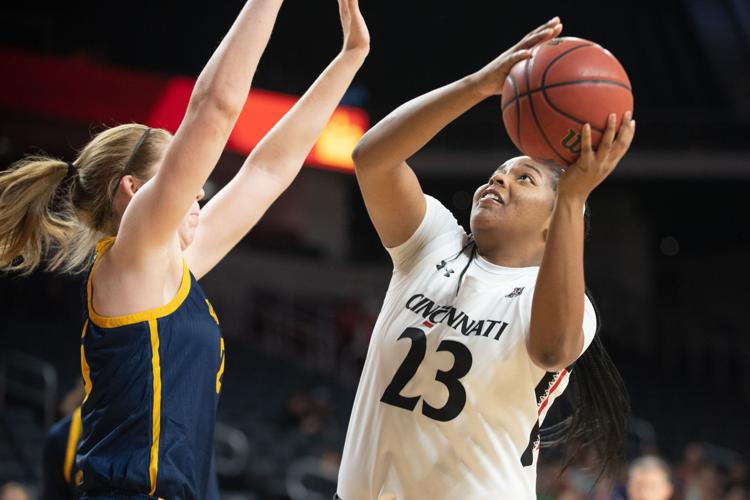 The University of Cincinnati women's basketball team won its fourth game of the season Tuesday evening at Fifth Third Arena, defeating the University of Tennessee at Chattanooga, 72-53.
Junior I'imari Thomas scored a career-high 29 points on 12-of-18 shooting and senior guard Antoinette Miller added 14 points to go along with three rebounds and four assists. The two have led UC in scoring in each of its first four games (192 combined of team's 326 total points) and have become consistent leaders for head coach Michelle Clark-Heard.
"[Miller and Thomas] and I tell the team and they know it, these two are our 1-2 punch," Clark-Heard said postgame. "Making sure every single game they're both ready to have the ball when they need the ball, and it doesn't take away from anyone else on our team, but it opens up a lot of things when teams are keying on these two."
Miller was able to find Thomas for layups on three separate occasions against the Mocs and later found senior Sam Rodgers for a three-pointer that helped her finish with 12 points on four-of-five shooting.
Clark-Heard said earlier this season that her and Miller had disagreements last year, but Miller has become more vocal on the court and a leader that she can heavily rely on.
Miller's assurgency in leadership that Clark-Heard calls incredible, has helped the program reach new heights. The Detroit, Michigan, native leads the team in steals (10) and assists (21). Of the three times Miller connected with Thomas, two came from a slick jump pass and bounce pass, and she referred to that area as one of her biggest improvements since she began putting on a Bearcat uniform. 
"Coming into college for point guard, it's a different game with different speeds," Miller said. "Year by year I've just gotten used to the tempo and pace of the game and knowing when to make the right decision if I should shoot or pass. I've progressively gotten better with it."
Miller has been a big contributor in Thomas' success, always looking inside and throwing the ball ahead on fast breaks for layups. Thomas leads the team in scoring at 20.4 points per game by taking advantage of the offensive system.
Thomas' physical stature doesn't help for opposing defenses either, as her 5-foot-10 frame allows her to grab offensive rebounds off her own misses. The Bearcats have outscored four of five opponents in the paint thus far, and Thomas is starting to find a rhythm from it.
"The past couple of games I've been trying to find my groove," Thomas said. "[Clark-Heard] gives me a lot of confidence. I'm making sure I'm always aggressive and posting up hard. Just finding my spots during practice, so I can get used to taking those shots."
The 1-2 punch of Miller and Thomas goes beyond scoring and putting up numbers on the stat sheet. The duo was named to the Preseason All-American Athletic Conference Second Team, and they're showing why through their leadership that has helped the young team gel early in the season.