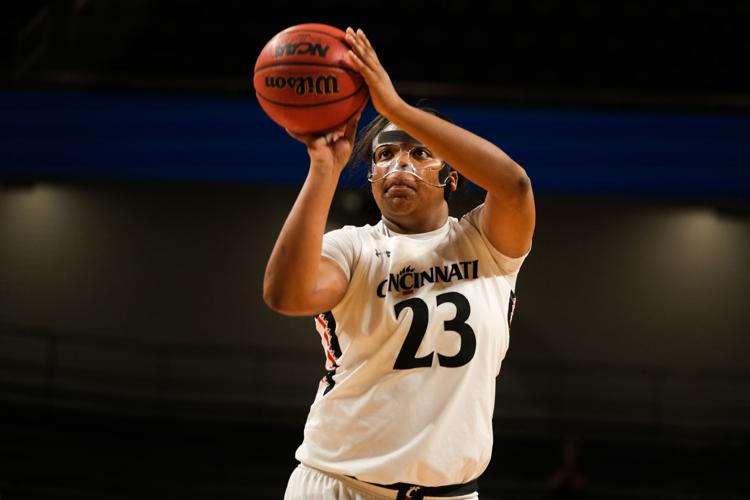 Addaya Moore and I'imari Thomas iced the game from the free throw line in the final 21 seconds to lead the University of Cincinnati women's basketball team over University of Utah, 68-62, in its season opener at Fifth Third Arena Tuesday evening.
The final minute felt like waiting for the leaves to change colors, as four timeouts were called and the Bearcats shot 10 free throws. 
Senior Antoinette Miller shot six of them and missed arguably the biggest two with 23 seconds remaining and the Bearcats ahead 63-60. Moore came to the rescue and grabbed the offensive rebound, forcing Utah to foul her. Moore hit both free throws to extend the lead to five and Thomas added two more nine seconds later to help UC pull away. They were much needed, as UC only made one field goal the final 6:36 of the game. 
"Defense helped us maintain the lead," Miller said postgame. "We know sometimes the shots won't drop, so locking in and hitting those free throws and getting what we can get. Just doing the little things." 
Miller's missed attempts didn't take away from her big second half after shooting just 1-of-8 (12.5%) in the first half. The guard scored 18 points on 6-of-10, shooting including two three-pointers in route to finishing with her third highest scoring game in her career. She added three rebounds and three steals as well.
The success of Miller gave the rest of the team a boost of energy in the second half that seemed to rub off on Thomas the most, as the junior dropped 15 points, including 5-of-6 from the charity stripe. Miller and Thomas combined for 33 of UC's 43 second half points. 
"We came out in the second half and had a really good third quarter," Clark-Heard said postgame. "I'm proud of our effort and really proud of our seniors and other players stepping up at different moments … We continued to fight."
UC led for over 30 minutes, but Utah was able to hang around. The Utes came with a balanced attack, having nine players score. What separated the two teams was the impact of their 2-2-1 presses. UC found success on both ends of it, forcing 20 turnovers and passing out of the pressure without trouble. The Bearcats finished with 12 turnovers after having 19 in last week's exhibition against Charleston.
"[Clark-Heard] emphasized this week in taking care of the basketball," Senior guard Sam Rodgers said. "Forcing those turnovers, just running our defense and making teams feel uncomfortable is a big thing she pushes on us."
Something Rodgers is comfortable with is giving up her body and drawing a charge. She went one-of-one in attempts against Utah and had two against Charleston.
"Taking charges started when I was young," Rodgers said. "I was a soccer player, so I learned how to get under people and have taken it to the next level. I move my feet and get there."
Women's basketball continues its opening five game homestand with a matchup against Saint Louis University Nov. 10. Tipoff is 2 p.m.