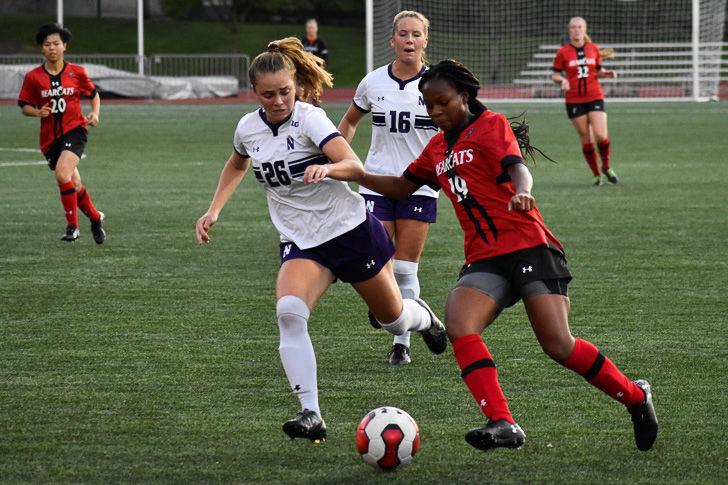 The University of Cincinnati women's soccer team suffered its first draw of the season Sunday evening at Nippert Stadium, ending the annual Queen City Derby with Xavier University scoreless after double overtime. 
The Bearcats were able to break a five-game losing streak Sept. 12, defeating Lipscomb University in a comeback 3-2 victory. UC Head Coach Neil Stafford emphasized adjusting to extra time in their first match back from the road. 
"The mentality coming into tonight was about competing over 90 minutes," Stafford said post-match. "For us, that's something that we've struggled with. At times, we've started seven freshman and sophomores and it's hard for them to make that switch from high school and club over to college."
While the Bearcats were focused on surviving beyond regulation, that strategy showed as Xavier took command early on. The Musketeers had four shots on goal to UC's three and drew nine Bearcats fouls in the first half.
Back-to-back opportunities for the Bearcats arose, as junior forward Sophie Gorman had a shot attempt blocked from just outside the goalie box in the 35th minute and senior forward Sydney Kilgore was met with a diving save by Xavier goalkeeper Olivia Jenkins after a solo run up field in the 38th minute. Jenkins ended the match with four saves.
The Bearcats didn't let up at the start of the second half, as they earned a pair of corner kicks within the first three minutes, but neither opportunity provided a shot on goal. 
A well-placed cross in the 76th minute fell at the feet of Xavier forward Jessica Miller and was followed by a quick reaction save from UC junior Goalkeeper Madison Less. Less received praise from the save, but was quick to credit her team. 
"I did my job and everyone else did theirs," Less said. "I'm really proud of everyone. A tie is a tie, but it was great to finish out a whole game, even adding overtime onto that. Everyone from the crowd, to the bench, to the players on the field were absolutely amazing tonight."
Xavier had two corner kicks in the final four minutes of the second over time, but it wasn't enough. 
Records: UC 2-5-1, Xavier 5-1-2. 
Women's soccer will continue non-conference plat against Austin Peay State University Saturday Sept. 21. Kickoff is 5 p.m. at Gettler Stadium.