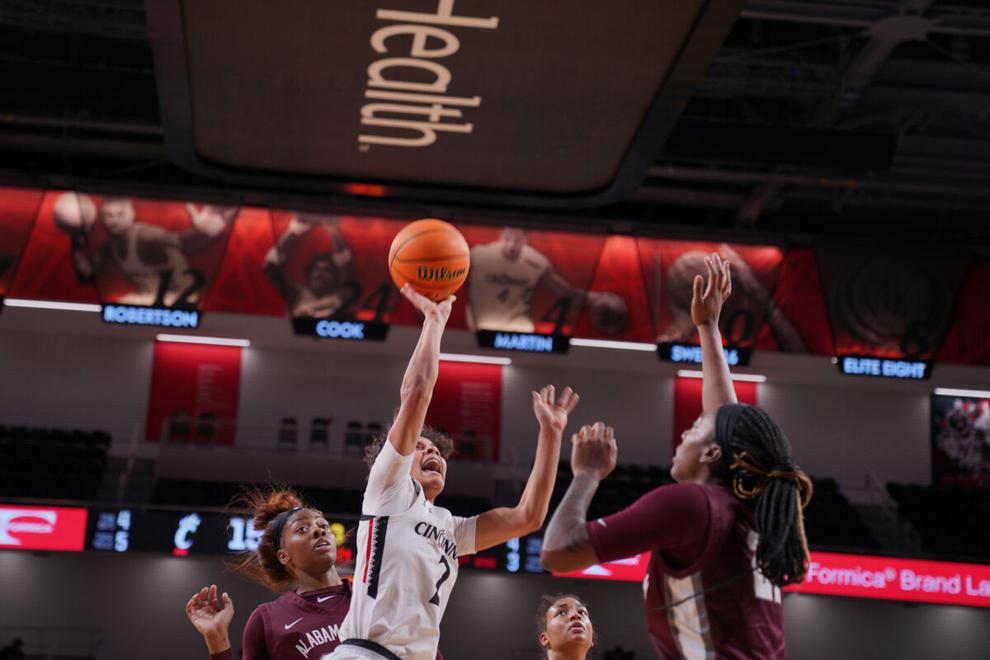 In her 12th season at the helm of the University of Cincinnati Bearcats women's basketball, head coach Michelle Clark-Heard kicked off the program's 50th season with a 73-60 win over Alabama A&M. Facing a former player and assistant coach of hers, Clark-Heard's Bearcats never allowed the Bulldogs to lead the game. 
Prior to the match, Clark-Heard expressed excitement just to get back on the court following a turbulent 2020 season, impaired by both the pandemic and injuries. 
Junior Akira Levy, one of the starting five for Cincinnati, undoubtedly led the arena's energy, scoring 12 points on the way. Levy was amongst the additions to the squad in 2020, after picking up All-SEC Freshman honors at Missouri in 2019.
Also coming off an All-Freshman (AAC) season for the Bearcat's was Jillian Hayes, the sophomore Cincinnati native who picked up a team high 17 points. Hayes was among the players receiving significant preseason attention, partially in part to her increased responsibilities and leadership needed with the departure of I'Imari Thomas.
Levy led Cincinnati in assists with six while also scoring four steals, next to Hayes's five. After ranking fourth in the AAC for blocks in 2020, graduate Arame Niang brought in 11 rebounds against the Bulldogs. 
Starting five for the Bearcats season opener saw Levy, junior Caitlyn Wilson, Niang, junior Jadyn Scott and Hayes. Prior to the season Clark-Heard noted that with so many new additions on top of returning talent, rotating players was going to be key. 
Despite having eight new additions playing in the Bearcat's C-paw for the first time, Cincinnati scored 25 off the bench. The Bearcat's defense held the Bulldogs to 27% from field goal range
This was just the third overall meeting between the two teams, Cincinnati taking the last 62-47 in 2019. However, the two squads have a deeper history between them, in A&M's head coach Margaret Richards' relationship with Clark-Heard. 
After playing under Clark-Heard at Nebraska, Richards went on to coach alongside Heard at Western Kentucky. As expected, the two met with warm regards and open arms at midcourt prior to tipoff. 
The Bearcats are back in Fifth Third arena on Nov. 12 to face Bellarmine at 7 p.m., while A&M is on the road again at Nebraska on Nov. 14.