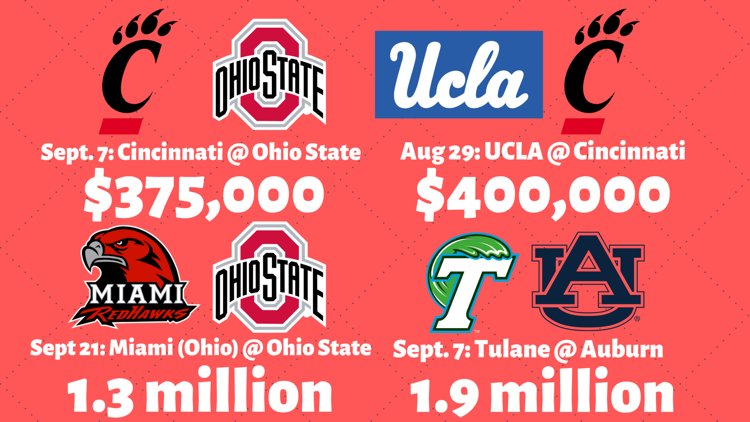 When the University of Cincinnati football team travels to Columbus to face No. 5 Ohio State Saturday afternoon, they'll receive $375,000 in return.
On Sept. 21, the Buckeyes will pay Miami (Ohio) $1.3 million to travel to Ohio Stadium.
There is a reason behind the rather large monetary difference, as the recent men's basketball deal with Ohio State plays a major role.
"It's important to remember how that came together rather than just look at the team guarantee from Ohio State this year, which will give Cincinnati only the original $375,000 it always had been set to receive for playing in Columbus," UC Director of Athletics Mike Bohn told USA Today. "People might say, 'What's going on?' But there is a lot of history there, and the basketball piece was a big deal, a huge deal."
The original two-game football series between UC and OSU — which came into existence in 2003 — will finally come to a close after Saturday's game.
The initial deal consisted of a 2012 matchup at Paul Brown Stadium in Cincinnati, followed by a 2014 meeting at Ohio Stadium. In 2003, they agreed to pay $375,000 to the traveling team.
The deal was reconfigured in 2007, as the Paul Brown Stadium matchup was moved to Columbus. In return, Ohio State agreed to pay an additional $888,246 to Cincinnati, according to USA Today.
In early 2012, the games were moved to 2014 and 2018 as Ohio State fit a non-conference game against Central Florida into its 2012 schedule. In 2013, the 2018 meeting was moved to 2019 as Ohio State used the opening to schedule a Big Ten conference game.
Although Bohn didn't oversee the football deal (Bob Goin was UC's Director of Athletics at the time), he was able to intertwine the men's basketball series between the two schools.
"The fact that we were able to tie in an Ohio State-Cincinnati basketball game on our campus for the first time in 99 years … all of those things begin to really reveal the importance of scheduling games like that and working with marquee institutions like Ohio State," Bohn said.
UC opened the renovated Fifth Third Arena Nov. 7, 2018, with a 69-56 loss to OSU. The two-game deal will conclude when the schools open the 2019-20 season in Columbus Nov. 6.
During the 2019 college football season, 41 games currently include one school paying another school at least $1 million, with 16 of those amounting to over $1.5 million.
"It's not an ideal situation, but I do think it's important to understand that Ohio State and Cincinnati have a wonderful relationship," Bohn said.
The teams have met 16 times in football, and the Bearcats haven't beat the Buckeyes since 1897.
How to watch:
TV time: noon EST
TV Channel: ABC
Livestream: WatchESPN