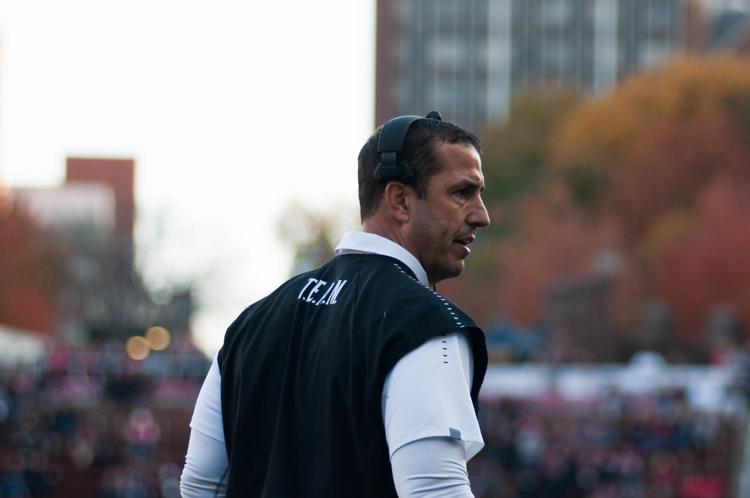 The University of Cincinnati football program will play one of its biggest games of the season Saturday, as they make the 110-mile trip to Columbus to face the No. 5 Ohio State Buckeyes.
The Bearcats have never won at Ohio Stadium (0-13) and have not seen the Buckeyes since 2014, when they lost 50-28.
This year's matchup will be much different, as UC head coach Luke Fickell will make his first return to "The Horseshoe" after spending time as a player (1993-96) and coach (1999, 2002-16). Despite a lengthy history with the school, Fickell said he wouldn't categorize it as a rivalry game.
"We have a rivalry game, but its next week [against Miami (OH)]," Fickell said Tuesday in his weekly news conference. "We talked about rivalry weeks in camp and we're going to study the history of those things. … It's an opportunity, not just that we're playing Ohio State, but it's an opportunity for us to play a top five team to measure our program. We'll measure us as individuals and measure us as an offense [and] defense as units against some of the best. I think that's the way we've looked at it."
Fickell's personal life also began at Ohio State, as he met his wife Amy while she was a cheerleader for the Buckeyes during his days as a player. Still, Fickell said he'll keep his emotions out of the matchup.
"When you're a competitor, it doesn't really matter," Fickell said. "They'll be no feelings. I've said it before, all of a sudden you have the opportunity to play your brother — yeah you love them to death and you want nothing but the best for him — but at that moment you've got no love lost for him … We've been there, known a lot of things and know what the atmosphere is going to be like. There's lot of history, whether it's me, Coach [Jon] Tenuta or Coach [Marcus] Freeman. But all in all, it's about a game."
While Ohio State is known as a "dream destination" for many high school football players in the Midwest, Fickell said he and his staff are trying to develop a similar reputation at UC.
"That's what we're trying to do and that's what we want to continue to do," Fickell said. "It takes a while to do that. It takes consistency over time and I think that's where the ups and the downs, meaning from the very highest of [former head coaches] [Mark] Dantonio, [Rick] Mintor, Brian Kelly or Butch Jones. It's very high and then you lose a coach. I think that's what makes it difficult to make it a destination and that's my objective to create that over time."
The Buckeyes open as 16.5-point favorites over the Bearcats.
Kickoff is set for noon Saturday.