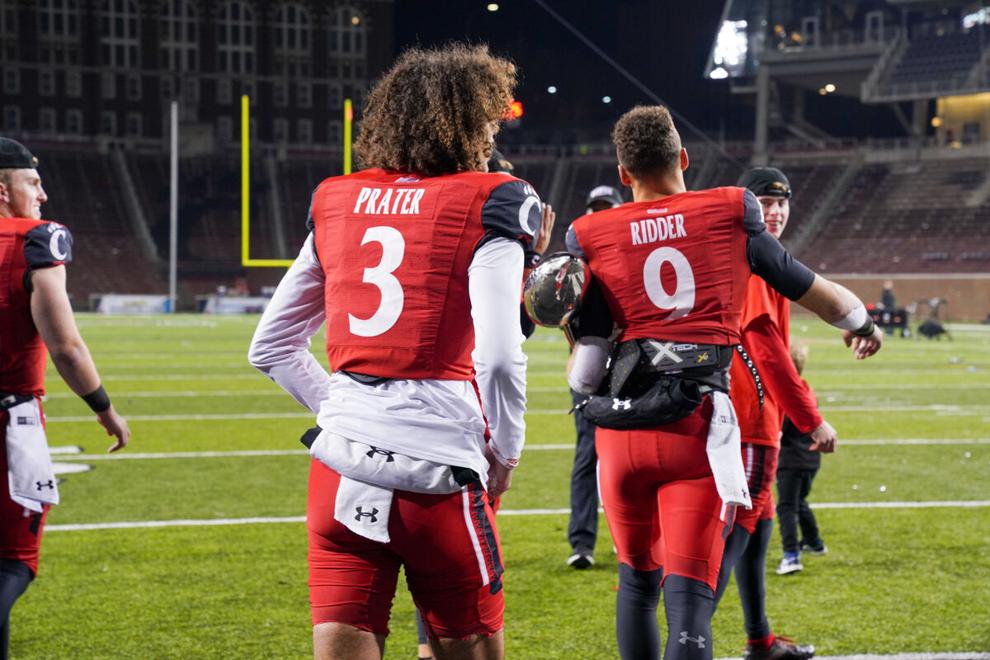 As one of the greatest Bearcat football players of all time, Desmond Ridder must now leave town to make a name for himself in the NFL, the Cincinnati Bearcats are faced with the task of replacing him for their 2022 football season.
Already on the depth chart is Ben Bryant — a former Bearcat transferring back to the University of Cincinnati (UC) from Eastern Michigan.
Evan Prater is also on the Bearcats' radar. A Cincinnati native and graduate of Wyoming High School, Prater recently completed his first fully-suited season as he red-shirted his freshman year as a Bearcat. Entering his third year in Clifton, Prater got to spend his first two seasons behind Ridder as the team made history. 
The 6'4" quarterback was a four-star recruit coming out of high school and was named Ohio Mr. Football in 2019. Since signing with the Bearcats, Prater hasn't experienced much game time but has gained two years' worth of college football knowledge behind one of the best squads in the country. 
In his appearances this season, Prater threw a touchdown and found himself in the endzone for a rushing TD. Prater's 44 rushing yards against Southern Methodist University (SMU) came on only three attempts, as he is already showing off the legs he has become well-known for. Prater is the assumed heir to Ridder and the Bearcats quarterback position, a spot that has endured a shuffle with the return of Ben Bryant.
Bryant, a fifth-year graduate student, spent his first three college seasons as a Bearcat before transferring to Eastern Michigan for the 2021 season. At Eastern Michigan, the Illinois native threw for 3,121 yards and 14 touchdowns. The yardage total was good for the top 30 in the NCAA. Bryant's completion percentage was 68.4%, while he threw seven interceptions on 408 attempts. 
The Bryant-led Eastern Michigan squad finished the regular season 7-5 and earned a spot in the Lending Tree Bowl game in which he threw for 200 yards in the loss.
His tenure as a Bearcat was spent primarily as a backup, though his appearance against Memphis in 2019 saw him throw for 229 yards and a touchdown. 
Bryant announced his return via Twitter on Jan. 7 and has since been active in supporting Cincinnati football players, including a retweet on Alec Pierce's NFL announcement. Bryant's impressive stint at Eastern Michigan has no doubt shuffled up the quarterback room heading into the 2022 season. 
Incoming as a freshman, three-star recruit Luther Richesson will also be stepping foot on Cincinnati's campus come the fall season. The Tennessee native is 247 Sports' No. 24 player from his home state and signed with Cincinnati over an offer from Michigan State. 
Quarterback coach Gino Guidugli will see his room full of talent for the 2022 season, with depth and skill at all ages. With nine months still ahead of the season, Guidugli, head coach Luke Fickell and the Cincinnati coaching staff have plenty of time to decide which direction to go to best follow up the historic 2021 season.