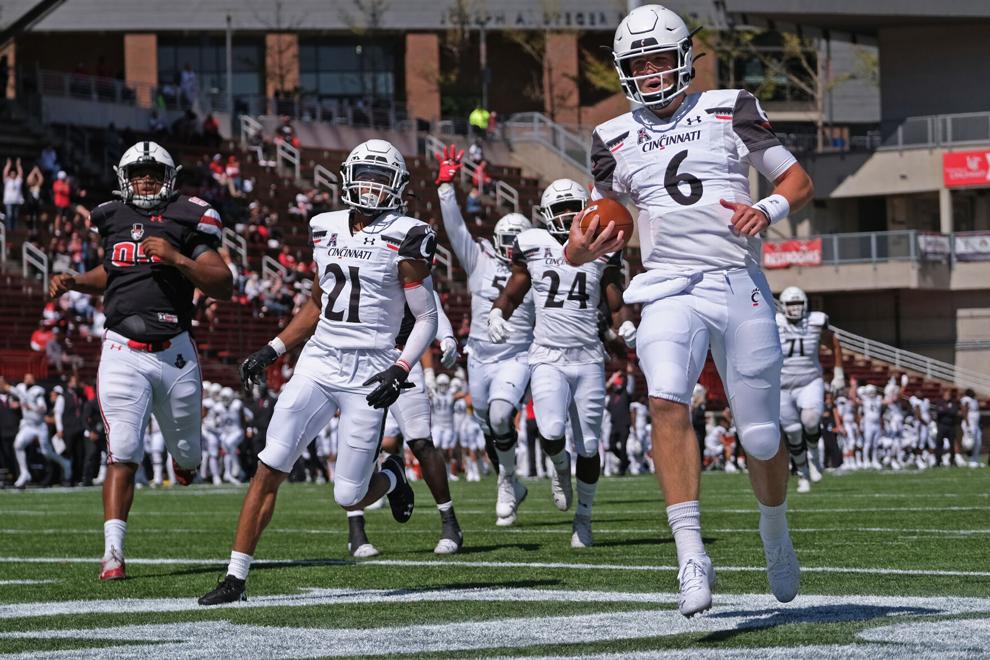 With 11 practices this spring for the Bearcat's football program, the team will get a glimpse of their 2021 team through a scrimmage on Saturday. 
After finishing No. 8 overall following a Peach Bowl appearance and a 9-1 season, the doubts against the Bearcats haven't eased. ESPN ranked them as the 27th best team heading into the 2021-22 season, the highest of any non-power five conference, despite 16 starters returning. 
As head coach Luke Fickell begins his fifth season with the Bearcats, one box already checked for the upcoming season is their offensive leader, quarterback Desmond Ridder. As the 2020 American Athletic Conference Offensive Player of the Year, Ridder will be the winningest quarterback in 2021 college football. 
Over his last three seasons with the Bearcats, Ridder has averaged 2,302 passing yards per season, with popular targets returning out wide. In the wide receiver room, returners include senior Michael Young Jr., Junior Tre Tucker, graduate Jordan Jones and Senior Alec Pierce. 
Tucker, Pierce and Young Jr. were among the top five leading receivers for the Bearcats in 2020, with No. 1 overall returning to tight end Josh Whyle. The 6'6" Cincinnati native brought in 353 yards on 28 catches in 2020. 
Although with two returners, the handoffs from Ridder will look a little less familiar as former leading rusher Gerrid Doaks departed for the NFL Draft. Filling the void will be redshirt sophomore Jerome Ford and Junior Charles McClelland. Ford rushed for 483 yards in 2020, while McClelland ran for 115. 
The running backs will also be led by a new positions coach, Darren Paige, coming from Cincinnati's rival and season opener, the Miami Redhawks. Also debuting their coaching talents with Cincinnati is defensive coordinator Mike Tressel, coming from Michigan State University.
Among the 16 returning starters for the Bearcats is junior cornerback Ahmad Gardner, who has been an All-American select seven times. Aiding in Gardner's three interceptions of last year was fellow cornerback Coby Bryant. 
Also returning on the defensive is Myjai Sanders, who some were hopeful would enter this year's NFL draft after his standout year. Despite losing leading tackler and linebacker Jarrell White, Cincinnati has returning linebackers in Darrian Beavers and Joel Dublanko, who had the following most tackles aside from White.
The Bearcats are slated to face two ESPN Top 25 teams, Indiana and Notre Dame, in the upcoming season. The upcoming scrimmage will be the first look at the complete spring roster and how ready they are for the out-of-conference play gaining national attention. 
Nippert Stadium's gates will open at 10:00 a.m. for the Bearcats spring scrimmage beginning at 11:30 a.m. on April 17.