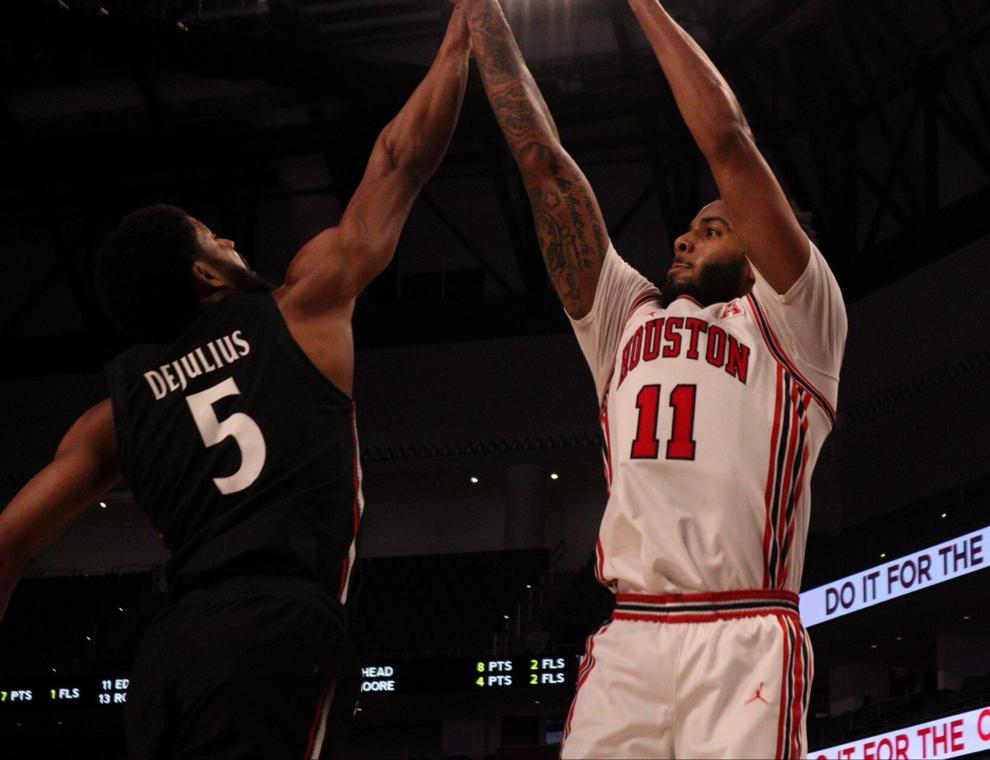 In their third meeting of the season, the No. 1 Houston Cougars met the No. 8 Cincinnati Bearcats, who had just defeated East Carolina University (ECU) 74-63, in the American Athletic Conference (AAC) championship's first round. 
Despite their early lead, Cincinnati's 25 missed three-pointers came back to haunt them in the games' end, as Houston's persistency advanced them to the third round 69-56 over Cincinnati. 10 of the missed threes came from the Bearcat's hometown hero, Jeremiah Davenport. 
"We can live with that," Houston's head coach, Kelvin Sampson, said following the game on Davenport's three-point percentage. 
Cincinnati opened play against Houston the same way they closed the first round against ECU, with success beyond the arc. After Cincinnati's first bucket was a three from Davenport, Houston's bench echoed "No threes," which was immediately met by a consecutive Davenport three. 
Sampson said following the game that the match was played on a "neutral court," admitting that tournament play gives an advantage to a team who plays on the first day.
Despite the scarce crowd that was predominantly Houston fans, due to their sub-four-hour drive to Dickies Arena, in Fort Worth, Texas, the Bearcats controlled the games energy at the open. While Houston fans eagerly clung to the edge of their seat waiting to erupt, Houston found themselves as their worst enemy, picking up 10 fouls in the first 12 minutes of play with six turnovers to UC's two at the respective mark. 
In their two meetings earlier this season, Houston took it to Cincinnati 80-58 on Feb. 6 and 71-53 on March 1.  
Houston, who was once No. 6 in the country earlier this season, has since fallen to No. 18 despite their 26-5 record, last played on March 6 when they suffered a 14-point loss to Memphis. While two of Houston's three conference losses came to Memphis, Cincinnati also endured two losses to the Tigers, however, both were only a 7-point margin.  
Despite Cincinnati's lead scorer, David DeJulius, shooting 2-10 in the first half, the Cougars only found themselves with a lead in the first half off their first basket, as they proceeded to enter the locker room down five. Although Houston shot 12% better from field goal range in the first half, Cincinnati outshot the Cougars from the free throw line by 18% and from three by 20%. 
Sampson said the message at the half was to not run a democratic offense, he wanted to see his team come out in the second half and run through someone, and Fabian White Jr. answered the call. 
Following the game, Miller said if White would have been on the ballet for player of the year, he would have absolutely earned his vote. 
The break didn't disrupt Cincinnati, who pushed past the Cougar-friendly crowd with an early second-half lead extension, only to be halted midway through the second. The Cougars on the court found their way into the Cougar's in the stands as they found an energy-surging lead 30 minutes into play off Fabian White Jr.'s hot-hand. 
As Houston continued to slowly pull away late in the second half off persistency, Cincinnati remained quick-to-pull from beyond the arc as they began their final minutes of full-court press. 
After a vividly displeased game, Cincinnati head coach, Wes Miller, found himself with a technical foul late in the second after heard throughout the arena exclaiming "how is that not a foul" and "we can play physical."  
After 40 minutes of play, Cincinnati missed too many shots, shooting 29% from field goal range, to take advantage of Houston's 11 turnovers and 21 personal fouls.22
With about a minute left in play, Cincinnati subbed in senior, Sam Martin and graduate, Hayden Koval to join senior, DeJulius, for likely their last game in a Bearcat's uniform. 
"We belong on the court with anybody," Miller said following the loss. 
Houston will now face the winner of No. 5 Tulane and No. 4 Temple, on Saturday at 3 p.m.