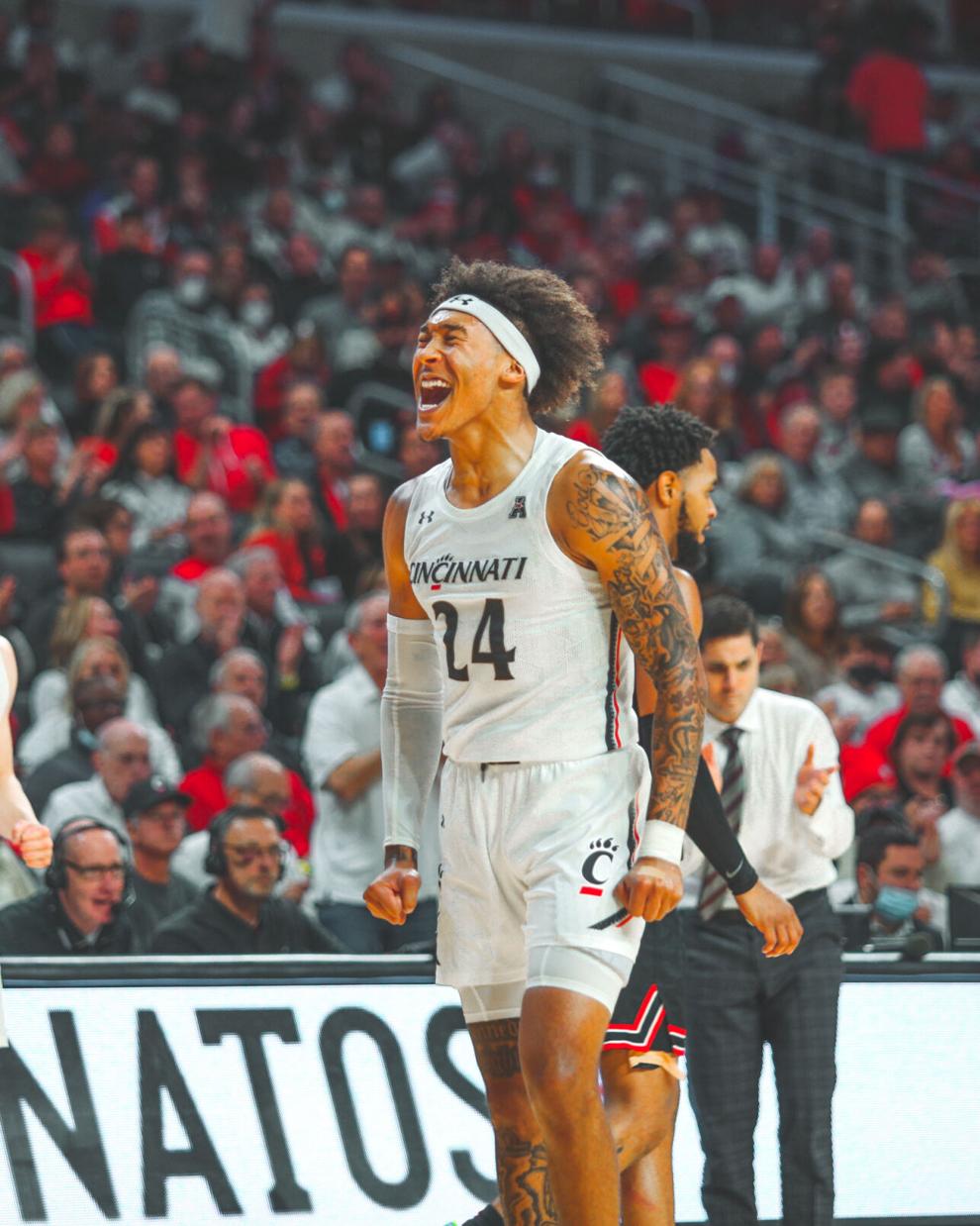 In their second contest of the season, the University of Cincinnati (UC) men's basketball team defeated the visiting Georgia Bulldogs 73-68. After not leading for the first 14 minutes of the game, a 17-0 first-half run and a passionate Fifth-Third Arena propelled the Bearcats to victory.
"That's as special of a college basketball atmosphere that I've ever been a part of," Cincinnati head coach Wes Miller said. "I've been a part of some really cool ones, but that rivals them all."
Miller has both played and coached at the University of North Carolina, one of the most prestigious basketball programs in NCAA history.
For a city that has been craving a packed basketball arena for nearly two years, Cincinnati and its fans brought a different level of noise to the game. The crowd was most evidently impactful during the 17-point run, where not a single fan in the student section could be found sitting in their seat.
"I thought it was just terrific," Miller said. "You felt the energy and our guys fed off that energy. I look forward to more nights in Fifth-Third like that."
The 17-0 run, that spanned the course of 3:31, started at a Bulldog lead of 19-14 and ended at 19-31 score in favor of the Bearcats. Seven different Bearcats scored during the run, giving Cincinnati a lead that remained through the game's entirety. 
Not only was UC dominant on this run offensively, but defensively as well. The Bearcats forced three Bulldog turnovers over the stretch and capitalized on all three. The pestering Cincinnati defense was on display as the offense of Georgia was forced into turning the ball over 14 total times, six of those being Bearcat steals. 
"How aggressive can we be defensively without losing our discipline? How competitive can we be? How energetic can we be?" Miller asked in his post-game press conference. "We want to be highly disciplined in those regards."
One note Miller made after their previous outing with Evansville was on rebounding, one that the players responded to promptly against Georgia. Cincinnati outrebounded Georgia 40-31, including 17 offensive rebounds to Georgia's five. 
"Georgia is a really good rebounding team from what we've seen on tape," Miller said. "We won the rebounding battle. We had 17 offensive rebounds. And I was really proud of that." 
A lot was on display for Miller to be proud of tonight as the Cincinnati Bearcats advance to 2-0 on the season. 10 of Cincinnati's 11 players that saw the court tonight scored, three being in double-digits. 
With scoring spread evenly, Miller and the Bearcats look forward to being able to rely on each other for the rest of the season. Cincinnati is back in Fifth-Third Arena on Nov. 16 to host Alabama A&M at 7 p.m. ET.