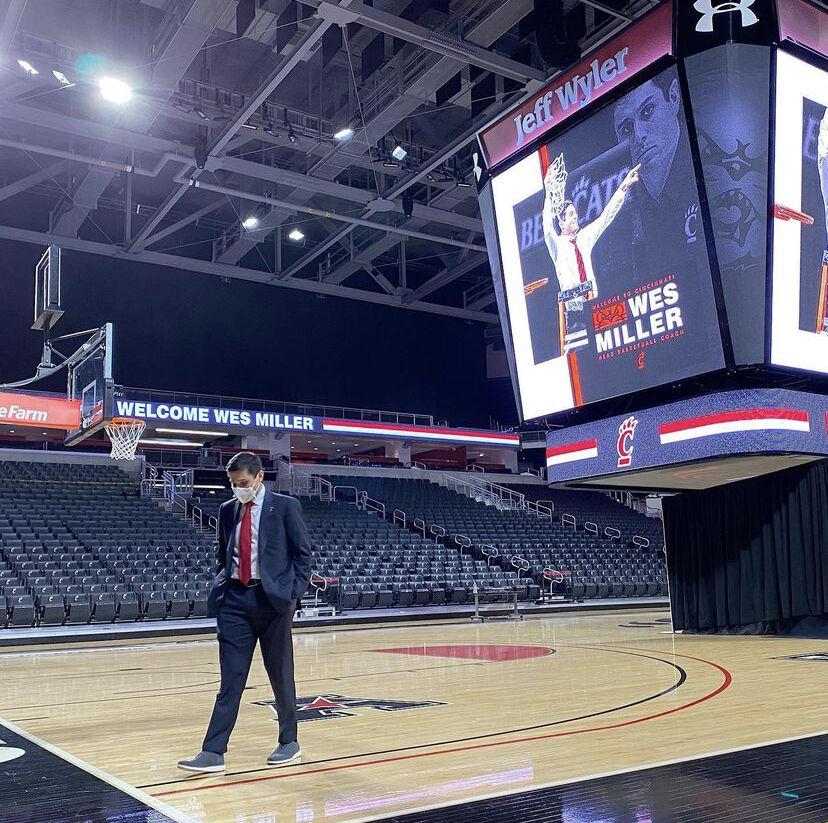 On April 16, the University of Cincinnati (UC) Athletics Department held a press conference at Fifth Third Arena to announce the new men's basketball head coach, Wes Miller. Miller joins the UC program after leading the University of North Carolina at Greensboro (UNCG). At UNCG, Miller led the program to two NCCA Tournament appearances and three Southern Conference regular-season championships. 
"Bearcat fans, it's Miller-time," said Dan Hoard, the radio play-by-play announcer of the Bearcats.
During the press conference, Miller emphasized the importance of putting the players first. "This program will be about the players first," he said. "We have a responsibility as coaches in college of leading young people. We have a deep responsibility to help young people grow."
Miller's announcement comes as UC guard, Mike Saunders Jr., announced via Twitter during the press conference that he would be taking his name out of the transfer portal and returning to stay a Bearcat.  
"I think the thing that I found with Mike talking to him, and I found this talking to everybody, is we already had a lot of common ground, because the things that I feel about Cincinnati, he's already experienced them," said Saunders. "He echoed how much he wants to be in this program, in this university in this community, how much he wants to do the things that he dreamed of doing when he committed here; we have those same shared dreams and goals."
The newly crowned coach also talked about his ambitions for the men's basketball program during the event and how much it means to coach a team with a decorated history. 
"I've always wanted to be a college basketball coach," he said. "I've dreamed about it my entire life. But I've also dreamed about being a college basketball somewhere where there was history. There was tradition. There was pride. Where you could compete at the highest possible level of college basketball to cut down nets and hang banners."
When asked about how the hiring process, Miller told the media that he was eager to hear from the program about the opening. A text came from UC Director of Athletics John Cunningham, and Miller was quick to fire back. 
"I'll never forget where I was, I was in a car, I was going to dinner with some of my college teammates," said Miller. "And I was holding the phone when it came through. And I texted immediately."
One of the main focal points that Miller spoke about was his ambitions for the program. 
"I want to be the last team standing every single year," said Miller. "That's going to always be my dream."