Home sweet home.
After the University of Cincinnati men's basketball team opened the newly-renovated Fifth Third Arena with a 68-41 exhibition victory over Tusculum University Thursday, the volleyball and women's basketball teams took center stage.
Here's how both teams fared:
Volleyball sweeps Wichita State
Bearcats volleyball improved to 20-6 with a 3-0 sweep of the Wichita State University Shockers Friday evening.
The offense finished with a season-high attack rate of .483 percent, including 53 kills and 47 digs.
Redshirt junior outside-hitter Jordan Thompson became the AAC's single-season points leader, delivering 24 kills. She has accumulated 660 kills so far this season.
Senior setter Jade Tingelhoff dished out a team-high 40 assists and 11 digs for the Bearcats.
Head coach Molly Alvey highlighted the importance of having a facility like Fifth Third Arena at the team's disposal.
"What an unbelievable, amazing event tonight," Alvey said postgame. "The match was just one piece of a really incredible experience. Our fans were here in full force. The arena is amazing, and to get our first win in the arena like that, I think [it's] really exciting. This atmosphere is the atmosphere that I would like to grow for this volleyball program for every single match that we have. It was a tremendous environment."
The Bearcats remain in second place of the American Athletic Conference (AAC) standings at 10-2, topped only by the 13-0 University of Central Florida Knights.
The next chance to check out the team at Fifth Third Arena is Nov. 16, against the Tulane University Green Wave. The match is scheduled for noon, and admission is free.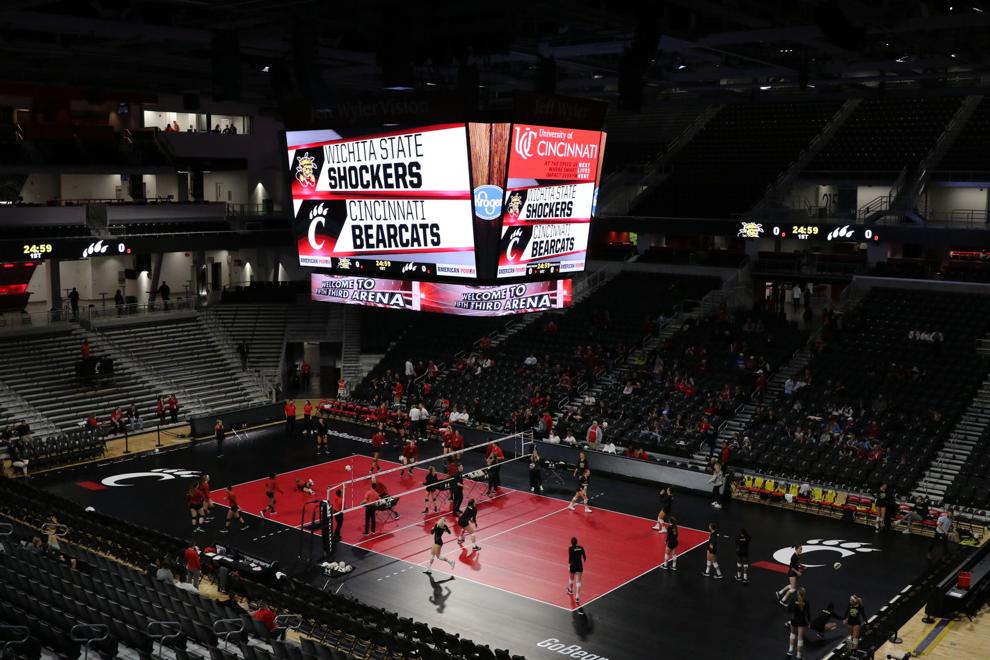 Women's basketball pulls away from Pennsylvania in second-half
First-year head coach Michelle Clark-Heard led the women's basketball team to a 69-49 exhibition win over the Division-II California University of Pennsylvania Vulcans Saturday afternoon.
The Bearcats faced a 12-point deficit six minutes into the first quarter before going on a 10-0 run to close the gap. The Vulcans held a 29-27 advantage at halftime.
UC pulled away in the second half, outscoring California 42-22. The Bearcats converted on 54 percent (29-of-54) of shots, outrebounding the Vulcans 42-27.
"I think we kind of simmered down after the first half and got back to doing some things that we needed to do," Clark-Heard said after the win. "We just got to keep getting better. We're learning, and different people stepped up. I just talked to them about our energy and effort — that's what we've really been focusing on."
Junior forward Angel Rizor led the Bearcats offensively with a game-high 17 points on 7-of-9 shooting, seven rebounds and four assists.
Sophomore forward Llarm'l Thomas posted a double-double with 12 points on 6-of-7 shooting and 10 rebounds.
The women's basketball team returns to Fifth Third Arena Nov. 9, to face the East Tennessee State University Buccaneers. Tip-off is scheduled for 7 p.m., and tickets can be found by clicking here.