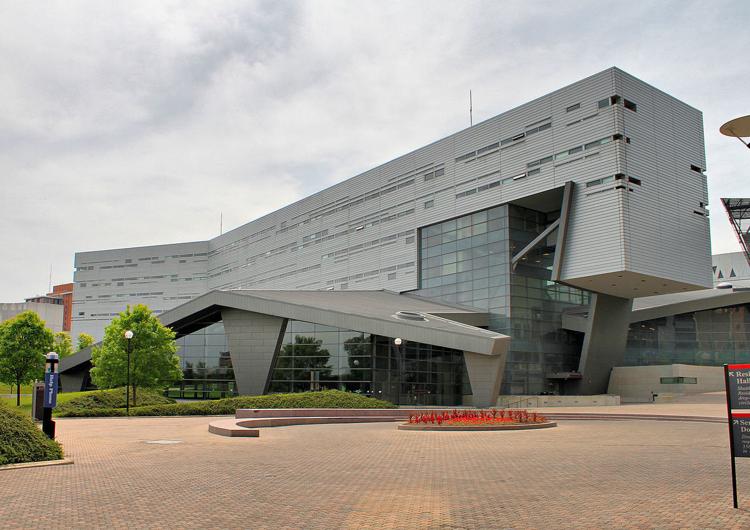 While much focus is on the University of Cincinnati's (UC) division one athletics, it's easy to forget that the university's intramural sports programs are also suffering due to COVID-19.
Along with much of UC's division one sports, excluding football, the university stepped in and told intramural sports programs that play would not be sanctioned for, at least, this fall semester during the pandemic. 
Two intramural veterans, Matthew Rosinski and Luke Grace, shared their thoughts on what this semester has been like without intramural sports. 
"It's based on policy," said Rosinski, a junior studying accounting. "It's not really that [the intramural department] wants to cancel intramurals. It's that UC won't let the intramural department have intramurals."
Many of those accustomed to playing intramural sports are shorted of one of their favorite experiences in college. There are several benefits of the intramural dedication that are no longer present, namely fitness.
However, Rosinski and Grace said the postponement of intramurals has encouraged them to try other sports in the Cincinnati area.
"[I] definitely went into different sports that weren't intramural," Rosinski said. "So [I've] played a lot of golf and spike ball [which] I can play without needing a team."
"I found a [basketball] court in Oakley, an outdoor court, that me and my buddy go to every once and a while," Grace said, who is a biomedical engineering student. "I actually just started trying spike ball and I'm liking that a lot."
Both Rosinski and Grace have been participating in intramural sports since their freshman year at UC. They've played various sports across the structured programs, namely basketball, football and soccer. 
According to the two of them, they see a level of competition and dedication that meets, or even exceeds, that they experienced at the high school level years ago. In contrast to high school sports, the environment proves to be a mix of competitive and relaxed, focusing on having good times. 
"Pretty much, you've got every benefit that you had in high school sports," Rosinski said. "But, it's also a lot less serious, everyone can relax while they play, but you got the fun and the competition still."
"Definitely at a school like Cincinnati," Grace added. "[Where it's] a D1 school, there are people that are playing, whether it's basketball or football, that are better than [what you see] in high school… players that could've gone D2 but they're playing intramural. It humbles you but also tests your skills."
However, the stakes increase when it comes to playoff time. According to Grace, depending on the sport and whether it's a regular matchup or playoffs, the level of competitiveness can alter drastically. 
Rosinski, who participates in intramurals and officiates as a referee for several of the sports, agrees. Agreeing to partake doesn't include just game time. It includes practice, knowledge and managing time.
Besides the competitiveness, intramurals also demand a high level of dedication from Rosinski and Grace. 
"I guess it depends on the person, [Luke and I] are definitely on the higher end," Rosinski said." [Intramurals] are played Sunday night through Thursday night. I'm pretty much playing or reffing at least one every one of those nights."
While not everyone has to be as dedicated as Grace or Rosinski, that doesn't exclude them from enjoying a sense of belonging in the UC community.
The intramural programs offer exciting ways of competing in the sports one enjoys. It also offers unique opportunities to socialize with established friends or meet new ones from different parts of the university. 
"You [can] play with your friends, which is nice," Rosinski said. "You can get put on a random team if you don't have people to play with, so we include everyone. [Playing with] friends can make the experience two times better… in [intramural] it's whoever you want, you get to pick the teams really."
"There's no coaches," Grace added. "It's way more relaxed, if you mess up [it's not like] you're going to get taken out. It's just a ton of fun, in my opinion, I think intramurals are more fun than high school sports."
The pandemic has become increasingly unpredictable. As a result, the university has yet to give the word to the intramural department on the likelihood of playing in the spring.