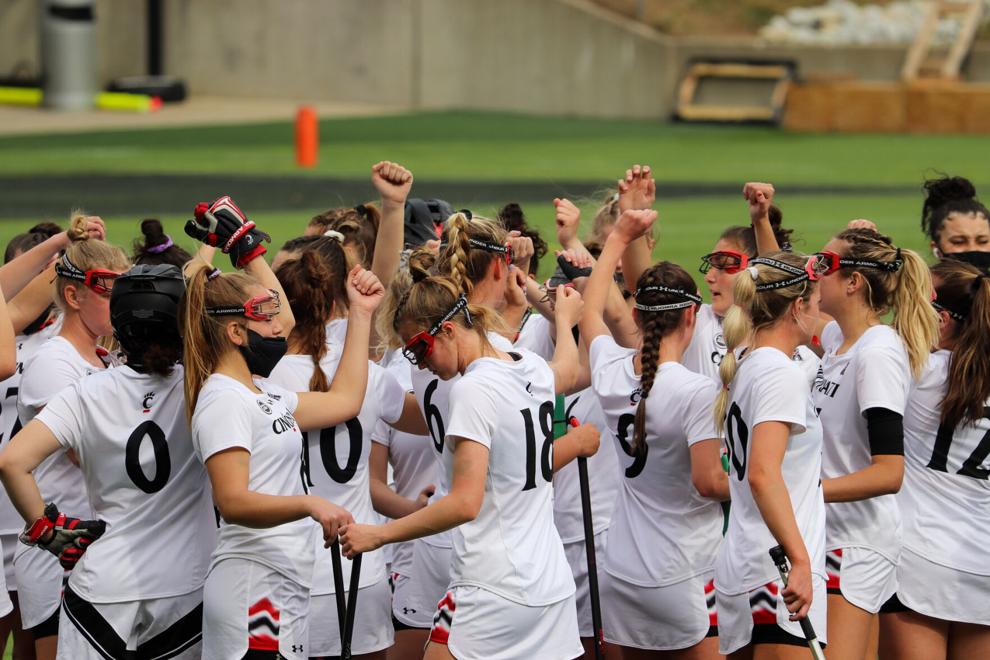 The University of Cincinnati's (UC) women's lacrosse team (6-8) is just a few games away from the conference tournament, and have led a goal-friendly season, on both sides of the field. 
Eight of the Bearcats' games this season have been won or lost by a margin of five or greater. While they've put up two 17-point winning games, they let the Ohio State University (OSU) lap them around the scoreboard 18-9 and similarly with the University of Michigan 20-7. 
Through 14 games, the lady Bearcats offensive efforts are averaging 22.5 shots on goal per game, while their defensive has allowed an average of 21. So, why do they have a losing record more than halfway through the season? 
A few reasons, rather. One simply being that just because the 5.25-ounce rubber ball frequently goes zipping towards the net, doesn't mean it is finding itself in the back of the net every time. Yes, the Bearcats have outshot their opponents quantitatively, but they've landed the ball in the back of the mesh at a lower percentage. 
Also worth noting, OSU and Michigan are 9-4 and 9-5, respectively, and arguably have the upper hand as they face bigger schools in a bigger conference. 
"We need everyone to step up and get us some balls in the back of the net," said Cincinnati's head coach, Gina Thomas, after her team fell to the University of Florida despite scoring 12.
A positive for the Bearcats off the field is they only graduate four from their 31-woman roster. Of those is senior attack, Kylie Nause, who sports no. 6. 
Through 14 games, Nause had 55 goals on the season with 74 shots on goal. She has well surpassed her goals in a season record which stood at 36 made her freshman season in 2019. Nause was the league's 2019 Freshman of the Year
While Nause leads the attack on one end of the field, Sophie O'Brien is holding down the Bearcats defense in goal. O'Brien, a freshman and Cincinnati native, has saved 96 shots through 14 games.  
The Bearcats final home game of the 2022 season will be in Nippert Stadium on April 23 against East Carolina University at noon. The game will be available to stream on ESPN+. 
The AAC tournament is set to begin on May 5 and run until May 7.