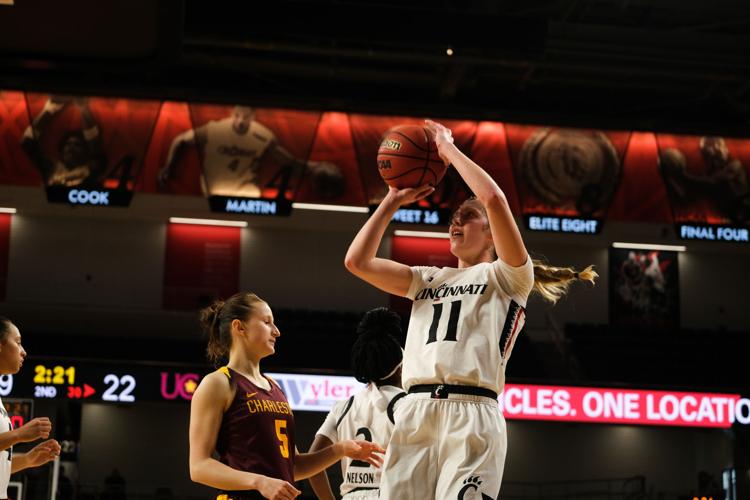 I'imari Thomas scored 26 points and added seven offensive rebounds, as the University of Cincinnati women's basketball team defeated the University of Charleston, 67-52, Tuesday evening at Fifth Third Arena.
Thomas dominated the second quarter, scoring 12 of her 16 first half points on 7-of-11 field goal attempts. Charleston struggled to stop the junior, who got four offensive rebounds from missing two of her own shots. Thomas scored 10 points in the second half and credited the playing style to her success.
"We just stuck to our bread and butter and that's playing inside out," Thomas said. "The guards were able to look up, and if they double team us inside, we have so many shooters on our team. That's our game."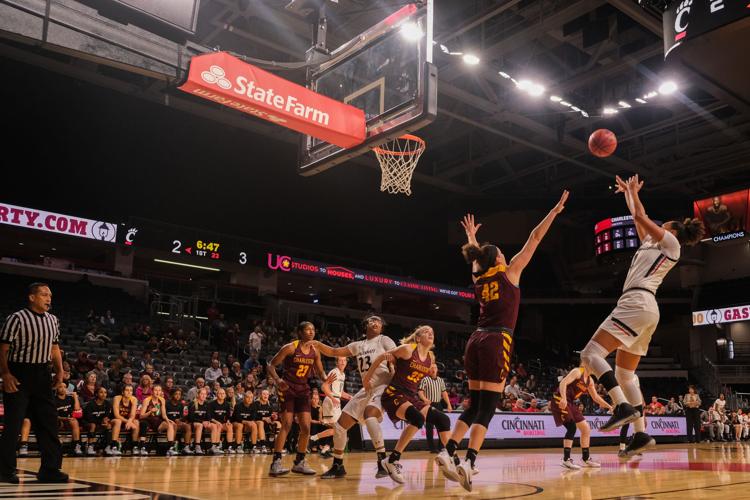 UC head coach Michelle Clark-Heard pushed the pace offensively all game, having the wing players run down the sidelines and Thomas rim-running in the middle of the floor. The guards pushing the ball up the court (seniors Sam Rodgers and Antoinette Miller) lobbed the ball on the run to Thomas, which resulted in layups or a turnover. UC finished with 19 turnovers, but their playing style continues to be a work in progress.
"We had passes today that just weren't what we normally do," Clark-Heard said. "But this is our first time playing, so we have to take back, get notes and clean it up. We have to figure out a rotation and get continuity."
UC was able to make up for the mistakes, using a 2-2-1 press to force Charleston into 27 turnovers. The press and defensive rotations weren't perfect however, as Dakota Reeves lurked behind the arc and hit five uncontested three-pointers.
"It was just a lack of communication," Miller said. "We have to be better at knowing when somebody hits two [three-pointers] on us, we have to lock in and stop them. Just have to work on communicating better."
Miller had a shooting night of her own, knocking down three three-pointers and draining a jump shot just inside the arc to give UC its first points outside of the paint. The paint was an area the Bearcats dominated, outscoring Charleston 50-16. Rodgers was held without a field goal (two free throws), but did the dirty work coming up with three steals, two charges to go along with four rebounds and four assists.
"Rodgers is our floor leader," Clark-Heard said. "She talks all the time, gets us in defense and does a lot of different things. We can't focus on if we make shots or not. We want to be a defensive team and build off of what we can do on that end." 
Reeves led Charleston with 16 points and was able to do it in front of familiar faces, as she graduated from West Clermont High School — 22 miles east of UC.
Women's basketball begins its regular season Nov. 5 at home against University of Utah at 5 p.m.
PHOTOS: UC women's basketball wins exhibition by double digits