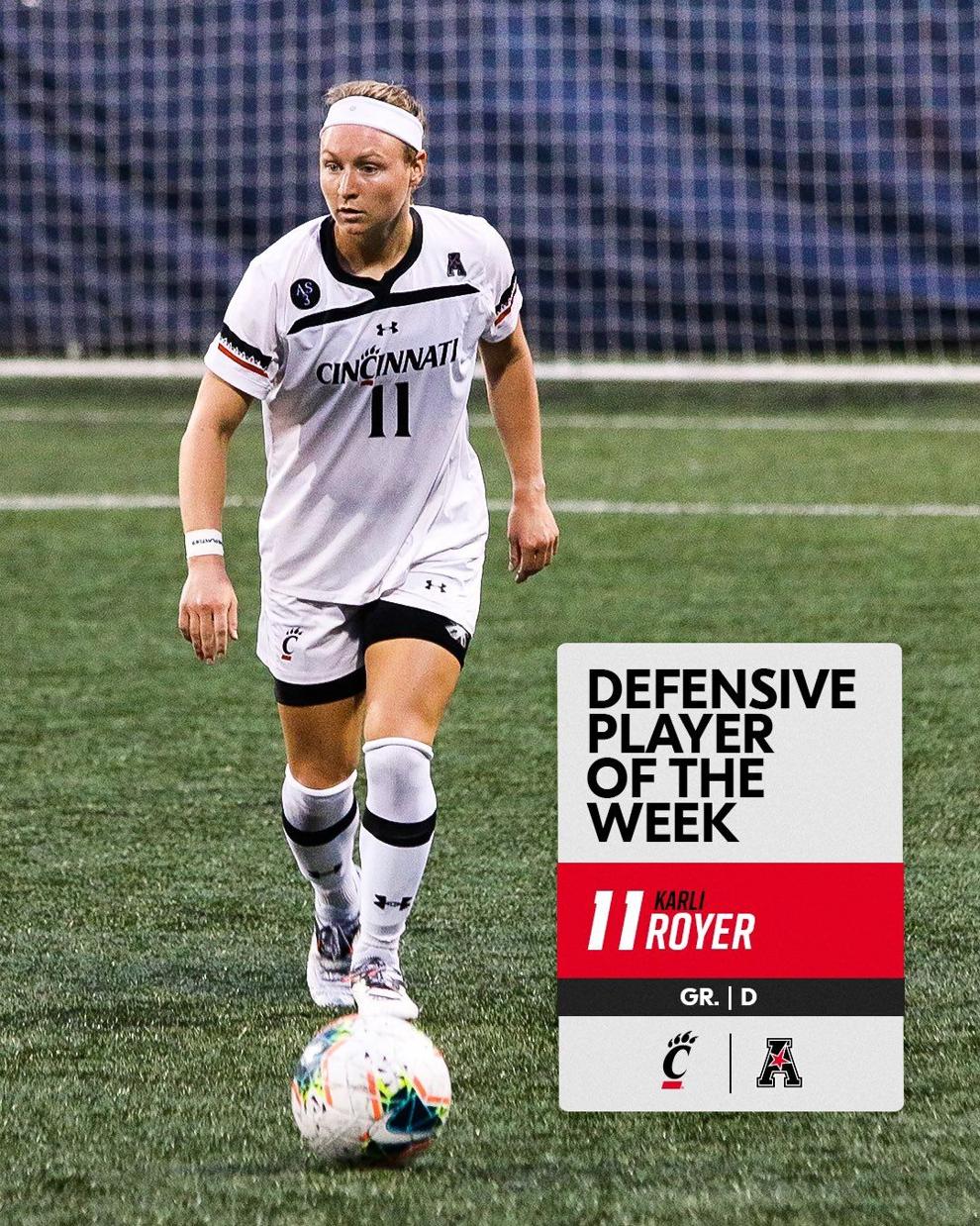 Karli Royer, a defender for the University of Cincinnati's women's soccer team, earned the American Athletic Conference's Defensive Player of the Week after scoring a game-winning goal in the team's most recent outing against the Virginia Tech Hokies. Royer's goal, a 44th-minute free-kick, Royer's goal, a 44th-minute freekick, ended up being the difference-maker that led to the Bearcats' victory.
"I went to shoot and it went exactly where I wanted it," Royer said on her free-kick goal. "[The celebration after] was pretty hype, Camryn [Hartman] and I did a chest bump. For some reason, before the game, we said if one of us scores we're chest-bumping."
Cincinnati's 2-1 win over the Hokies team received votes in the NCAA national poll the week prior, and marked a significant moment in the seasons' start. On top of a hard-fought loss at Xavier, Royer's performance against the Hokies was enough to earn her the honor.
"It's a huge boost of confidence," Royer said. "This is the first award I've really won, so it gives me a lot of motivation to get better."
The strike against Virginia Tech was only the second goal of the defender's career, yet her other being just as significant. An 88th-minute game-winning goal against the University of South Florida during Royer's freshman season secured her TopDrawerSoccer.com's National Team of the Week in 2017.
The goal, scored on the talented Virginia Tech team, was a long time coming for Royer, who is also a graduate student and has had to overcome adversity throughout her career.
"I've definitely [gone] through challenges over my few years," Royer said. "Sophomore year I was injured, and junior year my playing time was limited, so getting this award is showing how much time and energy I've put in."
Royer, a Westerville, Ohio native, has played 51 games throughout her career, starting 41 of those matches. Royer has already made a goal and an assist this season, and is seeking more action during the 13 remaining games the Bearcats have left to play during the regular season.
Cincinnati still has Ball State University, Eastern Illinois University and the University of Michigan coming to town, and are away to the University of Kansas before American Athletic Conference play starts. Michigan is ranked #18 in the NCAA national poll, and the series history between the Bearcats and the Wolverines is split even after only two games.
"We're all really excited, especially carrying momentum from a big win against Virginia Tech," Royer said. "But we know it means nothing if we don't take care of business these next couple games."