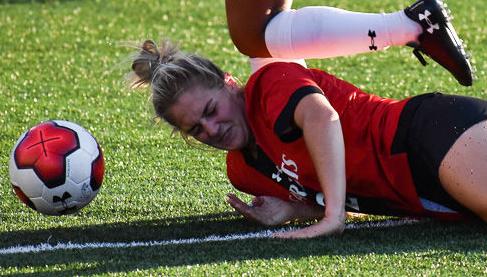 After beginning American Athletic Conference play 2-0 and riding a five-game unbeaten streak, the University of Cincinnati women's soccer lost it all in a 3-0 loss to No. 8 University of Memphis Tigers Thursday evening at Gettler Stadium.
The Bearcats had gone 33 days without suffering a loss, outscoring three opponents by a margin of 6-2 and playing through two double overtimes that resulted in a tie. UC's last defeat came Sept. 8 at the University of Tennessee.
UC's schedule hasn't been the most forgiving up to this point. Of the Bearcats' six losses, three have come against nationally ranked opponents. The toughest being American Athletic Conference (AAC) favorite Memphis. 
The Tigers have proved they're one of the top teams and have been on an absolute roll this season. They extended their win streak to a staggering 11 matches, improving to 13-1, 5-0 AAC.
"Coach [Neil Stafford] talked about how they are a very fast and technical team," UC freshman defender Ashley Barron said. "And if we aren't able to beat them in certain areas, what we can beat them in is physicality."
UC brought the physicality as best they could. In the second minute, a stunning chance was created by junior midfielder Sophie Gorman as she turned a back-heel pass to senior Sydney Goins, who kicked it off the crossbar on a half-volley from outside the box. 
Memphis began adjusting to the Bearcats energetic approach. Some calm midfield facilitation led to several chances on the wing, and a cross in the 24th minute from the right wing was met by a volley from Memphis forward Samantha Murphy. The ball creeped into the bottom left corner of the net, giving the Tigers the lead. 
"Their pressure made it very hard," Barron said. "We had a hard time holding the ball in the midfield and up top, so it kept coming down and down. They have a lot of good players so of course they were going to take advantage of it."
Despite finishing that first half on a tight note, the second half was a different story. The Tigers opened possession with a relentless attack, a barrage of shots led to several back-to-back corners. It wasn't long until Murphy netted her second goal of the night for the Tigers on a back-heel volley in the 50th minute. 
Nine minutes later, Memphis separated themselves even further as Clarissa Larisey slid a grounded shot past junior goalie Madison Less, resulting in what would be the final score of 3-0. 
"We talked about how disappointing it is to give up those types of goals," Stafford said. "We had to keep our head up. We created three to four quality chances, and unfortunately if you don't take those chances against teams like this, you get punished."