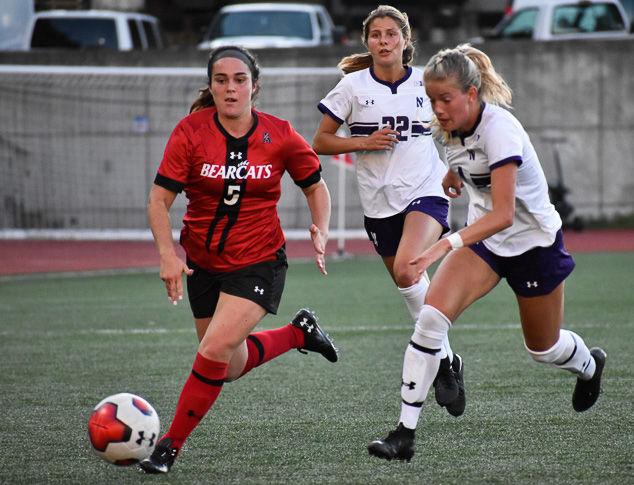 The University of Cincinnati women's soccer team was honored by the United States Coaches for having the joint-highest GPA in all of NCAA four-year institutions for the 2018-19 academic year, joining St. John's University with a 3.79.
The Bearcats earned placement on the list by maintaining at least a 3.0 GPA for the academic year, and it's their fifth straight year doing so. The GPA is the highest across all men's and women's soccer programs of all four divisions in the nation (990 teams).
"I'm really proud of the effort they've put in," UC head coach Neil Stafford said. "These aren't easy majors that the girls have and we've got great support from student-athlete services."
Stafford is no stranger to his student-athletes succeeding academically, as he spent four years at Central Michigan University (CMU) before arriving at UC. CMU held the highest GPA in the nation three times during his tenure (2009-10, 2010-11 and 2011-12).
"It's part of the big picture of what they're doing after they're done here," Stafford said. "Academics are a big part of our culture of excellence, and I think it speaks to the quality of kids we're bringing to UC."
Toward the latter half of the academic year in the spring semester, the team obtained a program-record 3.813 GPA. During that semester, 10 players from the team were "Topcats" — a recognition given to student-athletes that post a 4.0 GPA. Current Topcats include sophomores Brandi Thomsen, Annie Metzger and Ying Zhan; junior Jane Sensibaugh, and seniors Holyn Alf, Michelle Travassos and Libby Greenwell.
Alf was a finalist for UC's Jean Stephens Memorial Award last year and can attest that keeping academics prioritized in the life of a student-athlete isn't easy.
"It's definitely difficult, especially with all the traveling," Alf said. "It can be really hard to keep up with classes. But I think our team is super proactive and aware of these difficulties. We're really trying to reach our potential in all areas, and this signifies how hard we work both on and off the field."
The proficiency of communication off the field is just as important as it is on the field, as the players remain in constant communication with more than each another throughout the four-month season.
"Our squad does a really good job of making relationships with our professors and letting them know ahead of time what our schedule is looking like," Alf said. "They can plan ahead for make-up tests and things of that sort. We also tend to make relationships with our fellow classmates, so we can kind of lean on them for help and get the day-to-day information we may have missed."
Women's soccer will play two road games at Southern Methodist University and University of Houston this week, before returning to Gettler Stadium Oct. 24 for a match with South Florida University.