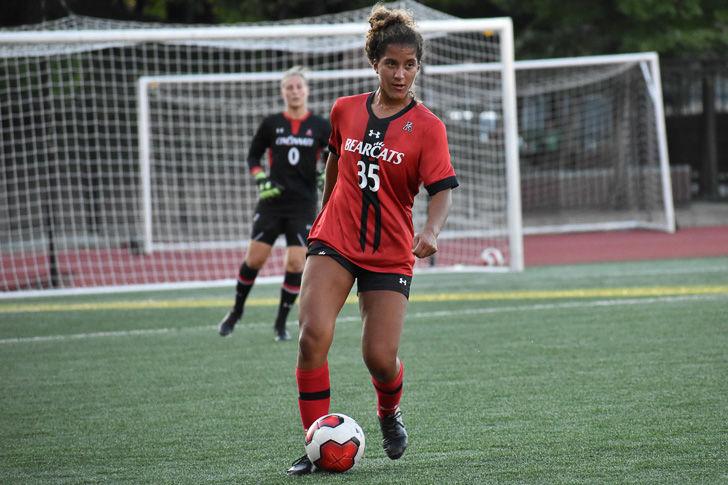 The University of Cincinnati women's soccer team (No. 4 seed) saw its season come to an end Sunday, falling 1-0 to No. 5 seeded Southern Methodist University (SMU) in the first round of the American Athletic Conference Tournament.
SMU came out of halftime and scored the only goal in the 50th minute on a header on a corner-kick from midfielder Celiana Torres to defender Brooke Golik.
With its season on the line, UC never gave in. They doubled its shot count from three to six between the 72nd and 83rd minutes, including a volley from leading goal scorer Han Tang that was stopped by SMU goalkeeper Tatum Sutherland.
Sutherland stopped any UC opportunities, especially in the fifth minute when junior midfielder Sophie Gorman intercepted the ball at midfield, advanced into attacking position and used her right foot to drive the ball towards the bottom left corner of the net — only for Sutherland to save it in diving effort.
Even though the chance came near the start of the match, it was one of only a handful of shots the Bearcats were able to create in the first half. After six unsuccessful attempts throughout the match, senior midfielder Sydney Goins had one final shot attempt in the 87th minute, but it sailed over the goal post.
Despite an early exit out of the postseason, UC head coach Neil Stafford was largely positive when reflecting on the season.
"We've had a lot of growth," Stafford said. "There are some standards that we didn't meet and certain results where I think we could've had better outcomes. But right now, the important thing to do is focus on the positives. I believe these freshmen and sophomores have learned a lot from the number of minutes they've had this season."
Five of those freshmen and sophomores earned significant roles on the squad this season. Among the 19 matches, five started 10 or more matches, including freshmen Ashley Barron (18), Tang (16) and sophomores Alli Pestaina (12), Morgan Jackson (12) and Brandi Thomsen (11).
The impact of the fresh faces shined under the consistency of the upperclassmen. Junior goalkeeper Madison Less started every match for UC this season and collected her highest number of saves (57) in a season. Gorman ended the season with the highest number of shots on goal (19).
"I'm going to miss playing with this group of girls," senior defender Bri Costigan said. "I came in with an amazing class, and I feel like I'm leaving with an amazing class even with all the change we've had since my freshman year. Everyone who comes into this culture is amazing."
Costigan led UC with four assists this season and registered over 1,000 minutes played in each of her four seasons as a Bearcat.
SMU advanced to the semi-finals to face Memphis, while UC finishes the season 7-9-3 (5-3-1 AAC).