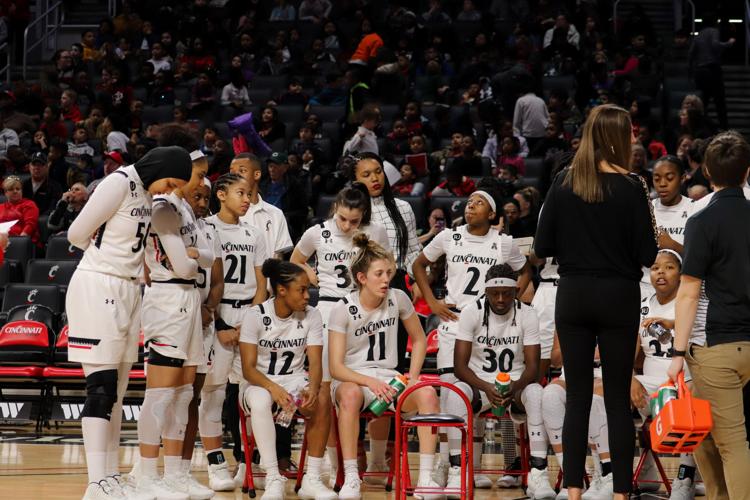 The University of Cincinnati (UC) women's basketball team has gotten off to a thrilling start in the 2020 season, pulling out an overtime victory in their inaugural game against Northern Kentucky University (NKU) with a final of 73-67.
Both teams were only given two-day's notice of the game, as UC's initial opponent, North Carolina A&T, we're forced to withdraw from travelling to Fifth Third Arena due to recent COVID-19 restrictions in North Carolina.
The lack of time to come up with a new game plan showed itself on the court, as UC head coach Michelle Clark-Heard's unit looked unprepared for their across-the-river opponents from the get-go.
NKU's physicality was the most apparent early on, as the Norse scored six points off of five offensive rebounds in the first quarter, and guard Ally Niece drained a three as part of a 12-2 Norse run to open up the second quarter – extending their lead to double digits.
A noticeable advantage on the Norse's side for much of the evening was the team's enthusiasm, from the coaching staff on down to the players. Although they were the visitors in Fifth Third, the constant noise from the visitor's bench filled the entirety of the near empty Arena.
For her first half of play on the season, American Athletic Conference co-preseason player of the year, Ilmar'i Thomas, got off to slow start, going 3-8 and taking her eyes off a passed ball for a cheap turnover to the Norse.
The senior wasn't letting her first half dictate her game, however, as she came into the second half blazing.
Along with the assistance of juniors Destiny Haymer (seven points, three assists), Addaya Moore (eight points, six rebounds, four steals) and senior Arame Niang (13 points), Thomas went on to bank a whopping 28 points in the second half and overtime alone.
"We were down, we weren't scoring as well." Thomas said postgame. "[I knew] that I needed to take over and do my job. That's what I do, I score."
Those numbers from Thomas propelled the Bearcats to outscore the Norse 39-30 in the second half as the Bearcats eventually caught up. End of regulation arrived with the score tied 56-56, and in overtime, Thomas stepped up for the Bearcats yet again.
She scored each of Cincinnati's first eight points in overtime, including a three-pointer to make it a three-possession game, getting the Bearcats off to a running start. She capped off her night with an and-one with two seconds left.
Cincinnati completed their comeback victory in overtime, and Thomas left the floor with an impressive total stat line of 34 points, seven rebounds and six assists – all team-highs for the game.
Now 1-0, Cincinnati hosts University of Louisville later this week on Nov. 28 at 2 p.m. in Fifth Third Arena.