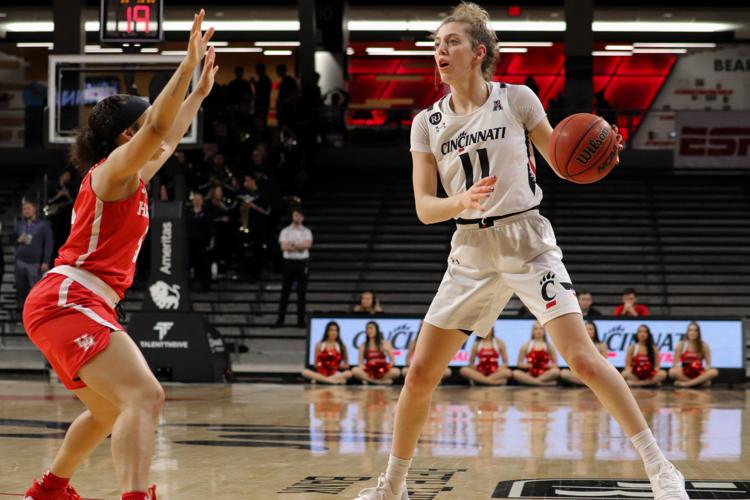 From a young age, Cincinnati native and University of Cincinnati women's basketball player, Sam Rodgers was surrounded by the Bearcat life. She would come to watch an array of sports at UC, including basketball. Sat in the old Fifth Third Arena, that was then called the Myrl H. Shoemaker Center, Rodgers sat and watched as Bob Huggins' Cincinnati men's basketball team would shape a new direction for Cincinnati basketball. And perhaps then, underneath the luminous lights within the arena, her dream of being a Bearcat student-athlete was born.
Rodgers grew up not only playing basketball, but soccer as well, and even "thought [she] was going to be the next Mia Hamm," she said. But injuries and her physical attributes meant she wouldn't walk in the footsteps of the two-time World Cup-winning, double Gold Olympic medalist, but instead choose a life of basketball that would lead her to Fifth Third Arena, and her No. 11 jersey.  
Rodgers arrived as a fresh-faced freshman in 2016 along with seven others, and although her "high-school did a great job at preparing [her], It was still scary," she said. As a freshman class, they wanted to change the women's basketball program, according to Rodgers. And that desire was fulfilled with their post-season run to the Women's National Invitational Tournament (WNIT) quarterfinals last year.
The team's post-season run, that seemed to have the college campus entranced reached its pinnacle on a dramatic night against Butler University in Fifth Third Arena. On a night that seemed to have a "bazillion and seven people in there," said Rodgers.
"The atmosphere … was insane," she added. "I have never played basketball in an environment like that… where everyone was able to pull together. It was incredible."
The team triumphed, 72-65, in a win that took them to the quarterfinals. The team regrettably did lose its match-up against Texan Christian University (TCU) in the last eight. Still, Rodgers says it was her most defining moment as a University of Cincinnati women's basketball player.
The UC women's basketball team has changed a lot in the four years Rodgers has been on the roster. The year before Rodgers joined the team, the Bearcats had a losing record of 8-22, in comparison to last year's record of 24-11. The team's rise has been drastic, and this is down to everyone "being very open and honest with each other," Rodgers said. "We are able to talk to each other, and it isn't taken personally no matter the message or the tone. I think that has been quite essential in the success we have had."
But it isn't just a mentality change that has driven the team to new heights; it is also the result of a new head coach – Michelle Clark-Heard. Clark-Heard was named the UC women's basketball coach in March 2018 and instantly had success. In her first season at the helm, she led the Bearcats to 24 wins, the most victories in a head coach's first season in program history, and the most triumphs in 17 years.
Rodgers is one of three captains on the Bearcats team, and her relationship with Clark-Heard has grown. Rodgers is "one of the best leaders on the team," Clark-Heard said though it hasn't always been plain sailing for the Cincinnati native as she has had to adjust and grow into the position.
Rodgers influences all those around her and even those in the stands of Fifth Third Arena. Although it is something she had never previously thought about, her influence over the youth that comes and supports her has been unmistakable.
"There is a girl who wears her hair like me; it's just crazy," Rodgers said. "I never thought I would be able to influence or have that kind of impact on another kid's life."  
Rodgers is studying nutrition and hopes to become a sports dietician, working with athletes, and specifically college athletes. The hometown senior is entering the last few months of her tenure as a student athlete. With her last match at Fifth Third Arena possibly being as early as March 2, Rodgers has refused to look toward the last time she will put on the jersey, but can't help but wonder what the next chapter of her life will entail.