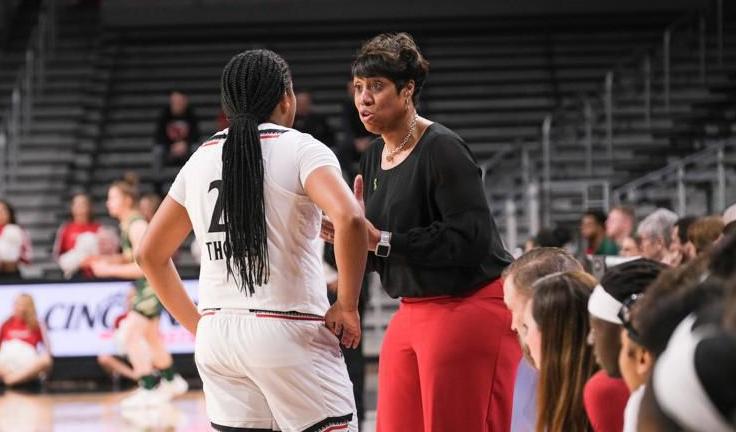 It's been 19 months since Michelle Clark-Heard took over a University of Cincinnati women's basketball program that hadn't won at least 20 games in a season since 2002-03.
She's showed her system and playing style can be successful after winning 24 games last year, but behind it all has been a culture change to establish and emphasize "trust" that has allowed the program to reach new heights.
"It's a daily basis," Clark-Heard said. "Every day just coming in and establishing what we want to do. Our commitment to working hard and our teammates, being on time and making sure we bring our energy and effort to practice. It's just a lot of different things that we as a staff and team needed to commit to so our culture can keep growing."
One of the first moves Clark-Heard and her staff made was implementing an 'open door policy' that enables players to come talk with her and other coaches in their offices about basketball, school, life or just to see how everyone's day is going.
While the program is making its way toward national prominence, Clark-Heard and players know it's a process and success doesn't happen overnight. The program has been through its ups and downs, especially last year, as Clark-Heard said the returning players may have thought she was crazy. But four of five starters are back this season and preparing for another campaign with nine newcomers.
"I think last year being [Clark-Heard's] first year, people didn't really expect much, and she's proved a lot of people wrong," said senior Sam Rodgers, who started 32 of 35 games last season. "She's so passionate about everything that she does and getting us where we need to go … The success from last year is a contagious energy that has everyone excited to be here."
Three of the four starters from a year ago are now seniors and have taken on the role of mentoring younger players. The team lives together in the same housing complex, which has made it easier to have movie nights, cookouts and dinners together. Despite a three-to-four year age difference between some, the team spends a lot of time together outside of the gym that has turned into a family experience that is similar to spending time with siblings.
"All the returners have been phenomenal in their own way." Clark-Heard said. "They've found different ways that helps each individual. They've done a good job fitting with their personalities and who they are. They had to learn me last year and all the different things that we do and how we do them."
The newcomers have learned the "Clark-Heard rule" that requires players to show up at least 10 minutes before practice if their class schedule allows it. They may even be grateful for the rule, as they were running drills 30 minutes before a practice started last week to become more familiar with the play style. The pre-practice helps the newcomers learn the offense and defense so practices as a full team runs smoother.
"[Clark-Heard] wants us to contribute and help be there for the seniors, so when the season comes we're all ready to play," freshman Jordan Tuff said. "I feel our biggest goal is helping the seniors finish out the way they want to finish … The relationships with them have been great. We know we can take it very far."
Relationships with coaches and teammates may take longer than others, especially with a relatively new head coach and players growing into their roles. Clark-Heard is big on relationships and has developed them in an individual manner on-and-off the court.
It's seemed to go more smoothly this year, as Clark-Heard said her and senior guard Antoinette Miller had their struggles last year at media day earlier this month. Miller has stepped into a leadership role with being the only player from last year's team to start every game. It's been a process for her individually too by becoming more vocal on the court — something she's had to do more since Clark-Heard became head coach.
"It's a very big fine line," Clark-Heard said. "I'm very passionate, so I have to really make sure I take that time individually because sometimes in my approach it might seem like I'm in a frustrated mood with them and it's really not that. They understood [in recruiting] my level of intensity and how I am, but they also really realized who I was off the floor."
Clark-Heard has done just that, as Tuff and the other freshman have realized where she's trying to get them in all phases of their lives on-and-off the court.
"We know that we have to keep believing in her and this program," Tuff said. "Just trusting in her and the vision we have and everything that she's laid down. She's been the same person from day one."
As for this season, the team will have its opportunities to grow and build trust. The team will be spending Thanksgiving together in Puerto Rico, as they are participating in the Puerto Rico Clasico with games against Iowa and Bucknell.
"It starts with us [coaches]," Clark-Heard said. "If we don't have that family atmosphere and we're not doing that, then how can we expect our players to do that? We make sure we don't just talk it, but we walk it."