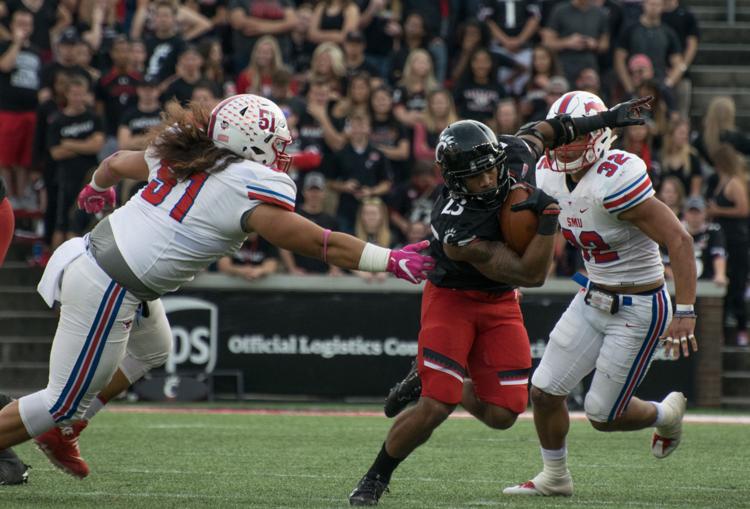 The University of Cincinnati is set to take on American Athletic Conference rival Southern Methodist University today, Oct. 24, at 9:00 p.m. The game will be aired on ESPN2 and will also be available through ESPN+.
It's the Bearcats first away game of the season, landing in Dallas yesterday after a bye week and a postponed matchup against Tulsa University due to positive COVID-19 tests. It is also the premier Saturday night primetime game of the season for both universities. 
Cincinnati will have to deal with something they haven't seen since they took the field in 2019, a crowd of fans, albeit at only 25% capacity - 7,898 people - in Ford Stadium. Much different from the just over 100 family and friends allowed at Nippert Stadium.
Both universities find themselves in their second-ranked head-to-head matchup thus far in 2020, with the Bearcats defeating Army West Point in week two and SMU triumphing over fellow AAC members, the University of Memphis, in week four. 
The Mustangs have been red-hot through their first five games of the season, putting up 30+ points in all five of their games this season. 
Running back Ulysses Bentley IV, a redshirt freshman, is one of only seven rushers to crack 500 yards in college football, and his eight touchdowns are tied for second-best in the nation. 
His 227-yard, three-touchdown performance against North Texas University was ranked as the fourth-best outing by a running back in SMU history. 
Bentley isn't the only threat on the Mustang offense. Quarterback Shane Buechele has tossed for 1,710 yards this season, the second-best in college football. His 12 touchdowns compared to his two interceptions have provided him a stellar QBR of 168.5.
Buechele's top target has been wide receiver Reggie Roberson Jr., who's raked in 474 yards on just 22 receptions, which makes his 21.5 yards per reception average the third highest in the FBS for anyone with 20+ catches.
The Bearcat defense, who has been impressive in their own right allowing only 37 points forcing eight turnovers in their three games, will undoubtedly have their work cut out for them. But it will likely be up to the inconsistent offense if Cincinnati hopes to win.
Quarterback Desmond Ridder is looking to shake off a lackluster performance from his last game against the University of South Florida, in which he threw three interceptions and missed several open target throughout the game.
Meanwhile, running back Gerrid Doaks will look to continue his torrent start to the season. The senior, who previously played as a back-up during Michael Warren II, has scored a total of six touchdowns and accrued 298 yards from scrimmage thus far. 
One team must earn their first blemish of the season and consequently suffer a drop in their rankings, the question will be who.