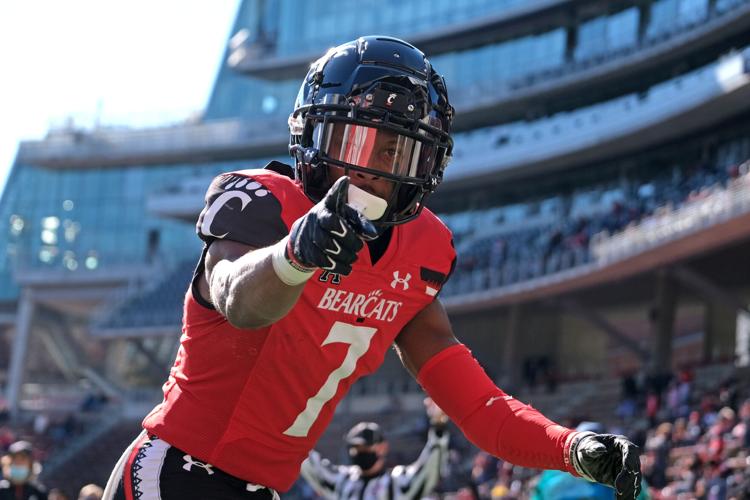 University of Cincinnati (UC) football is looking to stay undefeated as they face American Athletic Conference rivals University of Houston today, Nov. 7 at 3:30 p.m. The game will be airing on ABC and will also be available on ESPN+.
The Bearcats are seeking to add on to their school record 17-game home win streak, which currently ranks fourth longest in the country behind the University of Notre Dame, Clemson University and Ohio State University.
Cincinnati's 49-10 victory over the University of Memphis last week proved to be another statement this season for the Bearcats, propelling them further into College Football Playoff and New Year's Six Bowl conversations.
The UC defense, otherwise known as the "Blackcats," was another storyline to follow last week as they faced their third top ten offense of the season in the Tigers. The defense ranks seventh in the nation in scoring defense, 12 points allowed average, and comes in the top ten nationally for rush defense and passing defense efficiency.
Linebacker Jarell White and defensive end Myjai Sanders have been among the top defensive contributors this season. White leads the team in total tackles with 49, nearly twice as much as the second leading tackler Darrian Beavers (25). 
Sanders is the leading sacker on the defensive line this season with five, coupled with Elijah Ponder, three sacks, as two of the highest-rated defensive edges across the nation in the respected PFF gradings. 
Both Sanders and Ponder will be keen to get to Houston quarterback Clayton Tune, who has been sacked 11 times so far this season behind an inconsistent Cougar offensive line. 
Also garnering some attention from UC is quarterback Desmond Ridder, who has put together consecutive AAC Offensive Player of the Week performances over the past two weeks. Ridder is responsible for nine total touchdowns over that span, five from the ground and four through the air. 
Something to watch for the Bearcats this week will be punter James Smith. The Australian native is just 106 yards shy from becoming UC's leader in all-time punting yards.
Meanwhile, the Cougars are coming off a 44-21 loss against the University of Central Florida. Over four quarters, Houston gave up 681 yards of total offense to the Knights, spelling a recipe for disaster. 
One to watch for the Cougars will be sophomore wide receiver Nathaniel Dale, who put pulled in a career-high eight receptions for 88 yards and a touchdown last week. Houston has four receivers to eclipse more than 150 yards this season than the Bearcats one, Jayson Jackson. 
Houston leads UC in the all-time matchups between the two schools (15-11). However, they trail the series when visiting Cincinnati (6-5). Ironically, the last time Houston visited Cincinnati in 2016, the Cougars were the No. 6 ranked team in the nation – the same ranking afforded to the Bearcats currently in 2020.