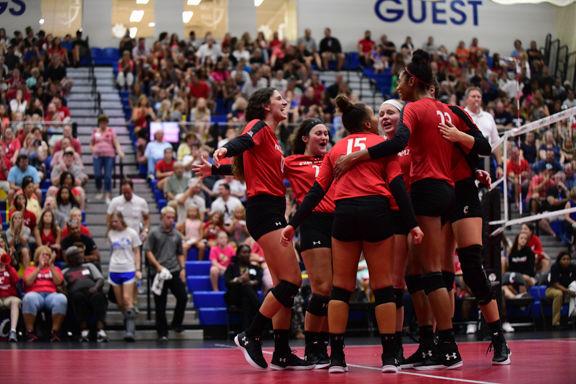 The University of Cincinnati volleyball team was victorious in East Lansing, Michigan, last weekend, finishing 2-1 and winning the Auto-Owners Insurance Spartan Invitational.
The Bearcats began the tournament with an upset victory over No. 21 University of Tennessee in straight sets (3-0). The team dominated on all cylinders, outnumbering the Lady Volunteers in every stat including eight service aces. Redshirt senior Jordan Thompson continued her dominance, finishing with 26 kills and helped the team finish with a season-high .407 hitting percentage.
"Offensively we were super sharp," UC Head Coach Molly Alvey told BearcatsTV post-match. "We also put a lot of pressure on Tennessee with our serve and its one thing we've talked about in the past week … I thought it was not just a win, but a really well played match all-around."
The success didn't translate into the team's second match against host Michigan State University, losing in four sets. The Spartans entered the match with a 3-0 record having only lost one set by two points early in the season.
"I think they came out and put a lot of pressure on us and we didn't quite find our rhythm as a team," Thompson said. "We were fighting for that all match against a really good team. If you're struggling to get into a rhythm, it's going to obviously make the match harder. We had an unusual amount of errors for us as a team and that just came from trying to find solutions."
UC ended the match with a season-high 26 errors — its most since November 2018 (30 against the University of Central Florida). The team had four players finish with eight digs, but they struggled to contain Meredith Norris who had 13 kills and two aces for Michigan State.
Sophomore outside-hitter Maria Mallon had an outstanding weekend for the Bearcats. The Chesterfield, Michigan, native finished with a career-high 20 kills in the team's three-set sweep of Indiana State University in the championship game. Mallon totaled 47 kills over the three-day tournament.
"I finally got to play in front of all of my family that I've never played in front of or all my friends that haven't seen me play since high school," Mallon said. "It was a lot better for me [to be successful individually] in my hometown. It was a really fun experience, but it was better knowing that all of us figured it out as a team."
Tennessee lost to Michigan State 3-2 in the final match of the tournament, giving the Bearcats the championship.
Thompson was named tournament Most Valuable Player, while Mallon and sophomore Adria Oliver were named to the all-tournament team.
Volleyball makes a short trip to Northern Kentucky University for a tournament this weekend. UC opens with Notre Dame Friday at 3 p.m. and faces Ball State University Saturday at 10 a.m.