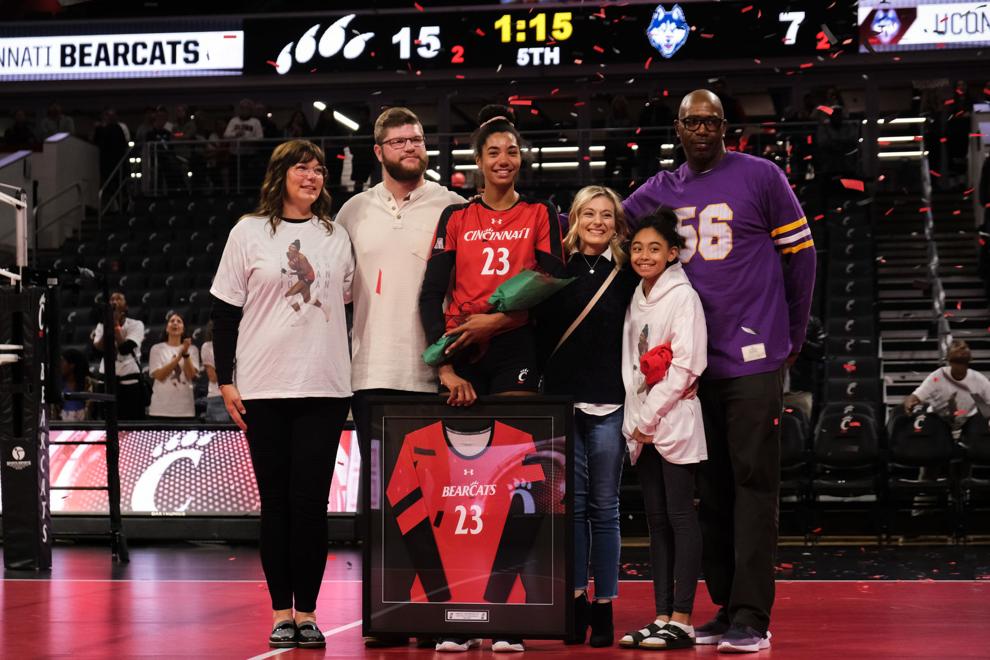 Jordan Thompson finished with a career-high 50 kills and led a comeback on senior day at Fifth Third Arena Sunday afternoon, as the University of Cincinnati volleyball team defeated the University of Connecticut (UConn) 3-2.
Thompson was a juggernaut, as the 50 kills came on 83 attack attempts (60%) and had at least eight kills in each set — including 12 in the fourth.
"I started to feel more comfortable in the fourth set," Thompson said. "I wasn't off, but (sophomore setter Armania Heckenmueller) and I hadn't really got that connection yet. She was giving me great sets and I was able to see the court a little bit better, so things got a little bit easier from there."
UC made the most of the final timeout after the third set, and whatever head coach Molly Alvey told the team worked, as they dominated the set 25-14 behind a .545 hitting percentage.
Thompson remained relentless to that point. However, UConn won sets two and three by blocking Thompson and digging her attack attempts and turning them into kills. Still, UC was able to force a fifth set.
"UConn came out prepared, but we put it together and the momentum changed in the fourth set," Alvey said. "The biggest thing we talked about was keeping our composure and making plays … We did a fantastic job with keeping the momentum, but let's talk about [Thompson]. Fifty kills in a five set match is just incredible and she keeps breaking her own record. She was a big difference in the match."
Senior day was centered around Thompson — the only senior on the team. However, she wasn't the only one with a solid performance, as sophomore Maria Mallon had two services aces to go along with 16 kills and a season-high 21 digs.
Mallon and the team watched as their leader dominate all afternoon, while the crowd watched highlights of Thompson's career on the jumbotron during timeouts.
Thompson finished the fifth set with four straight kills and saved the best for last. The match-clinching kill came unassisted and followed with a standing ovation from the crowd.
It was a near perfect ending to a near perfect collegiate career that still has four regular season matches, the AAC tournament and potentially the NCAA tournament.
Thompson broke her own school record for single match kills (previously 44 against Wichita State in 2018), but she said the success of her career still hasn't sunk in.
"It's always interesting for me to hear somebody tell me, 'Oh, you don't even know how good you are,'" she said. "For me, it's about what I do to help my team win or what I can do to help my teammates play harder. That's kind of my mentality."
Senior day was moved up to accommodate Thompson's family traveling from her hometown of Edina, Minnesota, to watch her play. Volleyball has a match at East Carolina Nov. 15 and its final home match against Tulsa Nov. 17.
UC travels to face the University of South Florida Friday at 7 p.m.