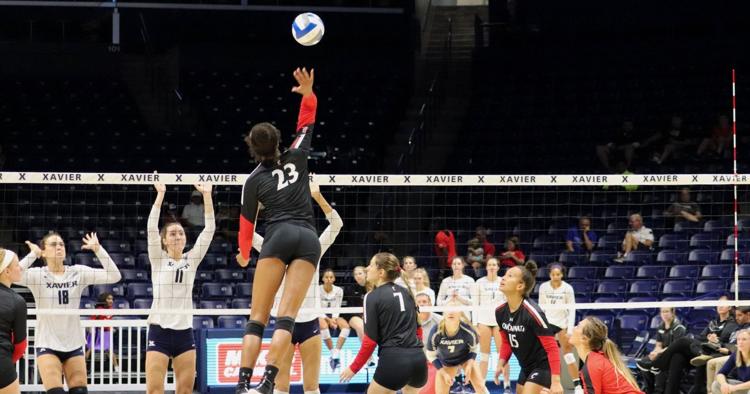 The University of Cincinnati volleyball team swept Xavier University at the Cintas Center Thursday evening, winning all three sets by at least eight points.
The victory marks UC's fifth straight win against the crosstown rival Musketeers, who haven't defeated the Bearcats since 2014.
The match was a back and forth contest early on, until UC went on a 7-0 run to give themselves a 14-6 lead. The Bearcats didn't look back after that, as they won the first two sets 25-17. 
"It was really important for us to start the match strong," redshirt senior Jordan Thompson said post-match. "We came out with a goal every set really focusing on the first five points and we did a good job of just pretending like we hadn't won a set yet. I think that helped us stay really focused and compete."
The Musketeers put their best foot forward in the third set, tying the score at 13. However, UC went on a 12-2 run to win the set 25-15 and complete the sweep.
"The emotional aspect of a game can really change what's happening in the match," UC Head Coach Molly Alvey said. "Volleyball is such a momentum sport. We definitely saw that emotion at the game and how the girls played the game … This venue playing in Cintas is really difficult to come in and play. I thought we handled the match well and we did a nice of job of staying composed." 
Thompson led the Bearcats with 22 kills, while sophomore Armania Heckenmuller finished with 34 assists. Fellow Sophomore Maria Mallon was forced to leave last week's Invitational at Northern Kentucky University after awkwardly landing on her right ankle, but got back to where she left off finishing with seven kills, four serving aces and 11 digs.
"[Mallon] had a really good week," Alvey said. "Maria is a great athlete, so she always rebounds well … More so than what we talk about with Maria, her backcourt tonight was fantastic. She passed great and made some really great defensive plays for us." 
With the road game being only a few miles from UC's campus, Alvey took note of all the support the program had throughout the night.
"Look at our crowd tonight," Alvey said. "The RallyCats were amazing. The fans we had in here, there were times I thought it felt like we could've been at home and this is a tough place to feel like you're at home. We get all of those people in our arena with our court down, it's going to be amazing.
Upcoming home matches:
Sept. 27 vs. ECU 7 p.m.
Oct. 4 vs. UCF noon