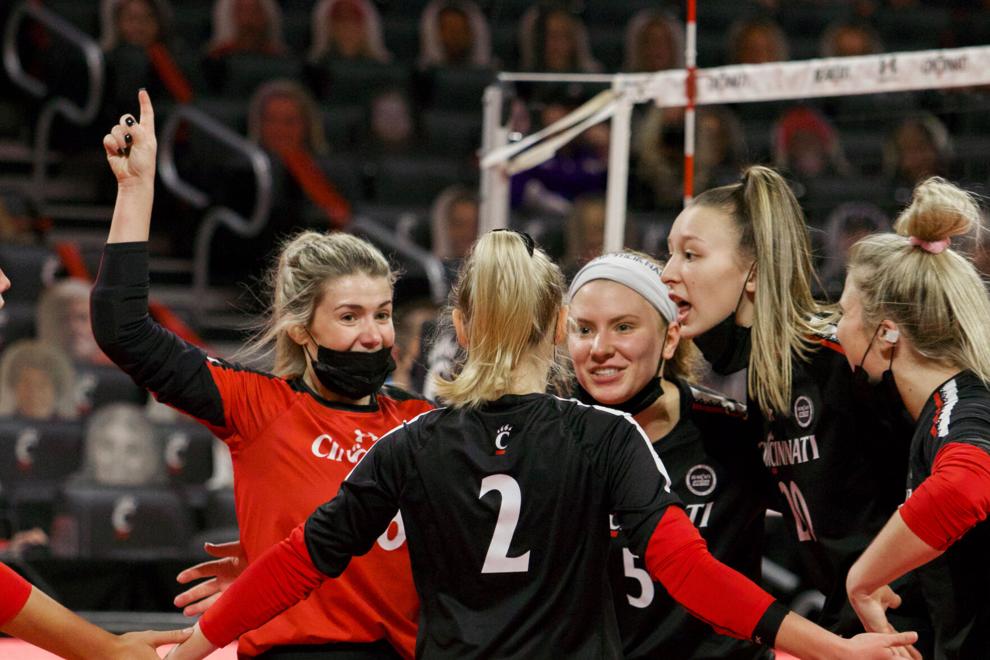 With two tournaments behind them in the 2021 season, the University of Cincinnati women's volleyball team is 3-3 as they prepare for their crosstown rivalry game against Xavier University. 
Cincinnati opened the season with a tournament hosted by the University of Dayton, where they stole a win from Texas State but were served a loss from No. 3 Kentucky and Dayton. Head coach Molly Alvey said she thinks the Bearcats were extended an invitation to the Dayton tournament because "talented teams want to play talented teams."
In the Bearcats' most recent outing against Bowling Green, senior outside hitter Maria Mallon led the way with 16 kills and 32 digs. Following this game, Mallon was named to the American Athletic Conference's (AAC) defensive player of the week. 
Mallon totaled 70 digs in the Notre Dame tournament and was also named to the Notre Dame All-Tournament team along with teammate Kailea Carrier. 
The Bearcats next opponent, the Xavier Musketeers, are also currently 3-3. Xavier most recently lost 3-2 when they visited Loyola. However, the Musketeers have swept both Eastern Kentucky University and Southern Illinois University Edwardsville. 
The last time the Bearcats faced the Musketeers, the game finished with a score of 3-1 in Xavier's favor. 
Earlier in the season, the Bearcats visited Xavier's Cintas Center and came out winning the match 3-1. Carrier and current junior, Maria Tobergate, led the Bearcats with 13 kills each. 
Xavier and Cincinnati have faced off a total of 11 times, with Cincinnati taking seven wins and Xavier four. The Bearcats are 3-2 when facing the Musketeers in Fifth Third Arena, as well as at the Cintas Center. 
Cincinnati went on a five-game win streak against Xavier that lasted from 2015 to 2021, the longest in the matchup's history.  
Alvey's Bearcats face two in-state rivals back-to-back, with the University of Miami hosting them just two days after Xavier. These two in-state matches are the last non-conference meetings before conference play begins for the Bearcats on Sept. 24 at the University of South Florida. 
Cincinnati has met the Miami RedHawks a total of six times, with each team claiming three wins. This year's rivalry match could set one team significantly apart, considering they first met on the court in 2009.  
Although a shortened season was in effect due to COVID-19, the Bearcats finished conference play last year 4-4. With 20 conference matches slated for this season, Alvey and her team have a significantly better showcase ahead. 
The Bearcats will host Xavier in Fifth Third Arena at 6:30 p.m. ET on Sept. 16, which can be streamed on ESPN+.