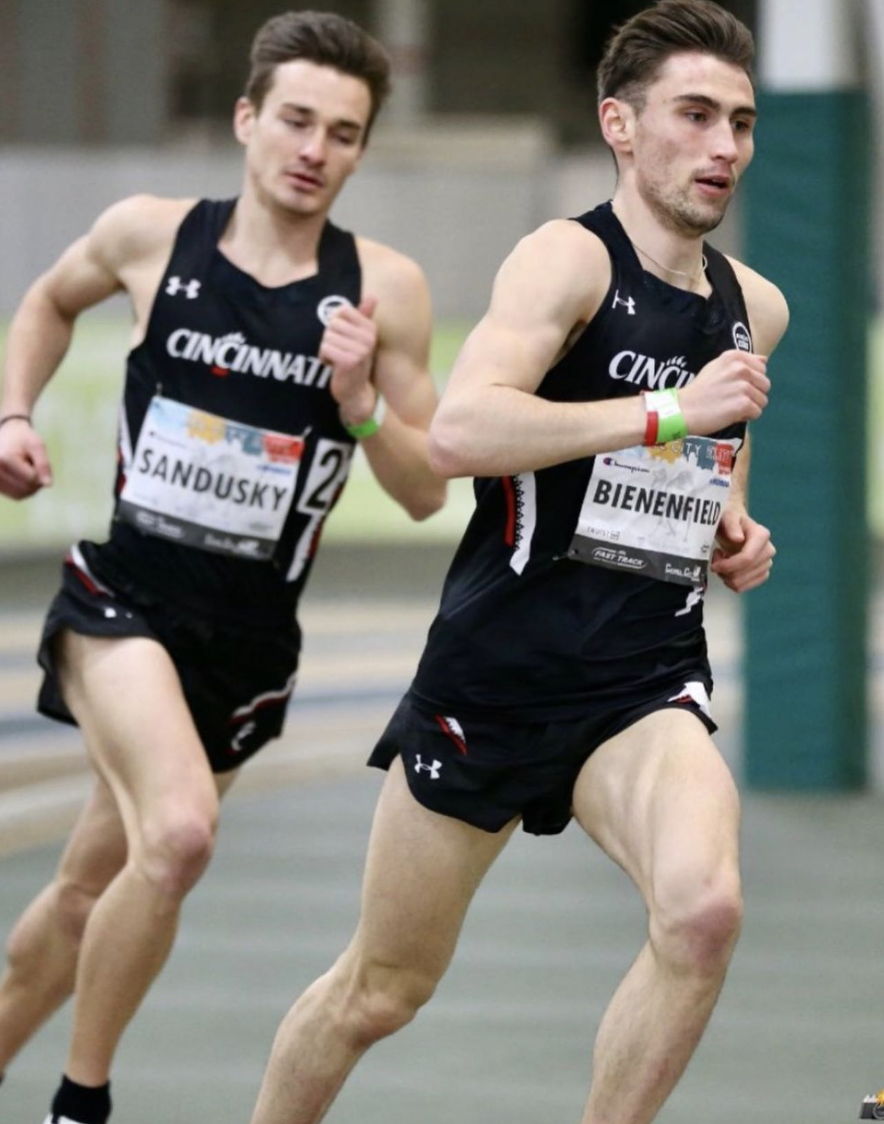 Aaron Bienenfeld and Alec Sandusky are some of the most successful distance runners the University of Cincinnati (UC) has ever seen, and now they will share the biggest stage this weekend when they compete at the NCAA Division I Indoor Track & Field Championships.
The duo will be competing in the 5000-meter run, where they both rank within the top five in the nation. They will also be competing in the NCAA Division I Cross Country Championships next week. 
The two distance runners helped lift the Bearcats men's indoor track & field team to a top 25 national ranking by the end of the regular season, where they finished ranked No. 21. 
"Seeing our success has really shown our efforts and is showing that we worked for this," Sandusky said. 
Sandusky, a native of Marysville, Ohio, is competing in his first indoor track season for the Bearcats. Sandusky was previously a runner with Northern Kentucky University, where he initially made a name for himself. 
The current senior was a three-time champion in the Horizon League and competed in three regional meets before redshirting the 2019-20 season and ultimately crossing the river to join the Bearcats. 
Sandusky now owns the second-best time in UC history for the 5000-meter, his marks only getting bested by his fellow teammate Bienenfield – their times separated by only one second.
"It's been amazing to be able to do that together," Sandusky said. "It was just Aaron and I feeding off each other and the energy, it was just fun."
Originally from Frankfurt, Germany, Bienenfeld has had an already illustrious career, including appearances at the European U23 Championships. Bienenfeld also has a handful of American Athletic Conference crowns throughout his cross-country seasons and indoor and outdoor track and field careers. 
Bienenfeld's history of competing in big races could help him in this upcoming race, as he has dealt with the pressure and nerves before.
"I've had some big races in the past in Europe racing for the national team," Bienenfeld said. "I wouldn't say I'm used to it, but I have experience handling the pressure when there's a really good field." 
Sandusky's perspective will be slightly different, as this is the first national competition that he's ever competed in. 
"We know we ran the times to be there. It's just thinking that we deserve to be there and we're going do our best and do what we can to do well." Sandusky said, "I can only control what I can control, so I'm going to make sure I'm ready."
Their sights are set on finishing top eight at the indoor meet, an honor that would title them as First Team All-Americans.
"I think this is the first time two distance runners qualified for nationals in the history of UC," Bienenfeld said, "And it's not like we just barely qualified. We actually have a shot of doing something special."
Something special about this pair is the way they've dealt with COVID-19 throughout the season and assisted each other in getting through it.
The duo hasn't run up against too much competition yet, literally, as they have only ran a couple of races, just the two of them, and just a few with fellow Bearcats. Even perhaps the most important race of their season, the one that qualified them for indoor nationals, they were alone with only a pacer.
According to Bienenfield, "boring" doesn't seem like the right word to use. But when you're running around a track 25 times by yourself, it's difficult to find another word to use. 
Sandusky was here in Cincinnati training through most of the fall while Bienenfeld was stuck training and running races in Germany, but they say they kept in close contact and watched each other's progress from afar. 
With such different paths in getting to where they are today, they find it fascinating how their lives have crossed. Sandusky even credits Bienenfeld for being part of the reason he chose UC. 
"Just knowing how good Aaron was and the guys, it was definitely the draw," Sandusky said. "Before I even found a team last spring, we really started putting work in together, and that's where our friendship started to grow before he went back to Germany."
"How destiny played out, I'm from Germany, and he's a transfer from NKU. It's funny how things are lining up right now," Bienenfeld said. 
The program's historic pair recognizes the bond they have created over the season and how lucky they are to have each other when representing the red and black of Cincinnati on the track and the national stage.
As they wrap up their indoor track & field and cross-country seasons, their final season as a duo comes up in the spring in the form of outdoor track & field.
Looking that far into the future isn't on the table right now, though, as the biggest meet of the year comes up fast. They will be racing on day two of the three-day championship meet in Fayetteville, Arkansas – an event Sandusky very much looks forward to.
"I'm just going to try to soak it all in and make the most of the experience." Sandusky said, "And it's definitely a life-long bond you form with someone you spend so much time with, so it's been great to not only have success, but to just be friends running out on the track."