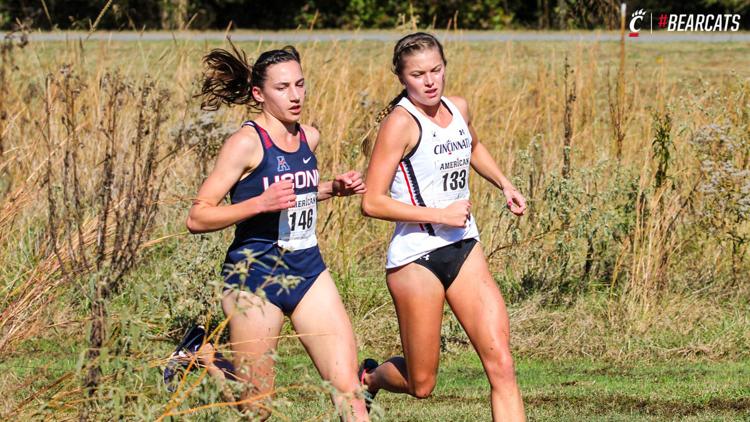 Last weekend, the American Athletic Conference indoor championship was held in Birmingham, Alabama, with the University of Houston taking home first place for both the women's and men's categories. The University of Cincinnati women's team came in second and men's in third.
The results are indicative of the upward trajectory UC's track and field program has been on in recent years, as this is the women's fourth consecutive earning a crown. They took home the conference trophy in 2018 and placed second in both 2017 and 2019.
Meanwhile on the men's side, it was more of the same. Although they didn't earn a crown in these past few years, they have inched closer and closer before finally taking one home this year, placing fifth in both 2017 and 2018 and earning fourth place in 2019.
The collective triumphs were highlighted by some special performances including senior international student-athlete Damien Berthernet, who transferred from the University of Lyon in France in 2016.
Berthernet gave a historic contribution for the track and field program over the weekend. After Friday, Berthernet led the competition in overall points and came back on Saturday only to break a program record by running an 8.31 in the 60-meter hurdles. Earning 905 points for the men's team and finishing with a total of 2,547 across events, good for the second highest total in UC's history.
Another big contributor on the men's side was sophomore Chris Borzor, who's been putting together a more than impressive track season for the Bearcats cracking into the No. 10, 7 and 5 times in program history in sprint times.
Borzor championed the 200m sprint in Birmingham, Alabama, as he broke his personal best with a time of 20.84, beating his closest competitor by 0.19 seconds. With the performance encapsulating his eye-catching season, Borzor was voted by coaches in the conference as the 2020 AAC Men's Most Valuable Performer.
For the women, sophomore Caisja Chandler finished runner up in both the 60m and 200m sprints, earning herself an all-conference honor. In her 200m performance, Chandler ran a dazzling 23.22 second time to lower her personal best by 0.30 seconds.
British junior transfer-student Ellie Leather earned herself two all-conference honors this weekend, one of which was for a third-place finish in a tightly contested mile run with a 4:51 time.
Senior Irati Mitxelena came just 0.01m short of making an indoor championship three-peat as champion of the triple-jump segment, with a best of 12.81 meters at this year's meeting.
Several of these athletes have earned themselves a contending shot at earning an invitation to the NCAA Indoor Championships held in Albuquerque, New Mexico, from March 13-14. The rack season now begins moving on to the outdoor season, starting with the Houston Invitational March 19.