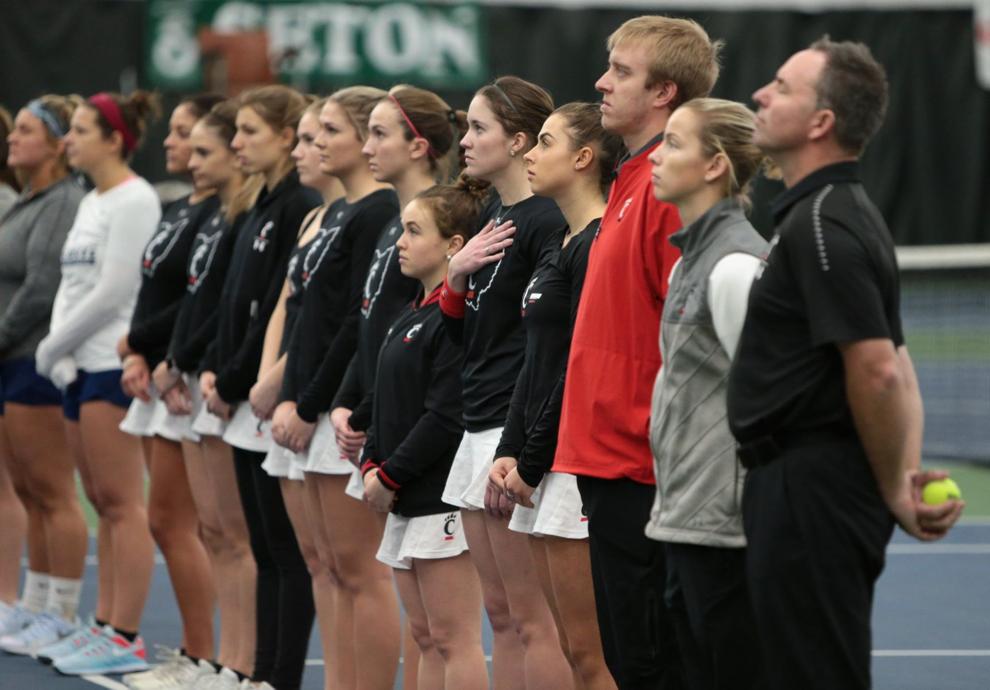 On March 16, the American Athletic Conference announced that all athletic competitions for the rest of the spring semester were canceled in response to the COVID-19 pandemic. 
Many athletes all over the country were shocked and heartbroken. The decision left Caroline Morton, a senior on the University of Cincinnati women's tennis team, devastated. 
"I had trained so much, done so much," said Morton. "I was very upset, almost to the point where I was kind of like 'well what did I do all this for."
Born in Dubuque, Iowa, Morton grew up in a house with plenty of tennis firepower, as her mother played division one tennis at the University of Arizona. Following in her mother's footsteps, she started playing tennis at the age of four. 
Living under the same roof as a former tennis star, Morton always had a partner to practice with. As she grew older and more talented, she needed to decide the future of her tennis career. With a limited number of tennis opportunities in Iowa, Morton decided to pack her bags and enroll in high school at the Evert Tennis Academy in Boca Raton, Florida. 
With five hours of practice daily and access to some of the top coaches in the country, Morton developed her skills and solidified herself as a top 100 recruit in the nation. 
Her hard work earned her a scholarship to UC, which she chose over an opportunity to play for her home state, the University of Iowa Hawkeyes. After her three successful seasons in the Queen City, Morton and her teammates were in the middle of the 2020 season when they received the fateful news. 
"We had this perfect schedule set up where we're going to Florida for spring break to play South Florida and Central Florida," said Morton. "[Then] we come back, we have all these home matches, senior day, like this is going to be so great and this is going to be so fun. We were really training hard and we were getting ready for all these matches and then it's just like well that was a waste."
After the season's cancellation, the team stopped all activities and Morton returned home to Iowa, where she feared her tennis career was over, cut around a month short. On March 30, the NCAA announced that an extra year of eligibility would be granted to athletes whose seasons were cut short due to the pandemic. 
"[The news] was a big weight kind of lifted off my shoulders," Morton said. "Because it's like okay, I can have those monumental moments that everyone gets, the senior day, and that last match feeling, like I definitely just felt kind of relieved."  
Once the country started to open back up, she returned to Cincinnati. Still, she could not get back on the courts after the United States Tennis Association (USTA) urged people not to play tennis because of the potential risks due to COVID-19. 
"There was a point in time too where they completely locked up the tennis courts," Morton said. "Like we couldn't even go out and hit on our own or anything, so we pretty much relied on our fitness."
Not being able to play the sport she had loved since she was four took a toll on Morton, making it even sweeter when the courts opened up after over a month of being out of commission. 
"It definitely got to a point where I felt a little bit in a funk for a while," Morton said. "Then that minute I got back on the court; it was like I was the happiest person."  
The Bearcats' fall season typically starts in the middle of September, but the American Athletic Conference (AAC) announced in August the fall tennis season's cancelation. However, the team is still able to practice. The squad members are broken into three groups, all practicing during different times of the day to prevent overcrowding the court.
"We don't get that team time to practice and you know, cheer each other in that team atmosphere we are used to having," Morton said. "We're trying to do all we can to try to get that team kind of culture that we want, but it is difficult when we don't have one team practice altogether."
The team members have attempted to spend more time together off the court to combat the lack of whole squad interaction at practices.
"We've kind of been trying to do as much of that as we can just so we can get to know each other, get to know the newbies and the freshman and make them feel welcome," said Morton.
With the absence of a fall schedule, Morton says it can be hard to keep the motivation to train, but with a positive mindset, she and the team can stay focused on the task at hand. 
"I think it's definitely different because it's a different mindset we all have to have, especially the ones who are used to having a fall schedule," she said. "Right now, it's about having the right mindset going to practice and going to workouts because that's how you're going to get the most done."
Although the AAC canceled the team's fall schedule, the players can enter tournaments put on by the Intercollegiate Tennis Association (ITA) as individuals. While there is a possibility that the spring season might be canceled again, the team is focused on the smaller picture of the ITA tournaments and taking it one day at a time without letting any negative thoughts enter their heads. 
"That's the biggest thing I think is just positivity," Morton said. "Because once the negative [thoughts] starts to come in it gets hard for all of us to want to practice and want to go to workouts and wake up for 7 a.m. stuff and it can get very draining, but I think we just have to keep each other positive and I think that's what we're doing." 
Word has yet to be officially released on the AAC's plans for 2021 spring tennis.