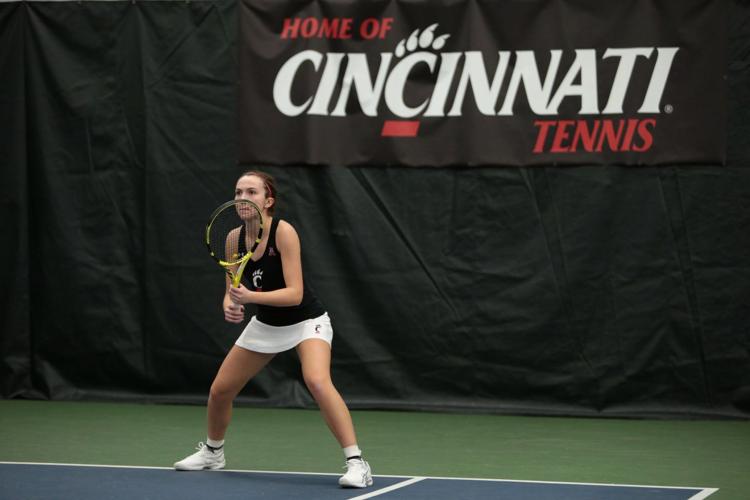 The University of Cincinnati tennis team has gotten off to an up-and-down start to the 2020 season with a team record of 6-5. A large part of the upside has come from sophomore Maria Santilli, whose role in the team focuses largely on singles matches.
The product of Norwin High School in North Huntington, Pennsylvania, has raced out to a record of 8-1 in singles matches. Santilli was undefeated before dropping one against the University of Tennessee last Friday. She will look to get back in the win column Friday in a home matchup against Wright State.
Santilli came to UC after putting together an illustrious four-year varsity career in high school. She played as the No. 1 singles player at Norwin all four years, and was a four-star recruit, ranked No. 2 in Pennsylvania and No. 150 nationally by TennisRecruitung.net. She took home the Pennsylvania singles state championship in 2016 and was named a National High School All-American twice.
Getting off to a good start to begin the season is familiar territory for Santilli. As a freshman, she reeled off eight straight wins before suffering her first defeat — an exact replica of her start this year. She finished her freshman season with a record of 22-6 in singles play.
"Last year I told myself to do my best and see what happens," Santilli said. "Honestly, I've had that same approach this year too and it's been working, so hopefully I can keep going."
"She had a good freshman year," said head coach Eric Toth. "I think it has really carried over into this year."
Santilli has tried to put last year's success in the rearview mirror and focus her energy on upcoming matches.
"I try not to think about it too much," she said. "A new season is a new season."
Santilli was not complacent with her success last year and worked during the offseason to improve upon her weaknesses. When back in Pennsylvania during breaks in the school calendar, she spent three to four hours on the court every day.
"I really wanted to make sure that I was ready for the season so I could hopefully put a lot of wins together," she said.
Her work in the offseason has not gone unnoticed by Toth.
"I think she's improved her fitness and her movement a little bit from her freshman year, and that has been important," he said.
Santilli's focus stays the same for every match, as her priority is making sure she brings her best to the court regardless of who is on the other side of the net.
"I usually don't try to look at my opponent," she said. "I try to focus on what I can do to win the match."
This approach has carried over and led to sustained success and consistency. After her opponent in the first match of the year retired midway through the first set, Santilli dropped only one set in her next seven matches, while winning 14. She has played three matches with only dropped one game and has played eight sets where she has won 6-1 or 6-0.
The lone blemish came against Western Michigan, where she lost the second set of the match 2-6. She bounced back and took the 10-point match tiebreak by the score of 10-6 before emerging victorious.
On the court, Santilli tries to employ a technique called "serve plus one," where she makes a big serve that generates a weak return from her opponent and allows her to take control of the rally with her next shot — often a forehand.
"I really like my serve," she said. "I feel like my game revolves around my serve. If that's going well then usually the rest of my game is."
In addition to her "serve plus one," Santilli's success also comes from her precision and accuracy with her groundstrokes. She rarely yields free points to opponents by making unforced errors.
"She makes a lot of balls [in play]," Toth said. "She's a very consistent performer."
Toth has become one of Santilli's biggest supporters on the court, constantly offering encouragement during her matches. He is very hands-on with Santilli and the other players during matches.
"He always comes over after every time I win a game, gives me a high five or tells me good job from another court," Santilli said. "He's very positive. He's very supportive. Honestly, I wouldn't be able to do it without him."
UC's star of the season became a Bearcat by chance. While playing in a high school tournament on a broken foot that almost forced her to withdraw from the competition, Santilli faced an opponent from Cincinnati who Toth was scouting. The match put Santilli on Toth's radar and the rest is history.
"It was a freak chance," Santilli said. "He just happened to stop by the match. I'm so grateful for it. I love UC with all my heart."