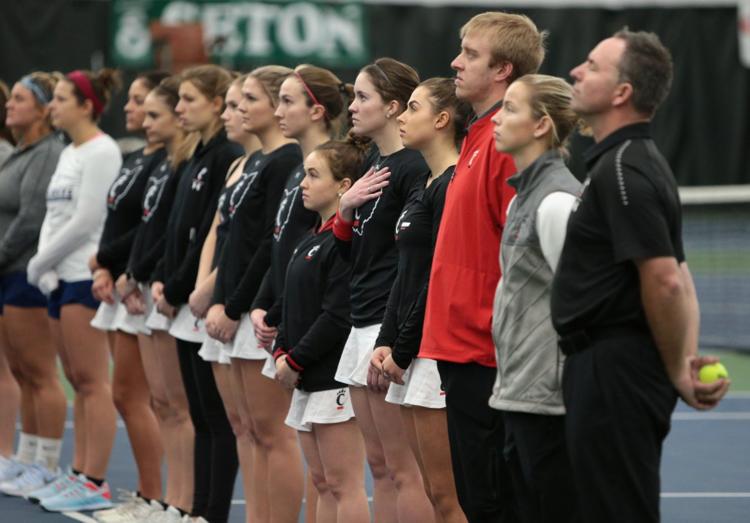 The University of Cincinnati tennis team got off to a hot start this season, racing out to a 6-2 record. However, they've experienced some turbulence recently. The team had its four-match win streak snapped Feb. 15 against East Tennessee State and were unable to bounce back Friday with a loss to No. 26 Tennessee.
Success on the road has played a large role in the winning ways this season. Of its ten matches, seven have been played on the road. The Bearcats are 4-3 away from home with victories over Army, University Akron, University of Dayton and Middle Tennessee State.
"Sometimes it's better to be on the road because there's less distractions," head coach Eric Toth said. "You've got to be ready to go anywhere, anytime… [assistant coach] Katarina Adamovic and I, we get them to understand you've got to embrace these challenges."
The tough match at Tennessee Friday gave the team an opportunity to test themselves, as the Volunteers are an 8-1 squad and currently riding a five-match win streak.
"We have to be at our best against the best teams on our schedule," Toth said. "It's just about being opportunistic and taking advantage of things that are right in front of you. If you can do that, you're going to have a great opportunity for just a great day."   
Along with some success in road matches, success in the doubles matches has been a driving force of the team's quick start. Each match begins with three doubles matches, and the team that wins two matches secures the point.
"We've really gotten off to good starts in doubles," Toth said. "It's really important to start that match off 1-0."
The Bearcats have done just that, earning the doubles point in seven matches. Two doubles teams have led the Bearcats' charge so far this year. Juniors Alexia Coutino and Emma Miceli have teamed up for a record of 5-3. Freshman Kelli Niehaus and senior Anna Philp have also proved to be a force, with a 5-3 start as well.
After the doubles matches, six singles matches are played, with each victory earning a point for the team. The team to win at least four of the seven total points, including the doubles point takes the match. The Bearcats singles play has been led by sophomore Maria Santilli, who has racked an impressive 7-1 start. Other strong singles players include Junior Emma Miceli (5-3) and Niehaus (5-3).
UC will look to bring its successful start to the season back to the forefront, despite still having a winning record. UC will travel to Bloomington, Indiana, Sunday to take on Indiana University before returning to Cincinnati to host Wright State Feb. 28.