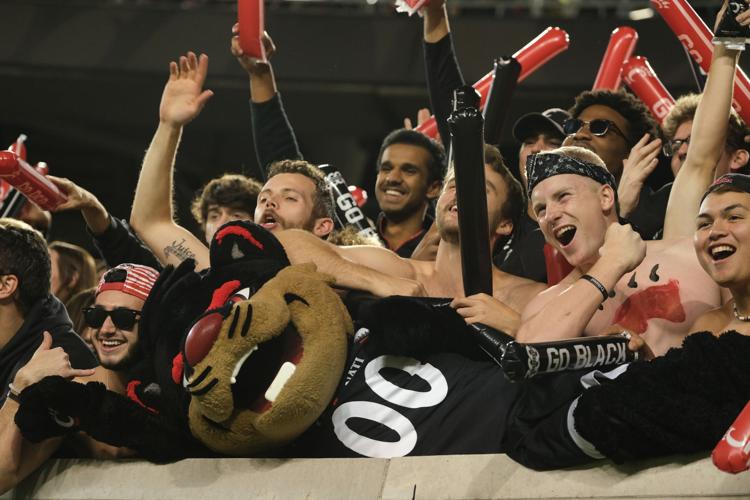 The University of Cincinnati's (UC) director of athletics, John Cunningham, has announced UC will play without fans at Nippert Stadium for their game against the University of South Florida on Oct. 3.  
Cunningham has previously announced in August that "[UC] will permit fans in the stadium later in the season only if we determine it is safe and appropriate to do so. We are not holding to a timeframe on such a determination."
While UC could still be considering allowing fans in the near future, it's worth noting that the university recently canceled spring break.  
In recent years, game days in Clifton have become can't miss events. 
"I'll miss going to the tailgates and just being in the stands the most," said third-year business analytics student, Jackson Haddle. 
Once kickoff time approaches, students and fans unit in Nippert Stadium and create one of the most electric environments the campus will see all year. 
"The energy of a packed game day at Nippert is unrivaled and that sense of camaraderie with the school is what I'll miss the most," said third-year aerospace engineering student, Cameron Long.
Bearcat fandom soared to new heights last year as the university set a school record for attendance, averaging almost 36,000 fans per game. Coming off back-to-back 11-win seasons, the hype in the Queen City going into this season was as big as ever. Some college football analysts even predicting the Bearcats could make a run at earning a spot in the playoffs.
This year, members of the Ruckus are left to watch for games from home, cheering through a screen.
"I was most disappointed because of how good they are going to be this year," said Haddle. "This is going to be the best team under Fickell and not being in person to see it is just a bummer."
In addition to attracting avid Bearcat fans to watch their favorite team in action, the student section is a place to go with friends, socialize and meet new people. The Ruckus attracts both passionate and casual fans, with both groups being sad to hear the news about the lack of fans. 
"I wasn't a huge fan of sports so I wasn't as upset about fans at games being canceled as I was about some other things that were canceled," said second-year pre-occupational therapy student, Emma Budde. "But I was definitely disappointed that I wouldn't get to be there with my friends. I was excited to go to games with my roommates this year."
Whether UC students walked into Nippert as die-hard fans or to meet up with their friends and family, they will have to keep tabs on the Bearcats from afar, hoping they will be able to take their seats at the stadium before the season ends.