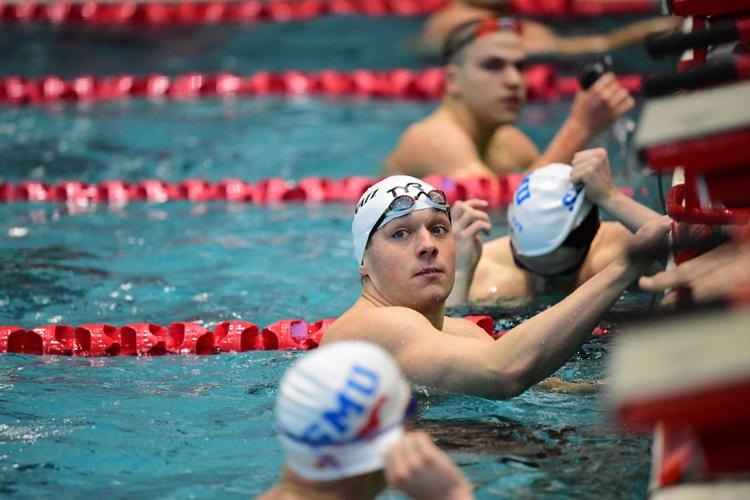 The University of Cincinnati men's swim and dive team has been dominant, placing first in the American Athletic Conference (AAC) twice over the past three years. Senior captain Joey Puglessi has excelled in and out of the water, setting the standard for his teammates and fellow student-athletes.
Puglessi grew up in Ada, Michigan, and started swimming when he was 8 years old, along with his brother, Ben. They formed a bond in the pool that would lead to both becoming collegiate athletes, as Ben swims at Seton Hall University.
While Joey has had a successful career as a Bearcat, he began at the University of Buffalo. After his freshman year, the university eliminated the swim and dive team, along with women's rowing, baseball and men's soccer.
Luckily, the swimming world is pretty small and Puglessi found a new home.
"My brother was being recruited by UC," Puglessi said. "The name recognition helped, and within an hour of the [Buffalo] announcement going public, the [UC] coaches had contacted me."
Puglessi arrived on campus as a sophomore and went through more adversity than most experience in their collegiate years.
"I had multiple seizures and was diagnosed with epilepsy," he said. "It was the first time in my life that I had ever had seizures, so it required a lot of testing to make sure the diagnosis was accurate."
Puglessi described his first semester as "quite tumultuous," but remained optimistic that his luck would change. He was cleared on New Year's Eve of his sophomore year and competed at the conference championship later that year, where the men's team won the title for the first time in program history.
Although this was a time filled with turbulence, he looks upon it as a defining moment within his life.
"It changed my perspective on college athletics in general," Puglessi said. "Just to take every opportunity because you never know when it might get taken away from you, so that kind of defined my first year and every moment since then."
Not being able to swim was a shock and an adjustment that took time, but finding passions outside of swimming became more important. As a result, Puglessi broadened his on-campus experience at UC.
"I have learned to develop a growth mindset," Puglessi said. "You can't always change the hand that you're dealt, but you can change your mindset. Being able to embrace the opportunity is a chance to grow is really important."
Puglessi holds a variety of student government titles on campus, including external vice president for Student Athlete Advisory Council – for whom he is the UC representative to the AAC, the alumni relations coordinator for the AAC and the red and black book chair on UC's Student Alumni Council.
Puglessi is also the vice president of athletic relations for Forever Bearcats.
"[We aim to] find new ways to grow donorship for non-revenue generating sports on behalf of the rest of the student and alumni bodies," he said.
He also acts as the arm that connects the UC athletic department to the AAC, making sure that the goals of the conference impact student-athletes.
"Whether it's how we can respond to new legislation that affects our conference, different efforts to grow the presence of our conference nationally, or just small things that give our student-athletes in the American a leg-up on other conferences," Puglessi said.
Through his extracurricular activities, Puglessi has positioned himself as a mentor for the younger swimmers. But what is important to him is that the team continues its growth.
"I think we make a concerted effort to cultivate the leaders of this team for the future, to make sure that the success that we have built up over the last couple of years is something that is sustainable long term," Puglessi said.
Puglessi has been a part of a program that has grown significantly in recent years, becoming a staple of the postseason AAC awards.
"One thing we have done really well in the last couple of years is being able to empower other people on the team to grow in their own leadership roles and embrace the mindset of everyday leaders," Puglessi said.
There are typically 28-30 members on the men's swim and dive team. As one of four captains on the team, Puglessi says that in order for them to achieve success, it is vital that there is an acknowledgment and care about what happens outside of the day-to-day training. 
After the team's narrow loss this year at the conference championships, Puglessi's collegiate career is finished and he'll soon enter the real world. But if anything, he has cultivated an environment that will ensure the Bearcats are successful for years to come.