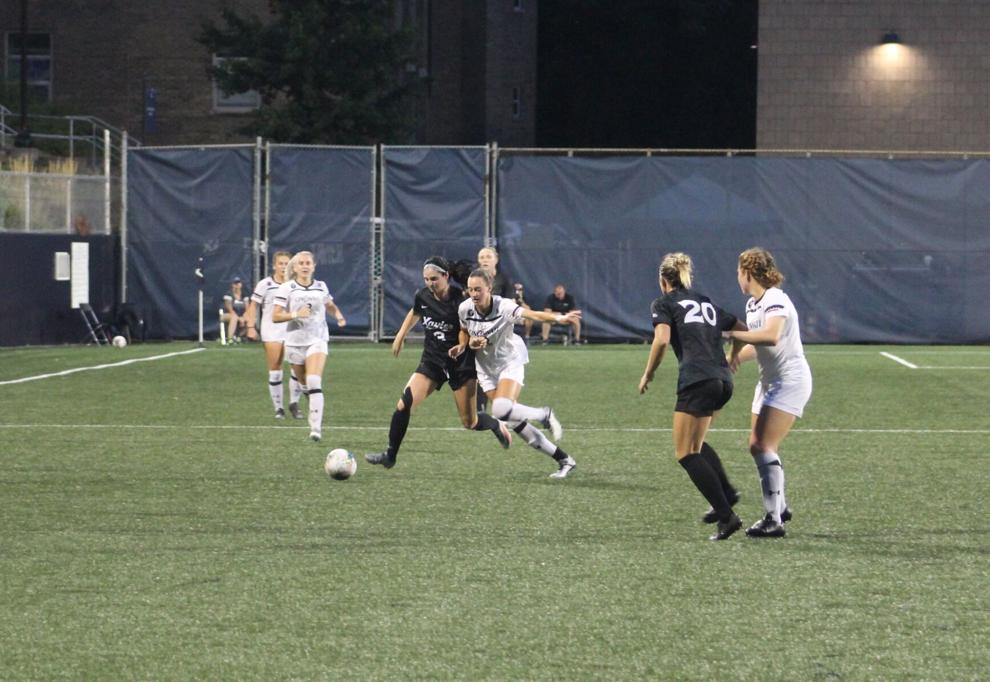 Last Thursday, the University of Cincinnati's women's soccer team traveled across town to Xavier University to take on the Musketeers, with a loss dropping the Bearcats' record to 1-1-1. An 81st-minute goal from Xavier's Chloe Netzel proved to be all that was needed for the Musketeers to keep their win streak alive. 
It was a tale of two halves throughout the game. The Cincinnati-based rivalry with Xavier was illustrated through a strong offensive force in the first half with five shots. Cincinnati then gained traction in the second half by conjuring up five shots of their own.
Both teams had their fair share of chances throughout the second half, leading Xavier to nab a goal. Cincinnati saw a chance of their own when the ball bounced around the opposition's box, yet Xavier's goalkeeper pulled a massive save.
"I'm disappointed for the players that we didn't take our chances tonight, particularly the two chances at the goal when their keeper made a great save," head coach Neil Stafford said. "I was also proud of the way our team played. We were gritty and had good energy."
The grit from both squads was evident throughout the game, most prominently noted in the stat sheet for fouls, where both teams tallied 12 in the first half alone. Free kick opportunities were some of the most dangerous chances both sides saw on the night, including Xavier's nine corners.
"I thought it was a real hard-fought game between two talented teams. It's a game of inches, and we didn't do well enough on second balls tonight, which specifically hurt us on their goal," Stafford said.
Disciplinary action was seen once during the game when senior Bearcat forward Vanessa DiNardo saw a yellow card come her way with six minutes left to play. DiNardo herself had one of the better chances of the game, a volley from the six-yard box blocked by the keeper. That was one of her three shots on target.
Spring 2021 American Athletic Conference second-team recipient Alli Pestaina made her debut for the Bearcats at Corcoran Field, putting in a solid defensive outing while playing the whole game. Pestaina made her presence known in the center of the defense, making solid tackles throughout the contest. 
The lone goal came from a Musketeer cross left uncleared, allowing Netzel to bring it down and slot the ball into the bottom right corner, which the Bearcat keeper could not save.
This result drops the Bearcats' record against the Musketeers to 6-2-2 since 2007 and is the first loss to an Ohio school the Bearcats have suffered since 2014.