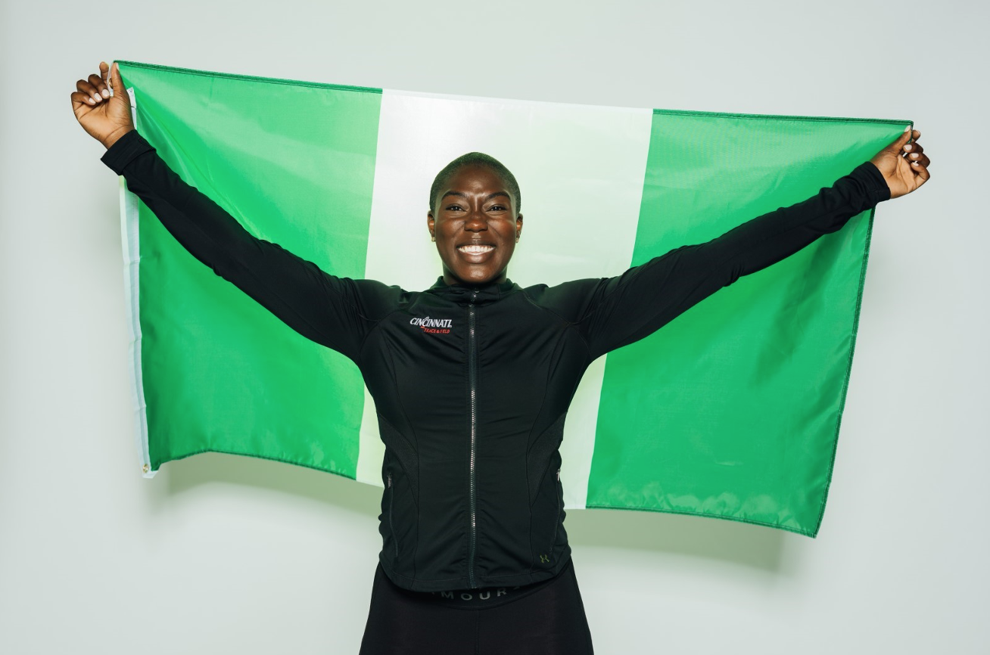 Olympic hopefuls yearn for the feeling of a heavy medal draped around their neck. For a 24-year-old Olympian from Pickerington, Ohio, she will have the chance to dawn the gold around her neck 5,892 miles away from home. 
Annette Echikunwoke once stood atop leaderboards representing the University of Cincinnati's (UC) track and field team, for whom she currently voluntarily coaches. This summer, Echikunwoke will be representing Nigeria's track and field team for hammer throw in the upcoming Tokyo Summer Olympic Games.
Echikunwoke came to UC with a one-turn throwing technique, leaving her to be highly doubted. After experiencing tremendous growth throughout her career, she will walk the opening ceremony with a four-turn technique at ready and broken records in the rearview mirror.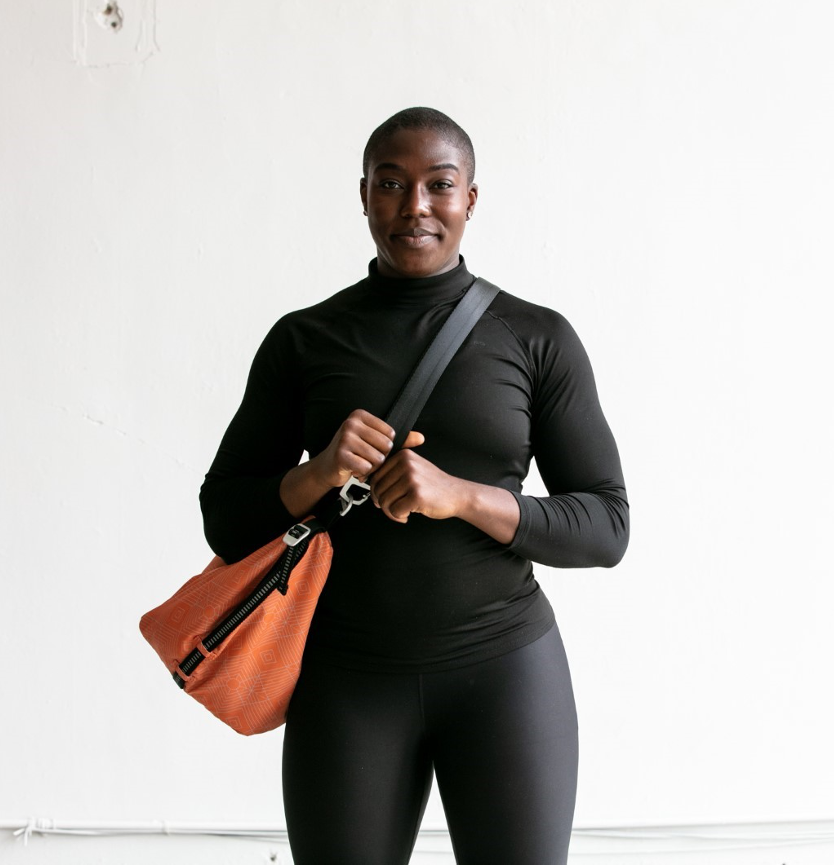 Despite early and consistent success in her track and field career, the path has not always been clear for Echikunwoke. She accidentally discovered her talents in eighth grade during a track and field day in gym class when she threw shot put and discus farther than her classmates. 
"Okay, I want to do this in real life," she said. 
Echikunwoke came to UC and set her sights on becoming a national champion in early 2017, which is when she began to break down and reconstruct the technique of the event in which she specialized, weight throw. 
A junior at the time, Echikunwoke secured the NCAA Championship with a weight throw of 22.43m and became the only track and field national champion in UC history. Later in the year, Echikunwoke began to set her sights on the Olympics. 
The Tokyo Olympics trials in Lagos, Nigeria, brought Echikunwoke to the country of her parents' origin for the first time. Although having citizenship in both the United States and Nigeria, Echikunwoke has resided in Ohio her whole career. 
"This is where I'm from," said Annette on how she felt during her introductory trip to Nigeria for the upcoming games. 
Echikunwoke's trip was a success, as she won a spot on Nigeria's track and field team. Although she was not able to visit family, she knows they are rooting for her. 
"I take pressure as support, they want me to succeed," she said.
Over the years, Echikunwoke explored studying engineering, mathematics and creative directing but ultimately decided to focus on furthering her throwing career. "God softened my heart to do this whole thing," she said.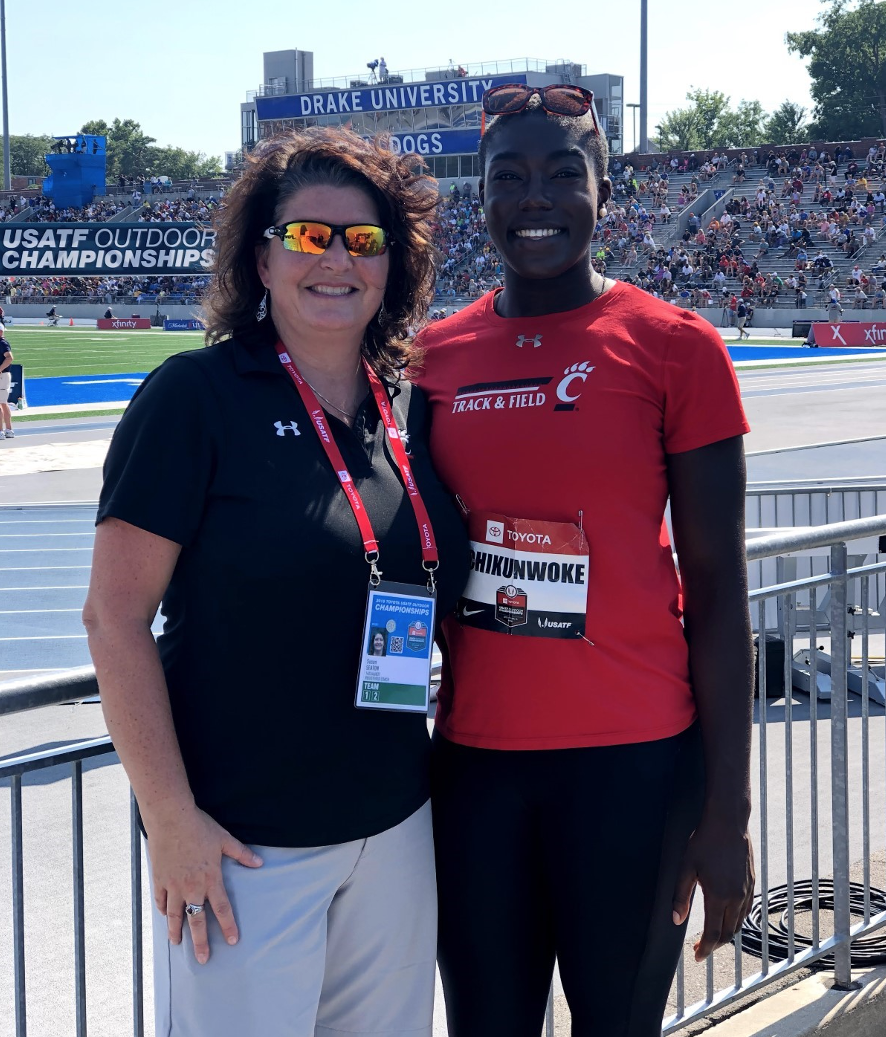 At one point, she was content with exploring success in other professions once her collegiate track and field career ended. 
"Stop saying no and just be open to it," said Echikunwoke on pushing aside the hesitance to pursue a profession in track and field due to the stories of strife and hardship that Olympic hopefuls before her endured. 
After reading "The 16th Minute of Fame" by the UC's Darrell D. Miller, Echikunwoke was open to continuing her talents, leading her to take a redshirt year to further develop her technique. 
Echikunwoke remembers the Bearcat community as a catalyst for her success and credits coach Susan Seaton for allowing the University of Cincinnati to stand out amongst countless other offers. 
"I'm going to go as long as God's favor is with me to keep doing this," said Echikunwoke. She is also collaborating with Aruna Project on a bag in her name that will benefit victims of human trafficking. 
Echikunwoke will debut in front of Olympic lenses at 8 p.m. on July 31 for the women's hammer throw qualifying round. The next round of women's hammer throw will air on NBC and Peacock at 6 a.m. on Aug. 2. 
She will proudly represent her family name, Echikunwoke, meaning "Leader of Men," on the world's biggest stage.