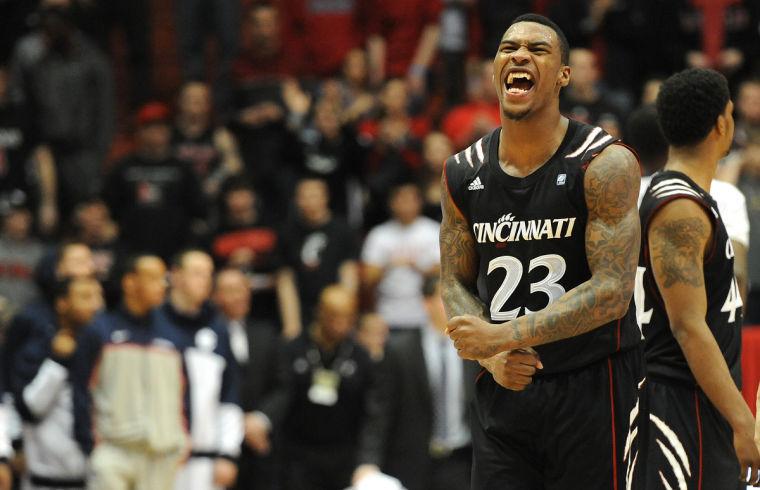 As the start of NCAA basketball inches closer, it is time for Bearcat fans to begin to get into the spirit of the hardwood season. Take a look at the most significant University of Cincinnati basketball player of each decade, from the '50s to the 10's, based on their careers in the Queen City.
---
1950s: Oscar Robertson (1957 – 60)
This one's a no-brainer. Oscar Robertson is known as one of the most prolific NCAA Division I basketball players of all time. "The Big O" is widely considered the best player ever to put on the red and black. Robertson put up videogame-like numbers in his three seasons as a Bearcat. 
He averaged 33.8 points per game (ppg) and 15.2 rebounds per game (rpg), both of which rank first in school history. His 33.8 ppg is 13.7 points higher than Lloyd Batts, in second place. Robertson compiled 2,973 career points in just three seasons, still good for 11th in NCAA Division 1 history and 828 points higher than his next competitor in Bearcat history. 
A three-time Consensus First Team All-American, he was named the Sporting News Player of the Year each year he played for UC. In the 1960 NBA Draft, Robertson was drafted by the Cincinnati Kings (now of Sacramento) and became an NBA MVP and 12-time all-star. 
Regarded as one of the best point guards the game has ever seen, he was inducted into the Naismith Memorial Hall of Fame in 1980. 
---
1960s: Ron Bonham (1961 – 64)
A two-time Consensus All-American (one first team, one second), Bonham helped lead the Bearcats to their second straight NCAA championship in 1962. He averaged 19.6 ppg over his three-year career, good for third among Bearcats, only trailing Oscar Robertson and Lloyd Batts.
Bonham poured in 24.4 ppg in his senior season, the sixth-highest single season scoring average in school history. Bonham was selected as the final pick in the first round of the 1964 NBA draft by the Boston Celtics and spent two years with the team, who won the NBA Championship in those two years. 
After sitting out the 1966 season, Bonham joined the Indiana Pacers, then of the American Basketball Association, before retiring from basketball. 
---
1970's: Pat Cummings (1974 – 79)
A 6-foot-9 force in the post, Cummings' name is near the top in several categories in the UC record books. His 756 made field goals are the second best in school history, and his 1,762 career points are good for eighth. 
Cummings scored efficiently, setting the UC single-season record for field goal percentage with 64.2% as a junior. His career percentage from the floor of 58.1% trails only Kenyon Martin. Cummings was drafted in the third round of the 1978 NBA draft as a junior by the Milwaukee Bucks. Due to a rule at the time, he could out his senior season before heading to the NBA. 
Cummings made the most of that senior season and was named the Metro Conference Player of the Year after dominating the competition to score 24.5 ppg, the fifth-highest single season mark ever by a Bearcat. 
His production that season was not limited to his offense, as he pulled down a career-high 11.3 rpg. Cummings played 12 seasons in the NBA for five teams, playing in almost 700 games in the association. 
---
1980s: Roger McClendon (1984 – 88)
One of the premier marksmen in Bearcat history, McClendon shot 47.6% from beyond the three-point line in his junior season, a mark that is still the best in program history. Despite the three-point line only being introduced for his final two years in the Queen City, McClendon tallied 1,789 points in his four-year career, the sixth most ever by a Bearcat. 
McClendon was a highly touted recruit, a four-year starter for head coach Tony Yates and averaged over 12 ppg every season of his career. McClendon rode his hot shooting from deep in his junior year to a scoring average of 19.9 ppg, the highest in the Metro Conference. 
McClendon also got it done on the ball's defensive side that season, tallying 1.7 steals per game (spg), the third most in the conference. After graduating, McClendon suffered an injury in a professional summer league and was not drafted into the NBA. 
---
1990s: Danny Fortson (1994 – 97)
Fortson gets the nod for the 1990s over Kenyon Martin due to his three years of elite performance to Martin's one. In his three years as a Bearcat, Fortson averaged 18.8 ppg, fourth in school history. His 1,881 career points put him fifth on the school's all-time list. 
A two-time Conference USA Player of the Year, Fortson helped lead UC to the NCAA tournament every season of his career, including a trip to the Elite Eight in 1996. Fortson averaged over 20 ppg and nine rpg in both his sophomore and junior seasons and was named a Consensus Second and First Team All American, respectively. 
Fortson was selected 10th overall by the Milwaukee Bucks in the 1997 NBA Draft and averaged 20.1 minutes per game in 10 seasons in the NBA. 
---
2000s: Deonta Vaughn (2006 – 10)
A four-year starter, Vaughn comes in ahead of Steve Logan, playing in four seasons in the 2000s to Logan's two. The 6-foot-1 Vaughn's tallied a then-record 511 assists in his career, which now ranks second in program history behind Troy Caupain. 
Vaughn was a prolific scorer. His 313 career three-pointers are tied with Sean Kilpatrick for the most by a Bearcat. Vaughn shot the deep ball at a clip of 34.3%, good for fifth all-time at UC. A strong sophomore campaign of 17.3 ppg and 4.2 assists per game (apg) landed Vaughn a spot on the First Team All-Big East squad.
A crafty defender, he recorded 172 steals in his four years, third all-time in Bearcat history. After his numbers dipped slightly as a senior, Vaughn went on to play basketball overseas. 
---
2010s: Sean Kilpatrick (2010 – 14) 
While Oscar Robertson is the consensus top player in Bearcat history, Sean Kilpatrick may have the strongest case of being No. 2. Kilpatrick has appeared in more games than anyone in Bearcat history, and his 2,145 career points are second only to Robertson.
His 313 field goals from behind the arc are tied with Vaughn for the most by a UC player. He also ranks in the top five in program history in field goals made, three-point percentage, free-throw percentage, steals and player efficiency rating. 
The native of Yonkers, New York, helped the Bearcats reach the NCAA Tournament in all four seasons. Kilpatrick averaged 20.6ppg in his senior season to lead the American Athletic Conference, helping him be named a Consensus Second Team All-American. 
After going undrafted in the 2014 NBA Draft, Kilpatrick spent time with five NBA teams from 2014-18, appearing in 157 games. In 2019, he signed a deal to play overseas in the EuroLeague.