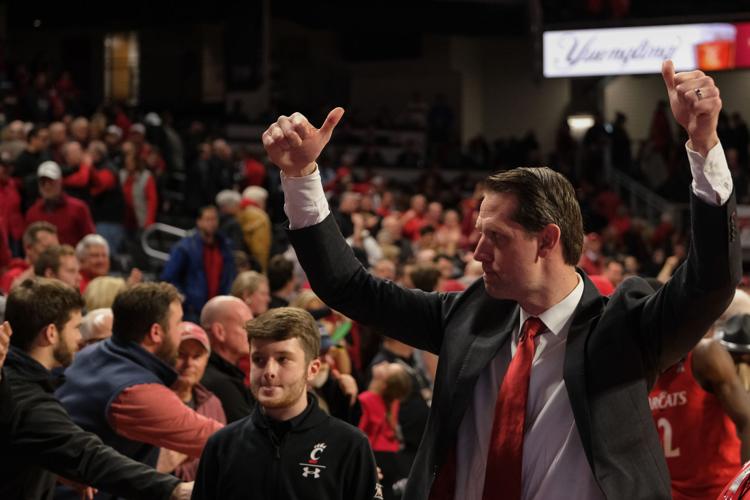 As the start of the NCAA basketball season draws near, the University of Cincinnati (UC) held the first press conference for its men's and women's basketball programs.
"I feel like across the board, the conference is going to be very tough," said women's head coach, Michelle Clark-Heard. "With everybody playing everybody twice, you're going to have to prepare and be ready in the midst of everything going on."
Coaches across the American Athletic Conference (AAC) voted UC senior Forward Ilmar'i Thomas as the co-preseason player of the year on Tuesday. She's the first Bearcat to receive the honor since Cheryl Cook before the 1984-85 season back when Cincinnati was a part of the Metro Conference. 
After averaging 18.6 points per game in 2019, Clark-Heard expects Thomas to be more than just the leading scorer following the departure of four seniors from last year. As the only returning starter, Thomas will have to be a leader, a role the coach claims she fits into nicely.
Clark-Heard also spoke on the conference's loss of the University of Connecticut, one of women's basketball elite programs and the bearer of the most NCAA championships; The giant's departure may allow every program within the AAC to feel like they can claim the conference title.
John Brannen, head coach of the men's program, expects it to be a "transitional year" for the Bearcats. With the loss of seniors like Jarron Cumberland and Trevon Scott, Brannen has some big shoes to fill, accompanied by five freshmen. 
"Not the greatest time to have a lot of new faces," said Brannen. "The inability to be around your guys for the majority of the summer, [lack of] being around them on an every-day basis, that's the challenge we have. Veteran teams are going to have an advantage going into the season."
Like the women's program, the men ranked #4 in the AAC preseason poll. However, Brannen doesn't have much regard for such things and is deciding to emphasize where the season finishes as opposed to how it starts.
Freshman Mike Saunders Jr., whom Brannen has had his eye on for a while, has impressed the second-year head coach so far in 2020. Particularly concerning the guard's elite speed and physicality on the defensive side of the ball. 
Meanwhile, junior David Dejulius, who transferred over from the University of Michigan in the offseason where he played as a sixth man, is also contending for a guard position. According to Brannen, Dejulius possesses some of the most extreme work ethic he's ever coached.
The exact schedules for both men's and women's basketball has yet to be released, with play set to start in November.