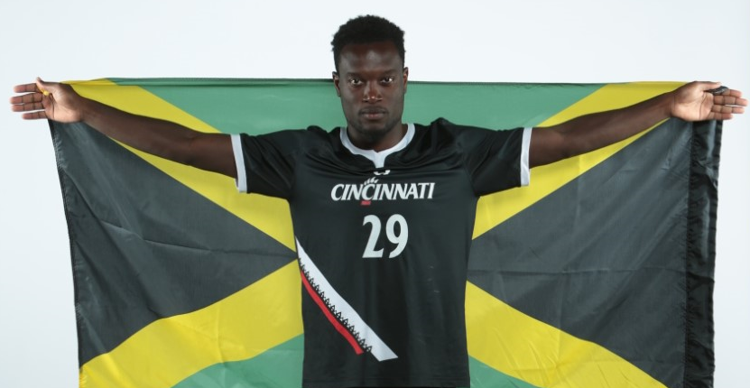 A trio of Jamaican players have found a home with the 2019 University of Cincinnati men's soccer team, and if you look closely, they've found it in similar fashion as former UC players from Jamaica, and even their head coach Hylton Dayes.
The origin of this story begins in Jamaica in the early 1980s, when Dayes was the captain of the under-20 Jamaican National Team. Dayes played in many of the best tournaments and was often exposed to college recruiters coming to find the next best prospect. 
One specific coach Dayes remembers is Tom Martin from James Madison University (JMU). Martin considered Dayes a great talent and natural leader. However, Martin didn't have a scholarship for Dayes at JMU, so he recommended him to other programs. Still, Dayes wasn't convinced anything would come of it. 
"That happens maybe 1 out of 100," Dayes said. "If somebody tells you that, you kind thing you think, 'yeah, right.'"
Shortly after, Jim Droulias from Wright State University contacted Hayes and offered him a scholarship. 
"He called me and recruited me and they had another Jamaican at the time, so I went there," Dayes said. "It was the age before the internet, so I didn't really know anything about them." 
He was excited about the opportunity, as things happened fast. He was playing with the Jamaican National Team for World Cup qualifying in Guatemala and instead of flying back to Jamaica with the rest of the team, he flew straight to Dayton, Ohio, to attend Wright State and begin a four-year career with the Raiders.  
Dayes is the only athlete in school history to be named an All-American for four years and one of three student-athletes to have their jerseys retired at the school. 
Dayes went on to play professional for the Dayton Dynamo and Orlando Lions, and after a few other coaching jobs with Wright State and James Madison, he became the UC head coach in 2001. 
After taking the reins of the Bearcats, Dayes didn't immediately seek out Jamaican recruits.
"When I took over, it was about rebuilding the program, but they had a young team and I got the job in the spring so I couldn't really recruit," Dayes said. "It wasn't a bad group at all. They were young, competing really well and ready to learn, so I wasn't thinking I need to get some Jamaicans right off the bat. It was about building and learning what the team needed."
During the first couple of years at UC, there were no Jamaican players on the roster. But it didn't take long before an opportunity presented itself that was similar to his own almost 20 years earlier.
Former player Omar Cummings grew up in Old Harbour, Jamaica and was recruited by Dayes through a mutual connection of coach Bradley Stewart. 
Stewart coached Dayes on the Jamaican under-20 team and also coached Cummings as a youth player. He continually had conversations with Dayes about potential players in Jamaica and mentioned Cummings.
Hayes went to Jamaica to watch Cummings play and immediately recognized his talent. He did everything he could to get Cummings to UC, but because of eligibility he was required to go to Cincinnati State Community College to play first. 
Cummings played at Cincinnati State from 2003-04 and transferred to UC in 2005. He played two seasons with the Bearcats. 
During his time at UC, he was a unanimous first team all-conference selection and a first team All-American in 2006. He went on to play professionally in Major League Soccer (MLS) for eight seasons with the Colorado Rapids and the Houston Dynamo, winning an MLS Cup with the Rapids.  
Eventually, he came back to Cincinnati to play with FC Cincinnati, where he retired after two seasons.  
"As good of a player as he was, he was probably a better person," Dayes said of Cummings. "Omar was the guy that really crystalized the whole Jamaican connection because when he comes and has that much success, then it means this could really work." 
Dayes has been coaching UC for 19 seasons, and 13 years after Cummings paved the way for Jamaican players at UC, the connection still runs deep. 
There are currently three Jamaican players on the men's soccer team roster: senior Donovan Segree and juniors Shevon Stewart and Creggton Charlton.  
Segree, a defender and captain, is from Kingston, Jamaican and is an integral part of the defense that provides senior leadership. He currently has one goal and one assist for the Bearcats in 2019.  
Stewart is also from Kingston, and transferred to UC from Daytona State in Daytona Beach, Florida. He's a skillful attacking player who looks to generate offense through creativity with the ball and has two goals so far this season. 
Charlton is a forward who joined Stewart from Daytona State and comes from Clarendon, Jamaica. In 2018, Creggton was the National Junior College Athletic Association Region 8 Player of the Year. He is the all-time points leader at Daytona State with 26 goals and 19 assists in two seasons. 
Almost 30 years after Dayes left Jamaica for an opportunity to play soccer at a school in the United States, he is happy to return the favor. 
"It's about developing relationships and making sure you're doing a good job with the player, so they understand that there's a value in going to Cincinnati," Hayes said. "Not just for the school or the program, but also because a coach has a connection with you and has been there and can understand some of the things that they're going through."