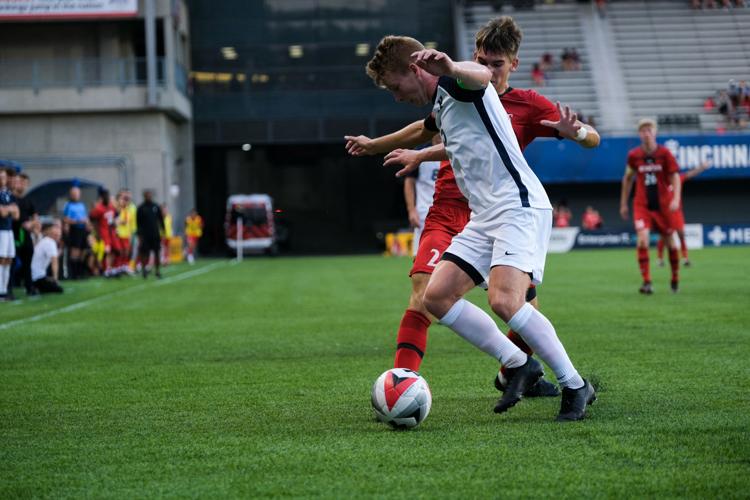 The University of Cincinnati men's soccer team fell 2-1 in overtime to No. 20 West Virginia University (WVU) in a thrilling back and forth match Tuesday evening.
The defeat marks UC's second straight year with a loss at the hands of the Mountaineers, with last year's meeting ending 2-0 in Morgantown, West Virginia. The Bearcats have now lost four straight matches, bringing their record to 1-5. Meanwhile, WVU improved to 4-1-1. 
"It's a difficult pill to swallow," UC Head Coach Hylton Dayes said postgame. "I feel like we deserved more." 
Part of what made the loss such a tough one was the dominance UC displayed in the first half. The Bearcats wasted no time launching long balls and creating chances, but found it difficult to get quality shots on goal. 
Yet that wasn't enough to dismay them from continuing to apply pressure, as junior Darryn Commissiong scored the first goal of the match for the Bearcats on a well-placed header in the 19th minute.
The goal accounted for one of UC's nine first half shots, compared to three from the Mountaineers. However, the tides started to turn to begin the second half.
By the 52nd minute, WVU had tied the score and gotten off as many shots on goal as they did in the first half. The equalizing goal came in the form of a rehearsed "trick" free kick. 
WVU had three players standing behind the ball, two ran up as to kick the ball and looked at each other confused, while midfielder Andrea Muriel Albino powered the ball beyond UC junior goalkeeper Noah Lawrence's outstretched arms.
The play seemed to devastate the Bearcats, but UC didn't let its foot off the gas just yet. 
"We kept going," Dayes said. "I'm proud of the guys and their effort in everything they gave tonight. West Virginia is a good team and there's no shame in losing to them. They're nationally ranked. We've got a very disappointed group of guys in the locker room, so we've got to get them back to feeling good about themselves."
Despite the immense pressure from WVU in the second half, the Bearcats held their ground to carry the match into overtime, but it was the Mountaineers tactics that decided it. 
On a brilliant long ball from WVU midfielder Luke McCormick, defender Kevin Morris rose above Lawrence to head the ball into the back of the net, bringing the score to 2-1. 
Men's soccer will visit Bowling Green State University for its next match Saturday Sept. 21.