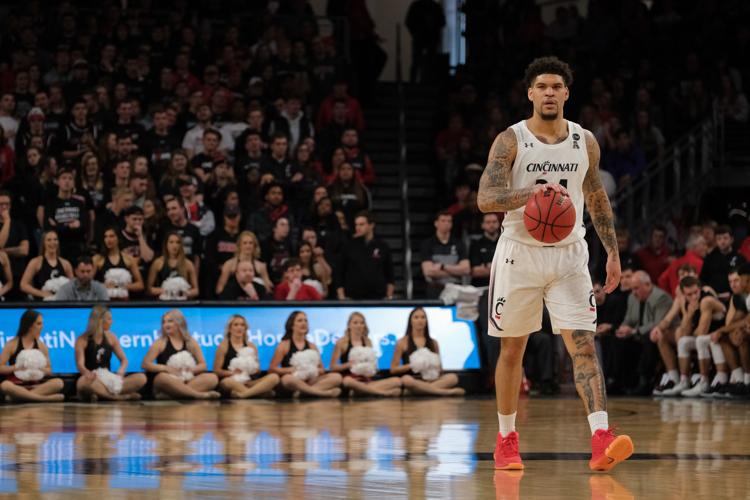 The University of Cincinnati men's basketball team has one game left in the regular season, as it hosts Temple University Saturday evening at Fifth Third Arena.
The game will also serve as senior day for the team, honoring graduate transfers and seniors including guards Jarron and Jaevin Cumberland, Chris McNeal, forward Tre Scott and walk-on John Koz. Each will be presented with one of their jersey's framed during a pregame ceremony.
Jarron Cumberland, who has career averages of 13.3 points on 41% shooting, 3.1 assists and 1.1 steals per game, has perhaps impacted the program more than any individual since guard Sean Kilpatrick (2010-14) who now plays professionally for KK Budućnost in Montenegro after stints in the NBA.
Cumberland has been UC's No. 1 scoring option for the majority of his career and was named the American Athletic Conference Player of the Year last season after averaging 18.8 points per game to go along with 4.4 rebounds. Both were career highs as a Bearcat.
Jarron's cousin, Jaevin, transferred to UC last summer from Oakland University in Michigan to spend their final collegiate season together. At Oakland, Jaevin averaged 17.2 points and 3.5 assists in his redshirt junior season. In his lone season here at UC, he has averages of 8.9 points in 21 minutes per game.
Chris McNeal was also a new graduate transfer for the Bearcats this season, following his trend of transferring to new schools during his career. His freshman and sophomore seasons were spent at Western Kentucky University and Indian Hills Community College respectively.
McNeal averaged 5.6 points at WKU and 13.3 points at Indian Hills. For his junior season, he moved on to the University of New Mexico where he averaged 9.5 points a game. After sitting out his senior season at Tennessee Tech, McNeal transferred to UC and scored a season-high of 17 points in November 2019 against Bowling Green State University.
Meanwhile, forward Trevon Scott has spent all four of his career at UC, improving in each. He saw an increased role in his redshirt junior season by starting all 35 games and leading the team with 6.9 rebounds.
This season, Scott is averaging a double-double with 11.2 points and 10.5 rebounds. The last Bearcat to come close to averaging a double-double was forward Eric Hicks in the 2005-06 season with a 15 point and 9.7 rebound average.
Koz has appeared in 22 games in four years for UC. He last scored Jan. 2, 2019 against Tulane University.
Tip-off Saturday is 8 p.m.