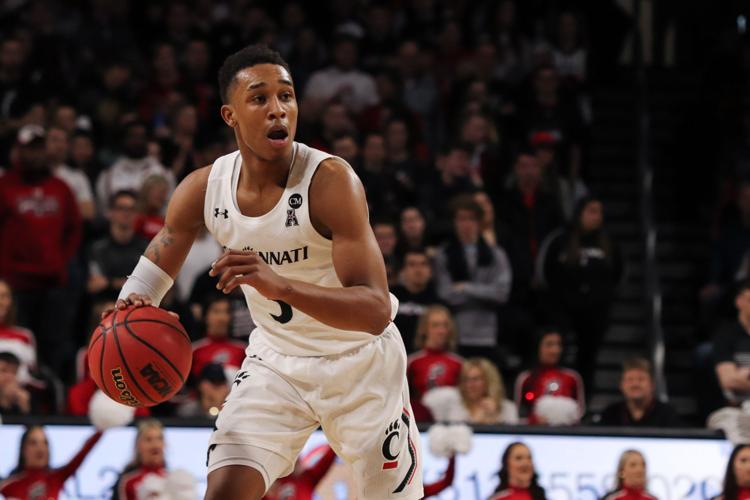 University of Cincinnati men's basketball coach John Brannen wasn't particularly impressed with his team's energy during the pregame preparations leading up to Tuesday evening's tilt against 15-4 Southern Methodist.
"I felt like we were going through the motions at the beginning of shoot-around, so I pulled them off the court and took them into the locker room," Brannen said. "We had a little talk. I thought the guys came out with more focus and energy after that."
"He got on us at first and restarted [the drills]" UC senior guard Jarron Cumberland said. "We really picked it up. So, that's where it started at."
The result of Brannen's tough love was the Bearcats third straight conference win — this time a resounding 65-43 performance in front of 11,221 at Fifth Third Arena.
The Mustangs came into the game averaging 76.5 points per game. Their primary ball-handler, point guard Kendrick Davis, entered the game second in scoring in the American Athletic Conference at 16.2 points per game. He was held scoreless due to the stiff defense of UC freshman Mika Adams-Woods and graduate transfer Chris McNeal.
"Mika did an unbelievable job on Kendrick," Brannen said. "I think Davis is one of the best point guards I've seen on tape all year. I pulled Mika aside at shoot-around today and said 'You realize how much faith we have in you? You're a freshman and we're asking you to guard one of the best point guards, if not the best point guard, in the league.' I thought he took ownership of that."
Jarron Cumberland finished with a season-high 28 points on 9 of 13 shooting to go along with nine rebounds and four assists. It was his second-consecutive 20-point game and the 25th of his career.
Cumberland, the AAC Preseason Player of the Year, had a leg injury derail his summer workouts and early season action, but feels at full strength as the conference schedule continues to progress.
"I feel real good," Cumberland said. "I mean I still have little injuries, but it's just treatment."
"It was fun watching him," Brannen said. "Certainly, I think he does a great of getting his teammates involved as well. We needed him to take over because we weren't efficient offensively."
UC's second leading scorer, 7-foot-1 center Christ Vogt, entered the game averaging 13.2 points per game but was held scoreless for the majority of the first-half before converting a layup and free throw before halftime. He came alive in the second-half to end his night with nine points and eight rebounds.
UC faces the No. 21 Houston Cougars Saturday at Fifth Third Arena. Houston beat UC twice in the regular-season last year before the Bearcats took the third meeting in the AAC Tournament Championship game.
"We feel real good as a team," Cumberland said. "We're all playing together and knowing our roles better. We're understanding what to do."
Tip-off is 6 p.m.