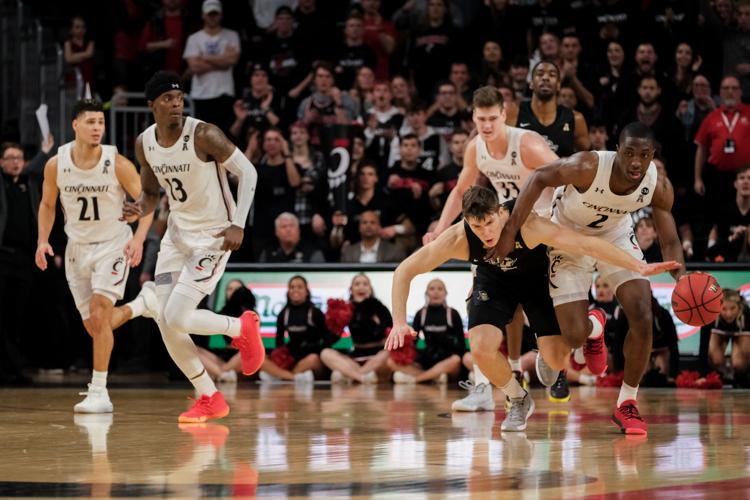 As the 2019-20 NCAA basketball season draws towards conclusion, teams around the country are scrambling to play their way into a spot in the NCAA tournament. The University of Cincinnati men's basketball team is among them.
With nine losses, it's safe to say that it has been a rockier season than first-year head coach John Brannen would have liked. Midway through the season, UC's odds of making the tournament were looking grim, as Teamrankings.com gave less than a 50% chance of securing a bid.
However, the Bearcats have been able to establish a turnaround during this latter half of the season, especially in American Athletic Conference play. UC (17-9, 10-4 AAC) briefly moved into a tie for first place in the conference after going 4-1 in a five game stretch that included an important victory over currently the University of Houston.
The past four games against the University of Connecticut, University of Memphis, East Carolina University and University of Central Florida have all dramatically gone to overtime, with UC enduring two wins and two losses.
UConn snapped UC's five-game win streak Feb. 9, but the Bearcats responded with a 70-67 win over ECU in which junior guard Keith Williams finished with a game-high 17 points. The Bearcats ran into another wall against UCF, as senior guard Jarron Cumberland's half-court buzzer beater in double overtime didn't leave his hands in time. The loss to UCF puts UC in a must-win situation for the remainder of the AAC schedule.
Teamrankings.comprojected UC's chances of making the tournament were increased from 42% a month ago to 89% after the win against ECU. However, the loss to UCF pushed the odds back to 71%. UC went 6-2 over that stretch.
A month ago, the Bearcats record was 11-7. Few to no "bracketology" sources even mentioned them on the bubble of making the tournament, but they have gained traction of the past few weeks.
ESPN's "bracketology" expert, Joe Lunardi, has moved UC from the depths of his radar to an "on the bubble" spot with the likes of Arizona State University, University of Southern California and the University of Virginia.
CBS Sports analyst Jerry Palm has UC on his "first four out" list along with the University of Arkansas, Georgetown University, and Mississippi State University.
The Bearcats next match-up is against Wichita State (20-6, 8-5 AAC) at Fifth-Third Arena Sunday at 1 p.m.