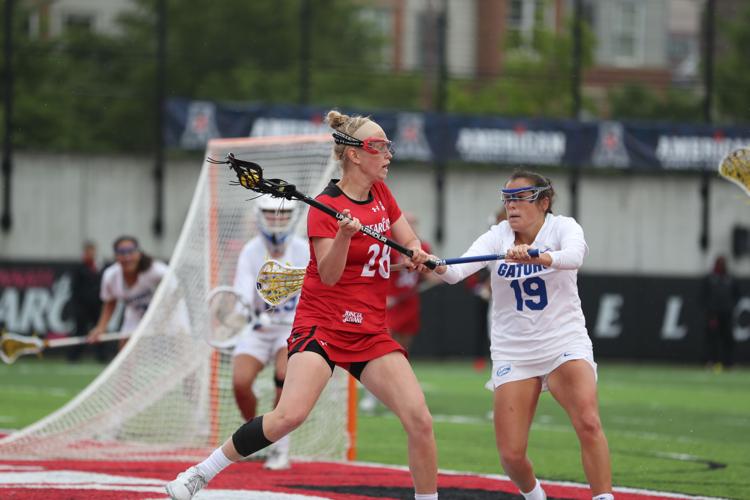 As the University of Cincinnati lacrosse team starts its season, head coach Gina Thomas is looking forward to building off the success from last year, finishing 12-7 overall. However, she's cautious to treat it the same way.
"It was last year," Thomas said. "We know we were successful last year and we're trying to build upon that, but that doesn't affect how we work and who we're up against. We're a new team and have a new vision."
Thomas is looking to integrate new players into the system and to help elevate her experienced players to build a more balanced team. While coach is preparing for the first few games of the season, key players from last year are also looking to take the next step.
Sam Mlkvy, a redshirt senior from Berlin, New Jersey, is on pace to finish with the most draw controls in a career. Last year, she was named American Athletic Conference (AAC) First-Team in both the preseason and postseason, as she competed in all 19 matches and finished the season second in scoring with 48 points, fourth in goals with 33 and first in draw controls with 97.
"Coming into this season, I would love to break the draw record," Mlkvy said. "But I also have to give credit to the other girls on the circle, who I'm placing it to and who is boxing out all their girls. I'm going into it the same way I did last year, knowing I'm going to win the ball and place it where it needs to go every single time."
Although Mlkvy was recovering from an injury during the off-season, she is still looking to continue with what could be a historic season.
Kylie Nause, a sophomore from Phoenix, Maryland, is another player looking to make a difference this season. She was named the AAC's Freshman of the Year in 2019 as well as AAC First-Team after starting 12 of the 19 games and scoring 41 goals with four assists for another 45 points.
"One big thing I learned that was a lot different from high school was the importance of communication," Nause said of her freshman season. "If you try to go on your own, it's not going to work. You need to work together and communicate together in order to win."
This year, it's obvious that Bearcats lacrosse is looking to take the program to the next level and take the AAC Tournament Championship — the competition in which they lost last season to the University of Florida in the final.