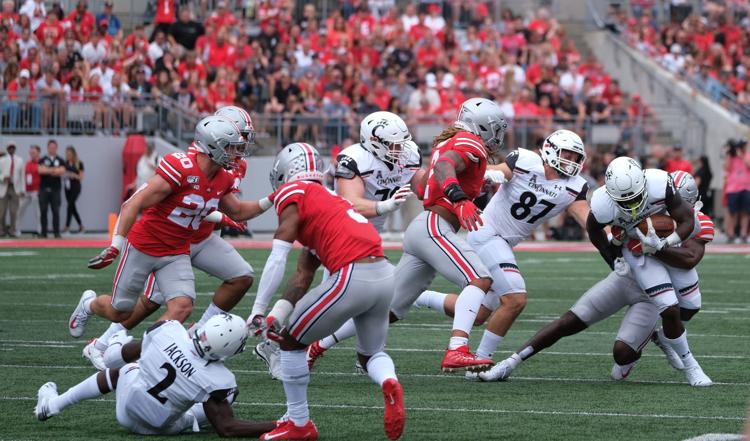 The University of Cincinnati football team left Columbus without crossing the goal-line Saturday, dropping its first game of the season, 42-0, to the No. 5 Ohio State Buckeyes.
While being blown out of Ohio Stadium, UC (1-1) made three trips to the red-zone that ended in two turnovers and a blocked field goal attempt.
Here are a few takeaways from the defeat:
Alec Pierce is a deep threat
The sophomore wide receiver finished Saturday's game with four catches for 93 yards including a 46-yard reception to begin the second half. Pierce has had a 40-plus yard reception for the second straight week after catching a 52-yard pass from quarterback Desmond Ridder against UCLA. Pierce has accumulated 152 yards on six catches this season (25.3 yards per reception) – the most yards out of wide receivers, running backs or tight ends.
Penalties have become costly
The Bearcats had two defensive holding penalties that ended in the Buckeyes finding the end-zone on two separate series. UC would finish with 10 penalties for 78 yards, marking the second straight game with double digit penalties. 
UC has accumulated 141 yards through two games after averaging 8.2 penalties per game last season. They've hurt themselves on offense and defense, and it showed in Ohio Stadium.
"I'm just disappointed we couldn't make it a real game," UC Head Coach Luke Fickell said postgame. "We said we wanted to be able to challenge ourselves against a top five team, and it wasn't about Ohio State, it was about a top five team and a great program, and unfortunately, we didn't have the challenge. We didn't make it a challenge. We didn't make it a game. I wish we could have done it different, but we have to move on."
Injuries are piling up
A scary moment took place near midfield during the second quarter after UC safety Kyriq McDonald appeared to be convulsing during a J.K Dobbins run. It's unknown how long or if McDonald will miss time. 
Running back Gerrid Doaks is expected to miss a month with a knee injury, while safety James Wiggins, offensive tackle Colin Woodside and defensive end Blake Bacevich have already been lost for the season.
Offensive production can't depend on Warren
UC running back Michael Warren II finished with 15 rushing yards on 10 attempts after finishing last week's game with 92 yards and two touchdowns. Warren has nearly doubled all other running backs in total yards and is only behind Pierce for most on the team. 
Fellow running back Tavion Thomas got his first 11 rushing attempts of the season and gained 58 yards late in the fourth quarter. Warren is coming off a historic 2018 and might be in for another one in 2019 if his teammates don't step up, because it hasn't happened yet.