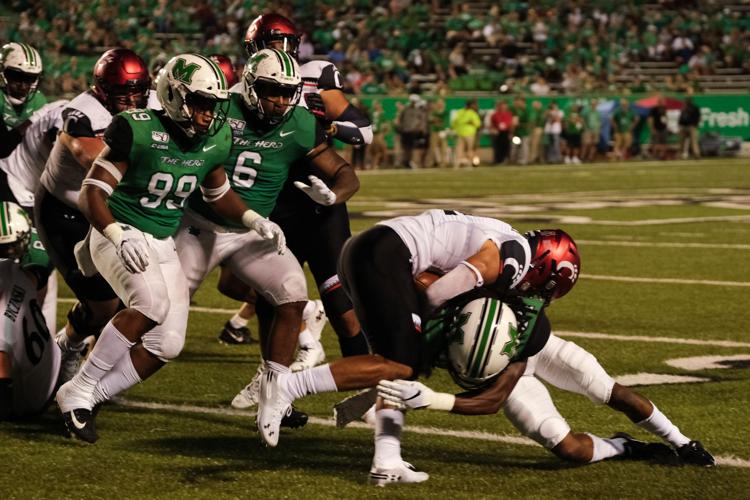 Less than a week after throttling Marshall 52-14, the Bearcats return to Nippert Stadium Friday night to face the University of Central Florida (UCF) Knights. 
The Bearcats offense broke out to the tune of over 520 total yards. Sophomore quarterback Desmond Ridder completed 18-of-22 passes for 221 yards and tossed four touchdown passes. Fellow sophomore wide receiver Alec Pierce caught six passes for 108 yards with a touchdown, which was the first of his career.  
UC's defense held Marshall to just 256 total yards. Marshall quarterback Isaiah Green completed just 11-of-29 passes. Junior linebacker Jarell White led Cincinnati with six tackles and linebacker Ethan Tucky added five tackles and a sack.
"It was a very complete game for us," UC head coach Luke Fickell said at his weekly news conference Tuesday. "Creating and building that momentum is a big deal for us."
No. 18 ranked UCF (4-1) comes to Cincinnati after demolishing UConn 56-21. The Knights lost at Pittsburgh 35-34 Sept. 21. This was their first regular-season loss since November 2016 at University of South Florida - a streak that spanned 27 games.
Adrian Killins Jr. and Greg McCrae spearhead a rushing attack that averages over 200 yards per game. Killins Jr. scored two touchdowns in UCF's 38-13 rout versus the Bearcats last season. 
Despite losing quarterback McKenzie Milton to a gruesome leg injury last year, freshman quarterback Dillon Gabriel has been impressive through the first five games. Gabriel has completed 74-of-120 passes (61.7%) for 1,338 yards and has 14 passing touchdowns while throwing just two interceptions. 
Eight of Gabriel's touchdown passes have gone to Gabriel Davis. Davis ranks second in the American Athletic Conference (AAC) in receiving yards (499). 
"They still have their core and they're a very good running football team … everything is set up because of the offensive line and their ability to run the football," Fickell said. 
On defense, UCF ranks just outside of the top 30 in scoring defense, allowing just 19 points per game. Senior linebacker Nate Evans leads the Knights in tackles (29) and tackles for loss (4.5).  Evans made All-AAC first team in 2018. 
Redshirt junior cornerback Richie Grant led the Knights in tackles and interceptions in 2018.  He was also an All-AAC first teamer in 2018.
Fickell has been waiting for opportunities like these since he was hired in 2017. 
"When we came here we wanted these opportunities… to make these events especially for students who want to be there… what you get from your student body and your home crowd is a big part of it," Fickell said. 
The Bearcats have lost three straight games to UCF. Their last win over the Knights was in 2015, when Cincinnati rolled 52-7.
The Knights enter as four-point favorites.
Kick-off is 8 p.m. ESPN will provide television coverage, while 700 WLW AM will supply radio coverage.