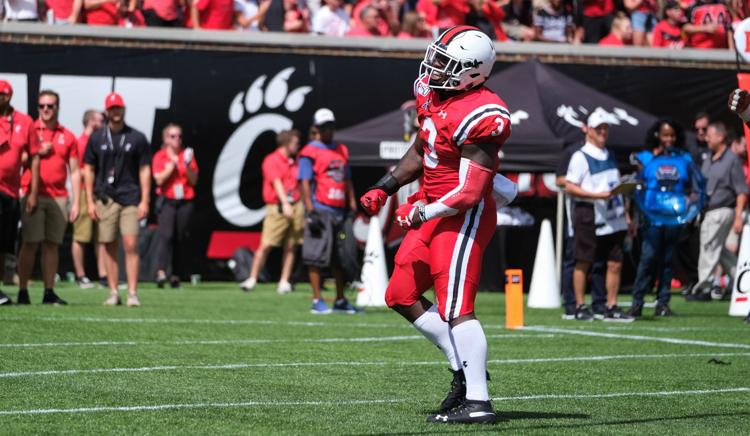 Michael Warren II said he doesn't believe he could lift the Victory Bell by himself. So instead, he decided to stick to carrying the Cincinnati Bearcats offense. 
After rushing for just 15 yards on 10 carries last week against Ohio State, the junior running back went for 113 yards on 12 carries and three touchdowns Saturday against rival Miami (Ohio).
"It was just forgetting about last week," Warren said postgame. "That's over and done with. I was just worried about going out and competing for the Victory Bell and the rivalry. My teammates and I just wanted to perform like we know we could. It was a great team effort."
In the week one win over UCLA, Warren rushed for 92 yards and a touchdown. 
The majority Warren's yards against the RedHawks on Saturday came on a single play — a 73-yard touchdown run with 3:24 left in the third quarter to put UC ahead 35-13.
That Michael Warren 73 yard TD 💪🏾💪🏾 #GoBearcats pic.twitter.com/uneIjREffK

— Bearcats Nation (@GoBearcatsUC) September 14, 2019
"This is Mike and it really kind of shows who he is," UC Head Coach Luke Fickell said postgame. "There wasn't a whole lot of momentum. We can all look at his final yardage, but most of them were from one run. That's who Mike is sometimes. It's not going to be easy sledding. There's not going to be gigantic holes sometimes. But you wear people down and then have a guy like Mike who can break off a long run."
Warren also caught five passes for 45 yards.
Michael Warren II ran for three touchdowns and @GoBearcatsFB kept the Victory Bell in Cincinnati for the 14th straight year with the win against Miami (Ohio). pic.twitter.com/N6vwvVzhpI

— The American (@American_Conf) September 14, 2019
The running back position appeared to be full of talent and relatively healthy throughout preseason practices. However, knee injuries to junior Gerrid Doaks and sophomore Charles McClelland have derailed that scenario so far this season.
McClelland has a torn ACL and won't return this season, while Doaks suffered a knee injury against UCLA and is expected to miss the next few weeks.
The Bearcats have a bye week before heading to Marshall University Saturday Sept. 28.